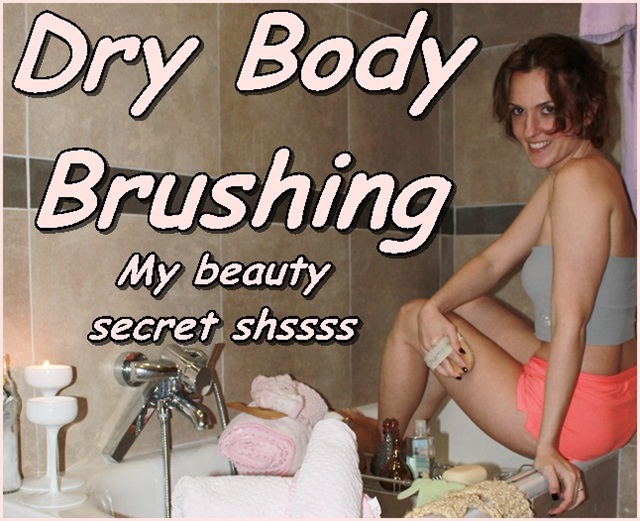 EN:
Hello World,
The dry body brushing is my favorite beauty secret, it's an easy and inexpensive way of stimulating your circulation and lymphatic system, helping to eliminate toxins. ;)
My routine:
I dry brush every part of my body for about 5 minutes everyday before the shower with a brush that has natural bristles.
Tools:
I like using the brushes that have a long handle and that can simply be detached, because the longer handle is amazing for those hard to reach areas and the detachable brush can be used for your arms, legs, chest and belly.
How:
I brush towards my heart in a circular motion. I start with brushing my feet and work my way up towards my chest (See my graphic).
Don't forget:
Wash your brushes about 2/3 times a week with shampoo.
Do you know the dry body brushing?
See you later alligator,
Kisses.
_ _ _ _ _ _ _
IT:
Ciao Mondo,
Spazzolare a secco il mio corpo è il mio segreto di bellezza preferito; è un modo facile ed economico per stimolare la circolazione e il sistema linfatico, aiutando a eliminare le tossine. ;)
La mia routine:
Spazzolo ogni parte del mio corpo per circa 5 minuti ogni giorno, prima della doccia, con una spazzola che possieda setole naturali.
Strumenti:
Mi piace usare le spazzole che hanno manici lunghi e che possono essere semplicemente staccati, perché grazie al manico si possono raggiungere zone difficili, mentre la spazzola rimovibile può essere utilizzata per le braccia, le gambe, il petto e la pancia.
Procedura:
E' importante spazzolare con movimenti circolari in direzione del cuore. Comincio dai piedi e salendo poco a poco verso il mio petto (Vedi la mia grafica).
Non dimenticate:
Lavare le spazzole 2/3 volte a settimana con shampoo.
Conoscevate il "dry body brushing"?
A domani,
Baci
_ _ _ _ _ _ _
ES:
Hola Mundo,
Cepillar mi cuerpo es mi secreto de belleza favorito; es una manera fácil y económica para estimular la circulación y el sistema linfático, ayudando a eliminar las toxinas. ;)
Mi rutina:
Me cepillo cada parte de mi cuerpo por 5 minutos cada día, antes de la ducha, con un cepillo que tenga cerdas naturales.
Herramientas:
Me gusta usar los cepillos que tienen mangos largos, que pueden ser simplemente desconectados, ya que gracias a la empuñadura se puede llegar a las zonas difíciles, mientras que el cepillo extraíble se puede utilizar para los brazos, las piernas, el pecho y el vientre.
Procedimiento:
Es importante cepillarse con movimientos circulares hacia el corazón. Yo empiezo de los pies y voy subiendo poco a poco hacia el pecho (Ver mis gráficos).
No se olviden:
Lavar los cepillos 2/3 veces a la semana con champú.
¿Conocían  el "dry body brushing"?
Hasta mañana,
Besos.
IndianSavage  (alias Maggie D.)
Catch up with IndianSavage on
FACEBOOK       TWITTER        FLICKR          INSTAGRAM          PINTEREST         YOUTUBE