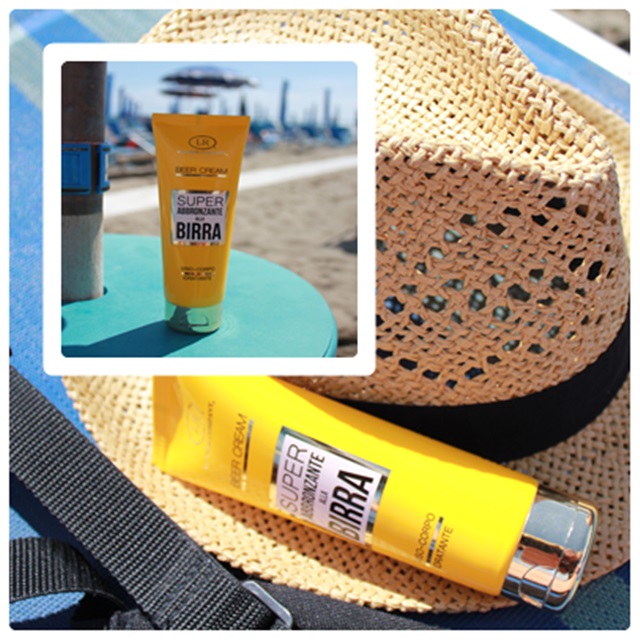 EN:
Hello World,
Today I'll talk about Beer cream, super beer tanning  , which I tried and loved from the start.
The "magic" component? The Golden Alga, which activates and intensifies the tan, giving an amber color to your skin.
I'll tell you … before I talk about a product I like to make sure of the result and I assure you that in a single afternoon (not very sunny) this beer cream has been able to give me a beautiful complexion.
So a nice "BRAVO" to the LR Wonder Company and Lorenzo Riva, who thought that women (like myself):
1. have little time (creating a single perfect cream for both the face and the body).
2. don't like tanning lamps .
3. hate the suntan lotion that stain the skin and clothing.
4. wish hydrate her skin (hyaluronic acid), protect their capillaries (Ruscus extract), nourish the skin (Karite 
Butter) and pamper your entire body with an antioxidant (vitamin E).
See you later alligator,
Kisses
IT:
Ciao Mondo,
oggi vi parlo della Beer cream, super abbronzante alla birra, che ho provato ed apprezzato da subito.
Il componente "magico"? L'Alga Dorata, che attiva ed intensifica l'abbronzatura, donando un colore ambrato alla vostra pelle.
Vi dirò… prima di parlare di un prodotto mi piace accertarmi del risultato e vi assicuro che in un solo pomeriggio (non molto soleggiato) questa crema alla birra ha saputo regalarmi un bel colorito.
Quindi un bel "BRAVO" alla LR Wonder Company e a Lorenzo Riva che ha pensato alle donne che (come la sottoscritta)
1. hanno poco tempo (creando una sola crema perfetta sia per  il viso che per il corpo).
2. non amano farsi le lampade.
3. detestano le creme abbronzanti che macchiano la pelle e gli indumenti.
4. desiderano idratare la pelle (acido ialuronico), proteggere i capillari (estratto di Rusco), nutrire l'epidermide (Burro di Karitè) e coccolare il corpo intero con un antiossidante (vitamina E).
A domani e buona abbronzatura ;)
Baci.
ES:
Hola Mundo,
hoy os hablo de la Beer Cream, super bronceador a la cerveza, que probé y me encantó desde el principio.
El componente  "magico"? La Golden Alga, que activa e intensifica el bronceado, dando un color ámbar a la piel.
Se los confieso… antes de hablar de un producto que me gusta, me cerciono del resultado y les aseguro que en una sola tarde (no muy soleada) esta crema a la cerveza ha sido capaz de darme un buen bronceado.
Así que un "BRAVO" para la LR Wonder Company y  para Lorenzo Riva, que ha pensado a las mujeres (como yo) que:
1. tienen poco tiempo (creando una sola crema perfecta tanto para el rostro y como para el cuerpo).
2. no les gusta hacer broncearse artificialmente con lámparas.
3. odia los bronceadores que mancha la piel y la ropa.
4. desean hidratar la piel (ácido hialurónico), proteger los capilares (extracto de Rusco), nutrir la piel (manteca de karité) y mimar su cuerpo con un antioxidante (vitamina E).
Hasta mañana,
Besos.
IndianSavage (alias Maggie D.)
Catch up with IndianSavage on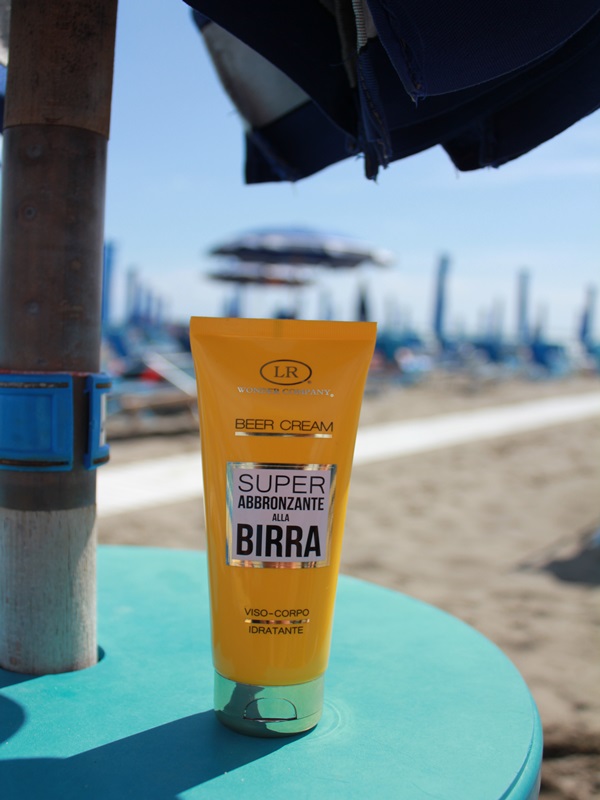 seguiteli anche: