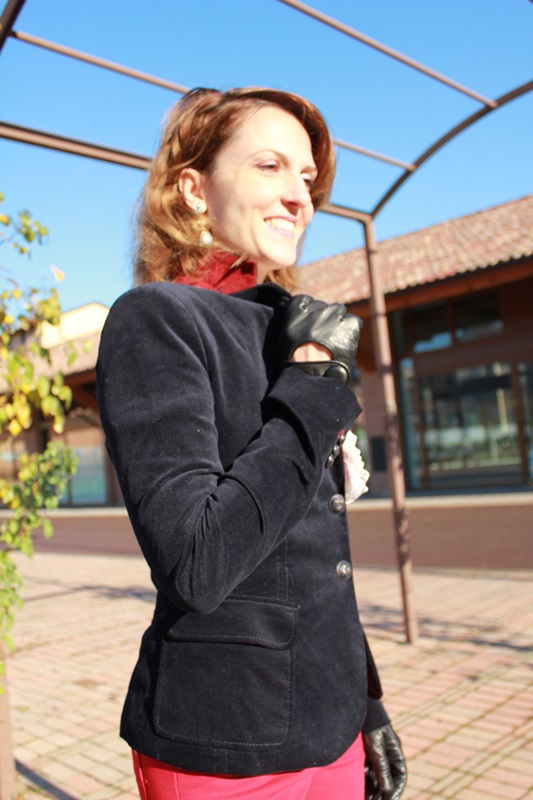 EN:
Hello World,
A colour in isolation may be considered on-trend, but when set against a particular combination, the power is magnified tenfold.
Take the contrast of vibrant blue against rich burgundy. If you have these two colours floating about in your wardrobe, here's a timely reminder that you should get them out and reunite them.
Burgundy and blue has become one of my favorite color combos this year.
See you later alligator,
Kisses.
_ _ _ _ _ _ _
IT:
Ciao Mondo,
Un colore preso da solo può essere considerato di tendenza, ma quando lo inseriamo in una particolare combinazione, la potenza di questo viene ingrandita di dieci volte.
Prendete il contrasto del blu vibrante e del  imponente bordeaux. Se avete questi due colori che fluttuano nel vostro guardaroba, è il momento perfetto per tirarli fuori e riunirli.
Bordeaux e blu è diventata una delle mie combinazioni di colori preferiti di quest'anno.
A domani,
Baci
_ _ _ _ _ _ _
ES:
Hola Mundo,
Un color por sí solo puede ser considerado de moda, pero cuando lo insertamos en una combinación particular, el poder de este se magnifica por diez.
Consideren el contraste del azul vibrante y los impresionantes burdeos. Si ustedes tiene estos dos colores que flotan en el closet, es el momento perfecto para sacarlos y ponerlos juntos.
Borgoña y azul se han convertido en una de mis combinaciones favoritas de este año.
Hasta mañana,
Besos.
IndianSavage (alias Maggie D.)
Catch up with IndianSavage on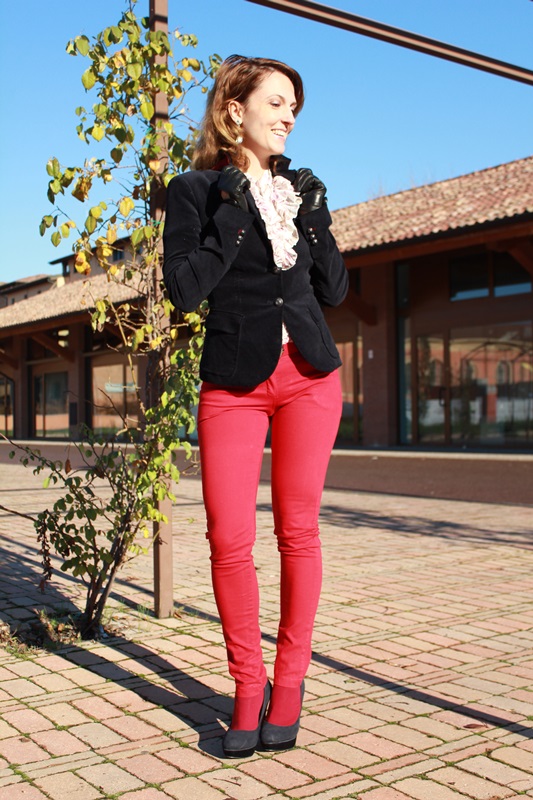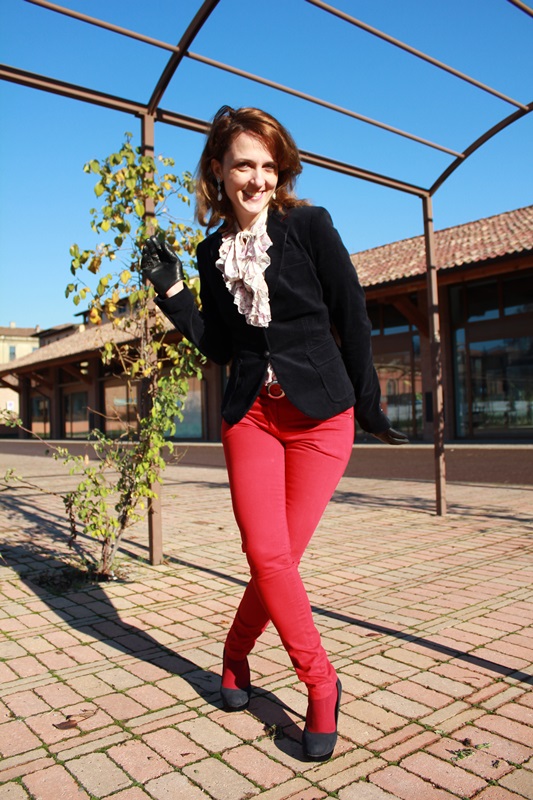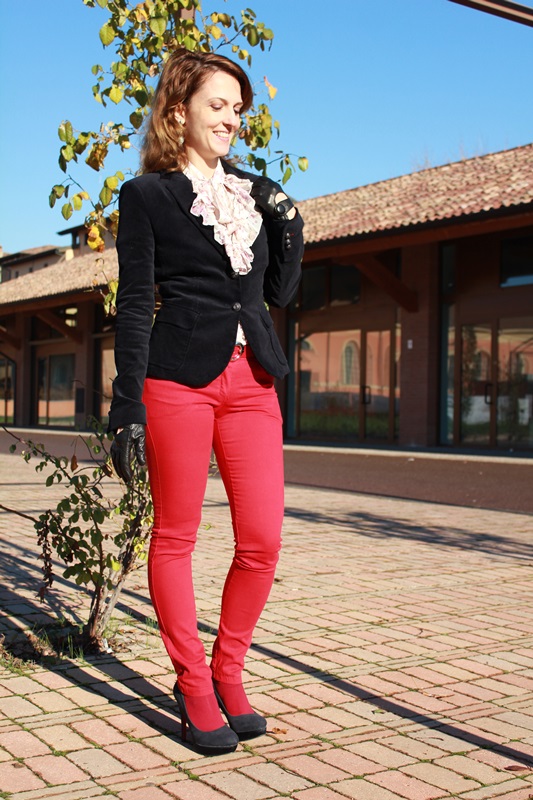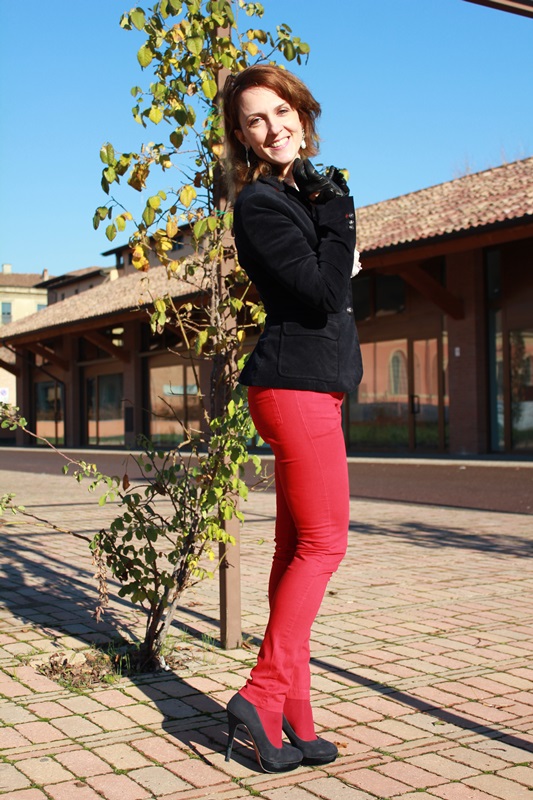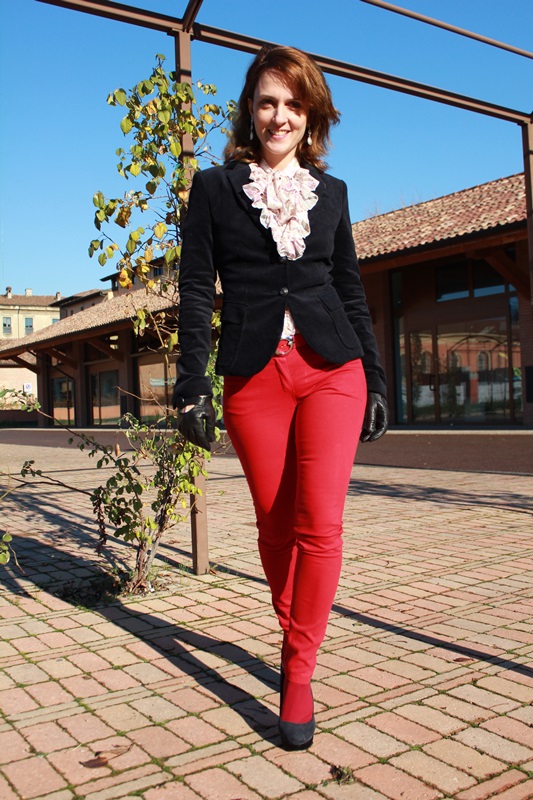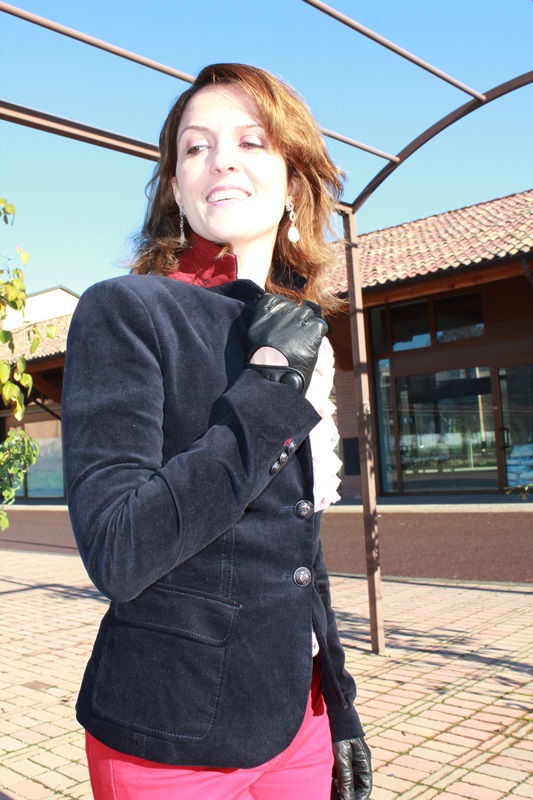 Location: Piacenza  – Photo credits: Mister Sitting Bull
I wear Zara blazer, Marina Grace pants, Benetton gloves, Jean Paul Gaultier shirt
accessories
,
atuendo
,
autunno-inverno
,
barrym
,
bautyshorts
,
beautiful
,
beauty
,
bff
,
blog
,
blogdemoda
,
blogers
,
blogger
,
blogitalia
,
BlogPiacenza
,
blogunitesstates
,
blogvenezuela
,
blonde
,
blondehair
,
blush
,
boots
,
brogues
,
brownhair
,
casual
,
catwalk
,
chic
,
classy
,
clothes
,
clothing
,
collezioni
,
color
,
colors
,
come indossare il tartan
,
consulente de imagen
,
consulente di immagine
,
contest
,
converse
,
cool
,
coolhair
,
cosmetics
,
defilè
,
desfile
,
desk
,
dogtooth
,
dress
,
elegant
,
eleganza
,
eventi
,
eyeliner
,
eyeshadow
,
fall
,
fall-winter
,
fashion
,
fashion blogger Piacenza
,
fashion designer
,
fashion image consulting
,
fashion-doll
,
fashionable
,
fashionblogger
,
fashiondiaries
,
fashionstudy
,
fashionstyle
,
fashionulzzang
,
footwear
,
fun
,
funny
,
girl
,
girlfriends
,
girls
,
girlulzzang
,
girly
,
golook
,
hair
,
haircolor
,
haircut
,
hairdo
,
hairdye
,
hairposts
,
hairstyle
,
hairstyles
,
heart
,
heart dress
,
heels
,
highheel
,
highheels
,
how to wear tartan
,
insta
,
instafashion
,
instahair
,
instashoes
,
intervista
,
jean
,
korean fashion
,
laces
,
lifestyle
,
lingerie
,
lipgloss
,
lipstick
,
longhair
,
look
,
looks
,
love
,
lovestyle
,
mac
,
makeup
,
makeupartist
,
mascara
,
moda
,
model
,
models
,
mostaza
,
mustard
,
musthave
,
My october essentials
,
nail naildesigns
,
nailartaddict
,
nailartclub nailartaddicts
,
nailartheaven
,
nailartjunkie
,
nailcare
,
naildesign
,
nailpolish
,
nails
,
nailvarnish
,
neon
,
old
,
ootd
,
outfit
,
outfitstyles
,
palazzo
,
pants
,
pata de gallo
,
personal shopper
,
photography
,
piacenza fashion blog
,
pictures
,
pink
,
plaid
,
platforms
,
poppin
,
prettynails
,
prettystyle
,
primavera-estate
,
primavera-verano
,
rainy day essentials
,
red pants
,
sandals
,
scozzese
,
senape
,
sequins
,
sexy
,
sfilate
,
shirt
,
shoe
,
shoes
,
shoesall
,
shoesoftheday
,
shopping
,
skinny
,
skirt
,
snow outfit
,
socks
,
spring-summer. otoño.invierno
,
staples
,
starsblack
,
stilettos
,
stilista
,
stilisti
,
stockings
,
strange fashion
,
streetstyle
,
style
,
swag
,
sweaters
,
tagsta
,
tagstagramers
,
tagsta_fashion
,
tape
,
tartan
,
tendenza
,
tendenze
,
tiger sweater
,
trend
,
trends
,
vogue
,
wagger
,
web
,
weheartit
,
winter
,
winter outfit
,
woman