BrowDrama Maybelline
BrowDrama Maybelline
NY has become my new essential. I have to  admit  that I'm adict to mascara and now that I met
Brown Drama
, the mascara that keeps
natural
  ordered and uniform eyebrows , I realized that it would become in absolute my favorite. 2 in 1 Technology is what struck me the most, because it is a gel formula that gives a perfect finish and above all without lumps (quality that we want in every mascara).
But let's get to the application: super easy thanks to its spherical applicator that allows a perfect definition for the whole day.
As you can see from the pictures, Brown Drama order, fills and fixe in one gesture. It is exactly what you expect from a mascara.
You can find it available in three colors: Dark Blond, Medium Brown and Dark Brown.
In the photos you can  see me using the Dark Brown, but I'm   trying them all and
I'm having fun,
posting photos in my account instagram and twitter with the hashtag #nottheusualmascara. I invite you to try them, to share with me your photos using the hashtag that I rep orted to exchange your ideas and opinions.
As I have already mentioned I consider it, the top right now and like to  thank for this mascara Maybelline NY perfect for women who, like me, are always in a hurry.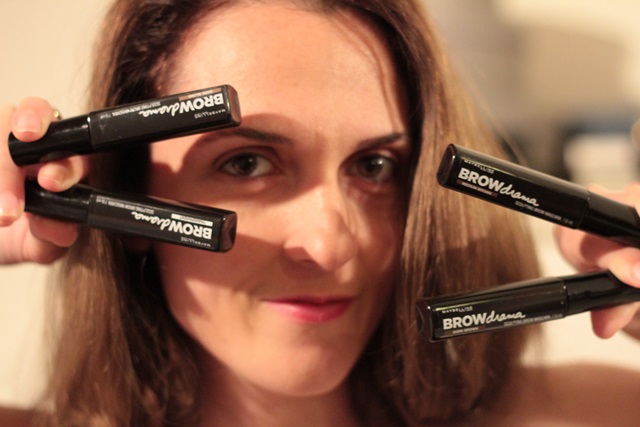 BrowDrama Maybelline
BrowDrama Maybelline NY è diventato il mio nuovo essenziale. Ammetto di essere dipendente dal mascara e da quando ho conosciuto Brown Drama, il mascara per sopracciglia naturalmente ordinate ed uniformi, ho capito che sarebbe diventato il mio preferito in assoluto.
La sua Tecnologia 2 in 1 è ciò che mi ha colpito di più, in quanto si tratta di una formula gel che dona un finish perfetto e soprattutto senza grumi (qualità che cerchiamo sempre in un mascara).
Ma veniamo alla vera e propria applicazione: super facile grazie al suo applicatore sferico che permette una definizione perfetta per tutto il giorno.
Come potrete notare dalle foto, Brown Drama ordina, riempie e fissa in solo gesto. Esattamente ciò che pretendo da un mascara.
Lo trovate disponibile in tre colorazioni: Dark Blond, Medium Brown e Dark Brown.
Nelle foto mi vedete usare il Dark Brown, ma io mi sto divertendo a provarli tutti e postando le foto nei miei account di instagram e twitter con l'hashtag #nottheusualmascara. Vi invito a provarli, a condividere con me le vostre foto usando l'hashtag che vi ho segnalato per scambiarci idee e opinioni.
Io come vi ho già anticipato lo considero il top in questo momento e ringrazio a
Maybelline NY
per questo mascara perfetto per le donne che, come me, sono sempre di corsa.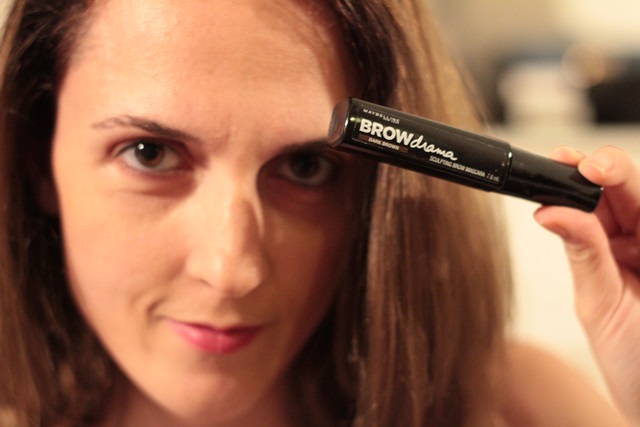 BrowDrama Maybelline
BrowDrama Maybelline NY se ha convertido en mi nuevo esencial. Admito ser dependiente de máscara y desde que conocí Brown Drama, máscara para cejas naturales y uniformes, me di cuenta de que se iba a convertir en mi favorito en absoluto.
Su tecnología 2 en 1 es lo que más me impresionó, porque es una fórmula en gel que proporciona un acabado perfecto y sobre todo sin grumos (calidad que siempre busco en una máscara).
Pero vamos al modo de empleo: super fácil gracias a su aplicador esférico que permite una definición perfecta para todo el día.
Como se puede ver en las fotos, la máscara Drama Brown,  llena y  fija en un solo gesto. Exactamente lo que esperas de una máscara de cejas.
Lo pueden encontrar disponible en tres colores: Dark Blond, Medium Brown e Dark Brown.
En las fotos que ves, utilizo el color Dark Brown, pero estoy probando todos y publico las fotos en mi cuenta de Instagram y Twitter con el hashtag #nottheusualmascara. Los invito a probarlos y a compartir conmigo sus fotos usando el hashtag que les dije para intercambiar ideas y opiniones.
Yo lo amo y mil gracias a Maybelline NY por esta máscara de cejas perfecta para las mujeres que, como yo, van siempre de prisa.