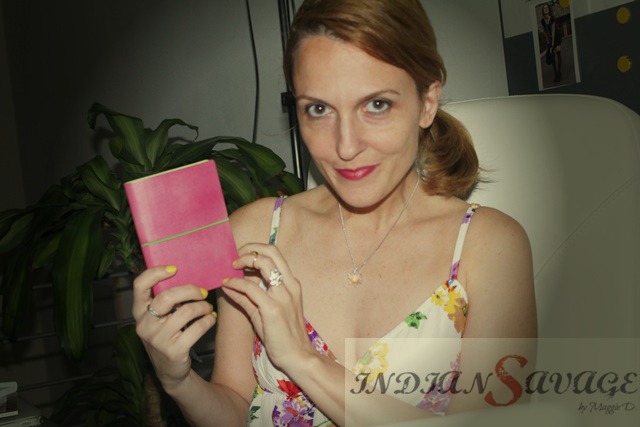 EN:
Hello World,
Each head is a small world…
And I add: in my case is a very complicated world !
It is said that we have about 60,000 thoughts per day (not bad I would say) , and among these there are often interesting ideas that we can develop in all spheres of life. The problem is that they are thoughts, sometimes remain in our minds to wondering and forgetting them…. WRONG!
I recently adopted a good method ( learned from my mom ) and that is to write down every inspiration and reflection, which I think is interesting and I would like to investigate, in a notebook that I carry with me always.
The only drawback is that the notebooks are bulky , but now I also found the solution thanks to
CIAK
 .
CIAK
is a handly and versatile, soft and colorful notebook that finds its way into the life and pockets of everyone. Product from a great florentine company called InTempo, specialized in manufacturing notebooks, diaries , organizers and address books .
And you?  where do you marked your ideas ?
See you later alligator
Kisses.
_ _ _ _ _ _ _
IT:
Ciao Mondo,
Ogni testa è un piccolo mondo…
Ed io aggiungo: nel mio caso è un mondo assai complicato!
Si dice che abbiamo circa 60.000 pensieri al giorno (niente male direi) e tra questi spesso ci sono idee interessanti che possiamo sviluppare in ogni ambito della vita. Il problema è che sono pensieri e che a volta restano a vagare nella nostra mente e ce li dimentichiamo…. ERRORE!
Da poco ho adottato un buon metodo (imparato da mia mamma) ed è quello di segnarmi ogni  ispirazione e riflessione, che mi sembra interessante e che vorrei approfondire, su un quaderno che porto con me sempre.
L'unico inconveniente è che i quaderni sono ingombranti, ma adesso ho anche trovato la soluzione grazie a CIAK.
CIAK è un taccuino pratico e versatile, morbido e colorato che entra nella vita e nelle tasche di tutti. Prodotto da una grande azienda fiorentina chiamata InTempo, specializzata nella produzione di agende, diari, organizers e rubriche.
Io ho scelto la collezione PITTI (anche la Classic è favolosa) nella sua versione color ciclamino.
E voi dove segnate le vostre idee?
A domani,
Baci
_ _ _ _ _ _ _
ES:
Hola Mundo,
Cada cabeza es un mundo pequeño …
Y yo añado : en mi caso es un mundo muy complicado!
Se dice que tenemos unos 60.000 pensamientos por día (no está mal diría yo) y entre ellos a menudo hay ideas interesantes que podemos desarrollar en todas las esferas de la vida . El problema es que son pensamientos que a veces permanecen en nuestras mentes  y nos olvidamos de ellos…. ERROR !
Adopté recientemente un buen método (aprendido gracias  a mi mamá ) y que consiste en escribir cada inspiración y reflexión, que creo que es interesante y que me gustaría investigar, en un cuaderno que llevo siempre conmigo .
El único inconveniente es que los cuadernos son voluminosos, pero ahora  encontré la solución gracias a CIAK .
CIAK es un notebook práctico y versátil, suave y colorido  que entra en nuestras vidas y en nuestros bolsilloss. Producto de una gran empresa florentina llamada INTEMPO, especializada en la fabricación de notebooks, agendas , organizadores y libretas de direcciones.
Elegí la colección PITTI ( incluso la Classic es fabulosa) en su versión de color ciclamen .
y Ustedes? ¿Dónde marcan sus ideas?
Hasta Mañana
Besos.
Social Networks: