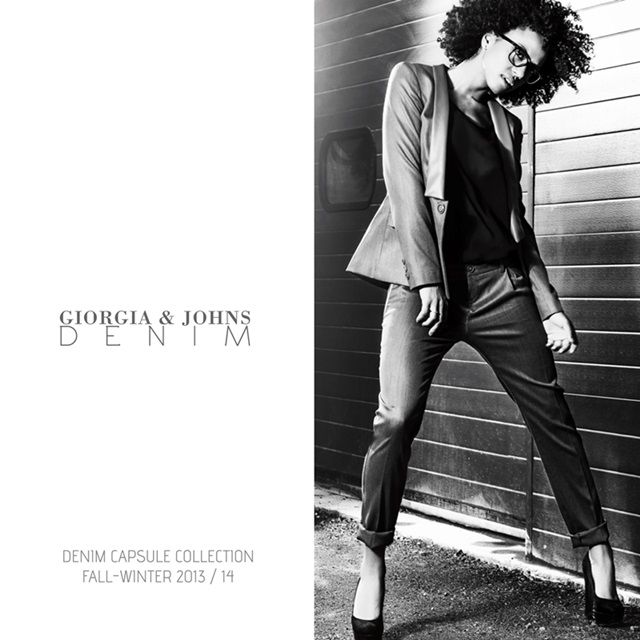 EN:
Hello World,
Today we will talk aboout of the new Capsule Collection – Denim edition FW 13-14 Giorgia & Johns
One of my favorite brands because it manages to create a functional style, without forgoing femininity, which  is essential for me .
That's why I am always very happy to realize collaborations with this brand that takes care of the details even when presenting a collection in 
Denim!
I leave you over the shots, also the press release describing these wonderful 
leaders:
Giorgia & Johns presents the new denim capsule collection Fall | Winter 2013-14. 
The monochrome tints, embellished with leather inserts ton sur ton, is interrupted only by the accessories. 
Black, beige, burgundy and gray are part of the palette of the predominate  colors .
The applications of maxi zip, evoking an idea of ​​rigor, breaking the color balance and structural design of soft lines and naturalness of adverts leather.
The style is a natural. On this basic concept has been realized the denim capsule collection of Giorgia & Johns.
Head of the collection is the jacket, combined with pants or skirts in different lengths and shapes, but it is with the t-shirt that we want to play.
Form, function, style and material are the four paradigms around which is built the new denim capsule collection Fall | Winter 2013-14.
Soon will be available in selected stores and on the shop online.
See you later alligator,
Kisses.
IT:
Ciao Mondo,
Oggi vi parlo della nuova Capsule Collection – Denim edition FW 13-14 di Giorgia&John!
Uno dei miei brand preferiti perché riesce a creare uno stile funzionale senza mai tralasciare la femminilità, ciò che per me è basilare.
Ecco perché sono sempre molto felice di realizzare collaborazioni con un marchio che cura i dettagli anche quando presenta una collezione in Denim! 
Vi lascio oltre gli scatti anche  il comunicato stampa che descrive questi capi meraviglioso:
Giorgia & Johns presenta la nuova denim capsule collection Fall|Winter 2013-14.La monocromia delle tinte, impreziosita da inserti in pelle ton sur ton, è interrotta unicamente dagli accessori.Nero, beige, bordeaux e grigio fanno parte della palette di colori predominanti.Le applicazioni di maxi zip, che evocano un'idea di rigore, spezzano l'equilibrio cromatico e strutturale delle morbide linee e la naturalezza delle inserzioni in pelle.Lo stile è un'indole naturale. Su questo concetto basilare è stata realizzata la denim capsule collection di Giorgia & Johns.Capo principale della collezione è la giacca, unita a pantaloni o a gonne di diverse lunghezze e forme, ma è con la t-shirt che si vuole giocare.Forma, funzione, stile e materia costituiscono i quattro paradigmi intorno a cui è costruita la nuova denim capsule collection Fall|Winter 2013-14.Presto disponibile in negozi selezionati e sullo shop on line.
A domani,
baci.
ES:
Hola Mundo,
Hoy hablamos de la nueva colección cápsula – Denim edición FW 13-14 Giorgia & John!
Una de mis marcas favoritas, ya que se siempre piensa en crear un estilo funcional, sin renunciar a la feminidad, que para mí es fundamental.
Es por eso que siempre estoy muy feliz  de realizar colaboraciones con una marca que se preocupa  de los detalles, incluso en la presentación de una colección en denim!
Os dejo por ultimo también el comunicado de prensa que describe estas maravillosas prendas:
Giorgia&Johns  presenta la nueva denim capsule collection Fall|Winter 2013-14.Los tonos monocromos, adornado con inserciones de cuero ton sur ton, se interrumpen solamente por los accesorios.Negro, beige, burdeos y gris son parte de la paleta de colores que predominan.Las aplicaciones de maxi zip, que recuerda una idea de rigor, rompe el equilibrio de color y diseño estructural de las líneas suaves y de la naturalidad de los anuncios de cuero.El estilo es de carácter natural. Bajo este concepto básico se ha realizado denim capsule collection di Giorgia & Johns.La prenda reina de la colección es la chaqueta, junto a pantalones o faldas en diferentes longitudes y formas, pero es con la camiseta que se quiere jugar.Forma, función, estilo y material son los cuatro paradigmas en torno al cual se construye la nueva denim capsule collection di Giorgia & Johns.Pronto estará disponible en tiendas seleccionadas y en la tienda online.
Hasta mañana,
Besos.
IndianSavage  (alias Maggie D.)
Catch up ith IndianSavage on