EN:
Hello World,
Thinking about this weeping willow and to its  sad name ….
Really I don't understand ….
When I see it, I feel peace and serenity; That's why, every time I go to visit my parents, I cann't resist and I have to make some shots under its leaves.
And this dress … ahhh what can I say… It's a caress! It seems to wear a cloud, so  lighter. I must say, I fell in love with this brand KAOS, who made a perfect collection to use even for
a walking and wandering among the plants and trees.
Just beautiful the feeling  you get when you are in touch with nature, doesn it? excluding some horrendous  insects (such as mosquitoes) OBVIOUS!
And you? What kind of relationship you have with Nature?
See you later alligator,
Kisses.
IT:
Ciao Mondo,
Ripensavo a questo salice piangente e al suo nome così triste….
Davvero non capisco….
Quando lo vedo, l'unica sensazione che provo è pace e serenità; Ecco il perché, ogni volta che vado a trovare i miei, non resisto e devo fare qualche scatto sotto le sue foglie.
E questo vestito… ahhh che dire… è una carezza! Sembra di indossare una nuvola, tant'è leggero. Devo dirlo, mi sono innamorata anche di questo brand KAOS, che ha fatto una collezione perfetta da usare anche per una passeggiata in mezzo ad alberi.
Proprio bella quella sensazione che si prova a stare in contatto con la natura, o no? A parte certi insetti (come le zanzare) OVVIO!!!
E voi? che rapporto avete con la Natura?
A domani,
baci.
ES:
Hola Mundo,
Estaba pensando en este sauce llorón y su nombre tan triste ….
Realmente no entiendo ….
Cuando yo lo veo,  la única  sensación que  tengo  es la paz y la serenidad;  Y es por eso que, cada vez que voy a visitar a mis padres,  no puedo resistir y tengo que hacer algunas tomas
bajo sus hojas.
Y este vestido … ahhh que les puedo decir … es una caricia! Me siento como si llevara una nube, mucho más ligera. Debo decir que me enamoré de esta marca KAOS, que hicieron una
colección perfecta para usar incluso en los paseos en medio de los árboles.
Que hermoso es sentir el contacto con la naturaleza, ¿o no? Bueno… obvio: si nos olvidamos de ciertos insectos (como los mosquitos).
¿Y Ustedes? ¿Cuál es la relación que tienen con la naturaleza?
IndianSavage  (alias Maggie D.)
Catch up ith IndianSavage on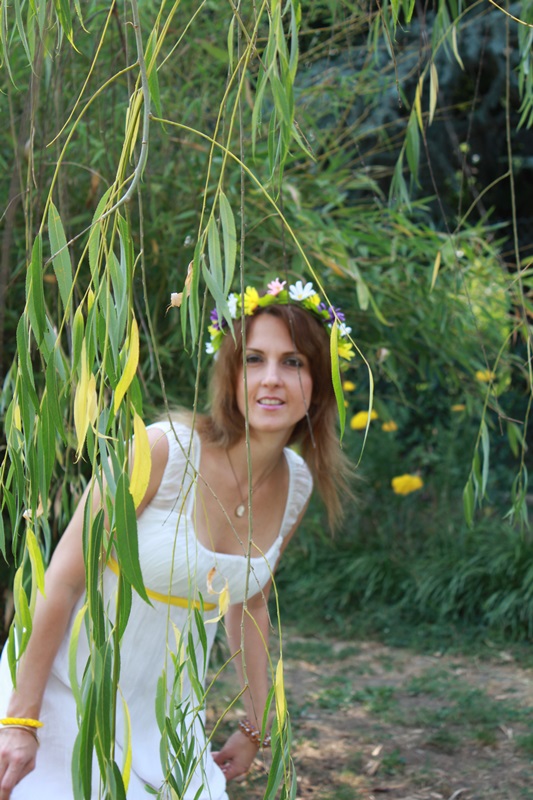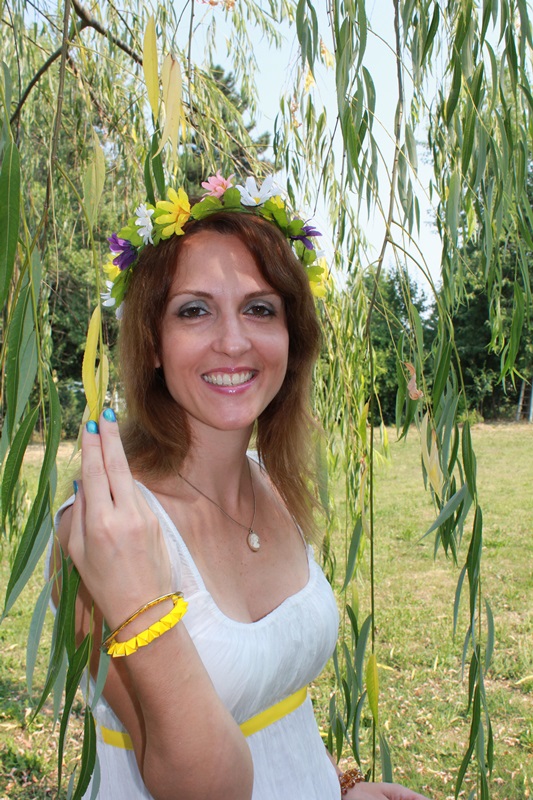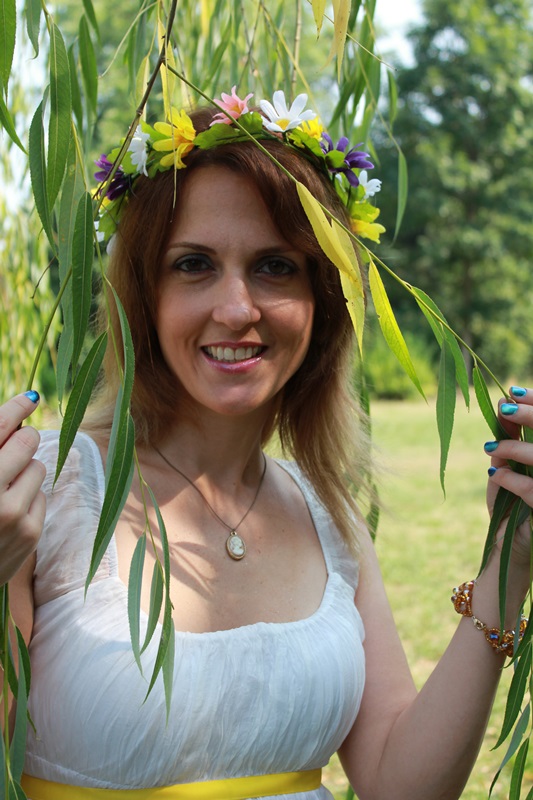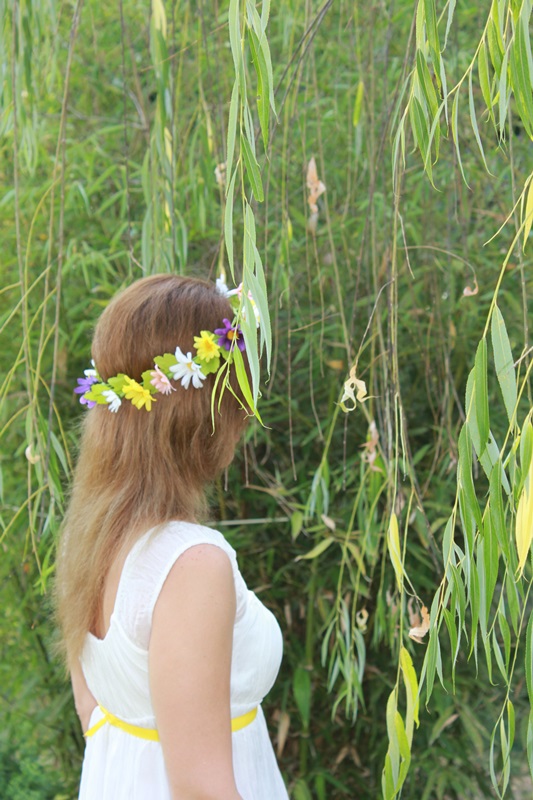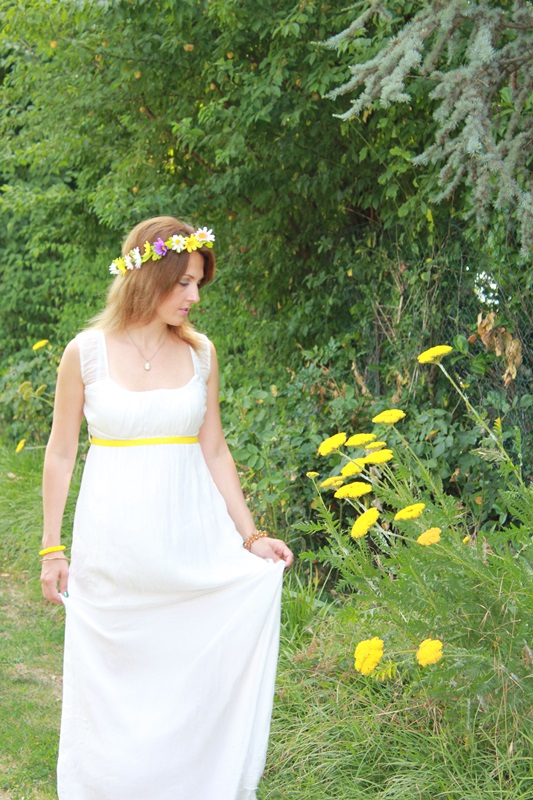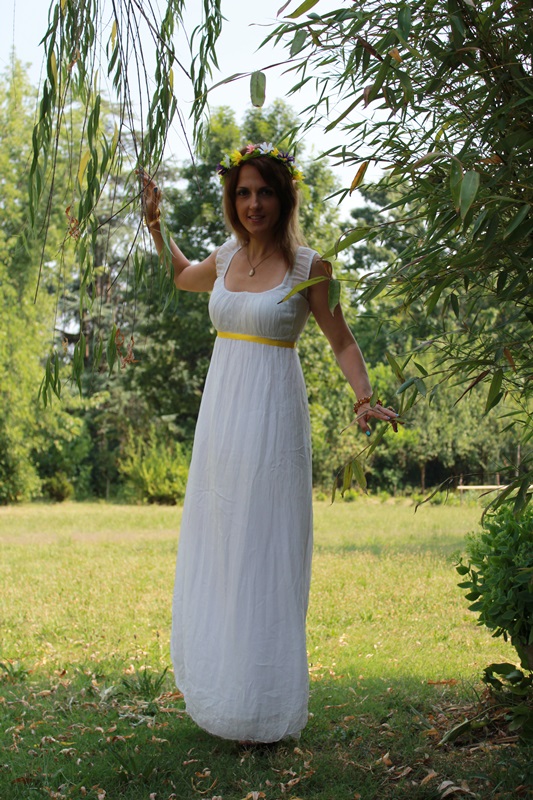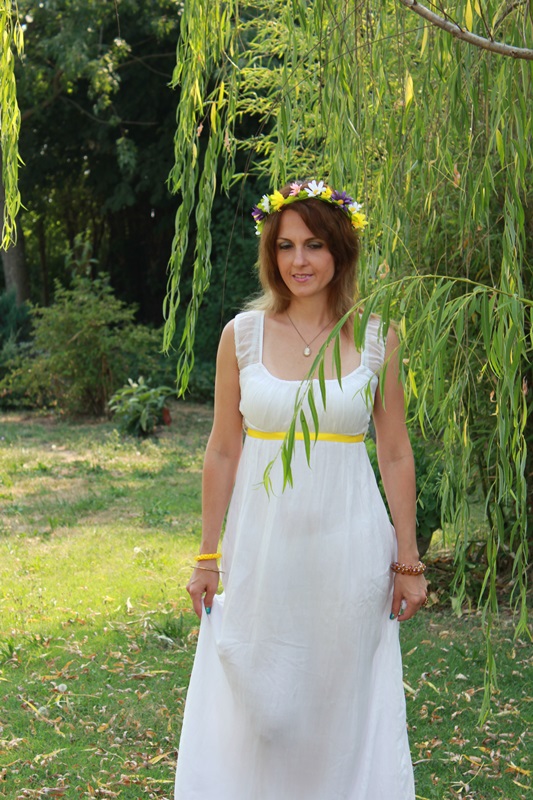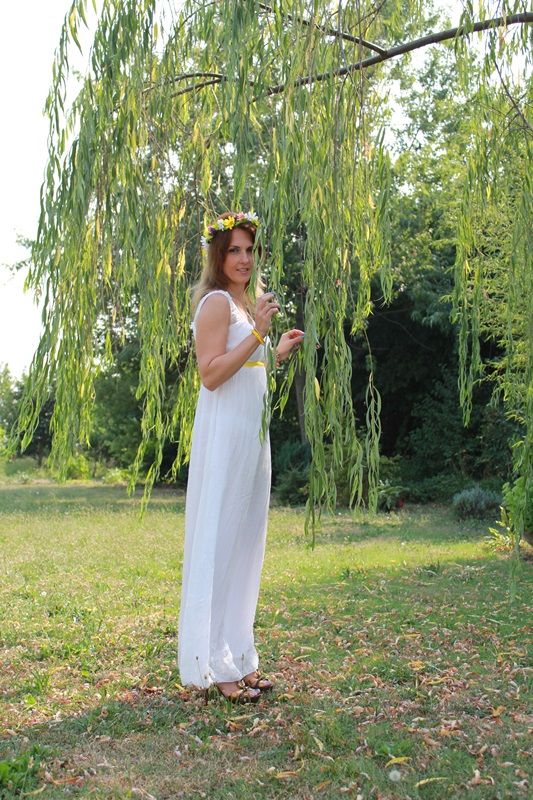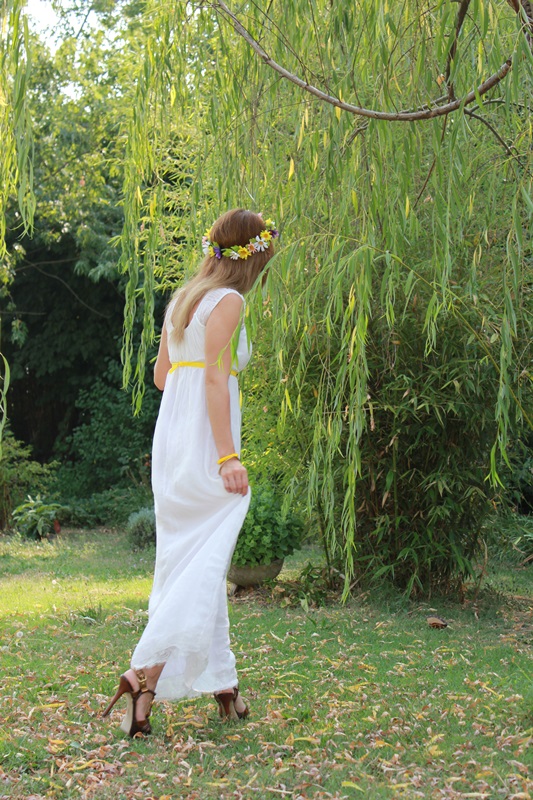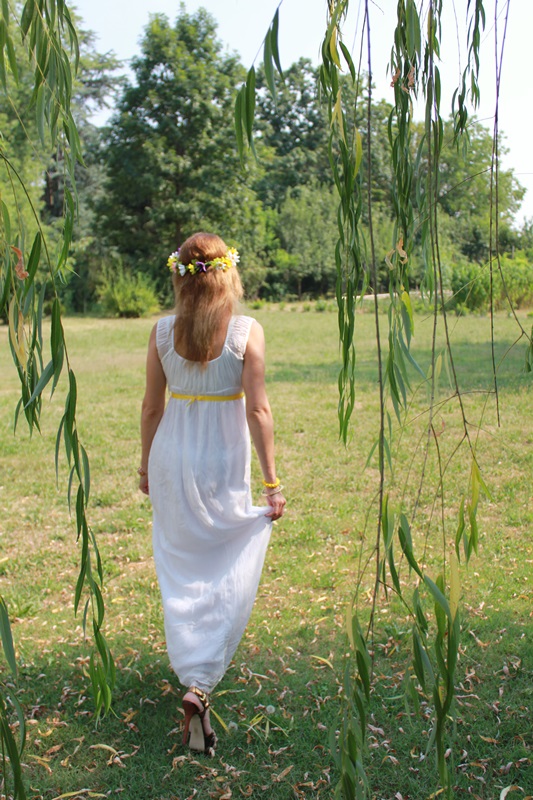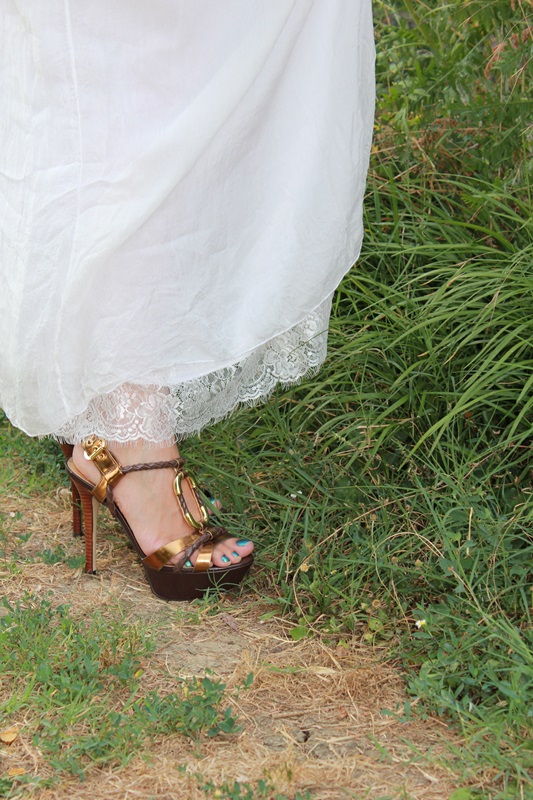 Location: My parents house – Photo credits: Mom's IndianSavage
GUESS by Marciano heels

http://www.guess.com‎
TIGER  Flower Hair Crown 

http://www.tiger-stores.it
accessori
,
accessories
,
Accessorize Rings and armlet
,
amarillo
,
anelli
,
animal print
,
autumn outfit
,
Baby Angel by Fiorucci
,
bag
,
beautiful
,
beauty
,
belt
,
blog
,
blogger
,
bloggers
,
boots
,
borse
,
cabello
,
cappelli
,
celebrity look
,
ceremony dresses
,
chanel
,
chic
,
cloth from India
,
collier
,
come vestire
,
cool
,
coral
,
corallo
,
crochet
,
cupcakes
,
customize
,
customize heels
,
customize shoes
,
customizzare
,
customizzare scarpe
,
cute
,
denim
,
denim shorts
,
diet bijoux
,
Dior's Secret Garden inspiration
,
elie saab
,
estilo
,
fall outfit
,
fashion
,
fashion blog
,
fashion victim
,
fashion week
,
fit
,
five things
,
followme
,
Foulard
,
giallo
,
green trikini
,
guess by marciano
,
Guess by Marciano heels
,
H&M
,
hair
,
heels
,
Hermes
,
hotpants
,
indian savage
,
indiansavage
,
insta-Savage
,
Instagram
,
ispirazione
,
jeans
,
jewelery
,
KAOS abbigliamento
,
Kaos clothes
,
Kaos prendas de vestir
,
kelly
,
lifestyle
,
Long skirt
,
look
,
lv
,
macarons
,
make up
,
mango
,
margaret dallospedale
,
me
,
moda
,
modo di vestire
,
mom's clothes
,
Mom's creation dress
,
My personal Review
,
natural beauty
,
No brand
,
Old Wild West
,
olso
,
ootd
,
outfit
,
outfit 2013
,
outfit spring 2013
,
pantalones cortos
,
pantaloon corti
,
passarelle
,
Patrick Mesiano
,
personal shopper
,
photo
,
photography
,
photooftheday
,
Piacenza
,
Ralph Lauren
,
Ray ban
,
Reciclar una prenda
,
Recycled garment
,
recycling
,
Ricicla un indumento
,
Roberta di Camerino
,
runways
,
scarpe
,
settimana della moda
,
sfilata
,
shoes
,
shorts
,
Sneacker/Prada
,
social
,
sporty
,
sporty -chic
,
sportychic
,
spring outfit
,
stampa maculata
,
stivali
,
street style
,
style
,
summer outfit
,
sunnies
,
T-shirt
,
tacchi
,
tendencia 2013
,
tendenza 2013
,
Terranova
,
the diary of a fashion apprentice
,
The Sunflower State
,
The Sunflower State: Kansas (A piece of me)
,
trends 2013
,
trends must have
,
trikini
,
trikini verde
,
trilby hat
,
trilby outfit
,
tweet
,
twitter
,
uncinetto
,
vest
,
vestidos de nuestras madres
,
vestiti
,
vestiti delle nostre mamme
,
video
,
vintage
,
Vintage jumpsuit
,
winter outfit
,
yellow
,
youtube
,
Zara necklace