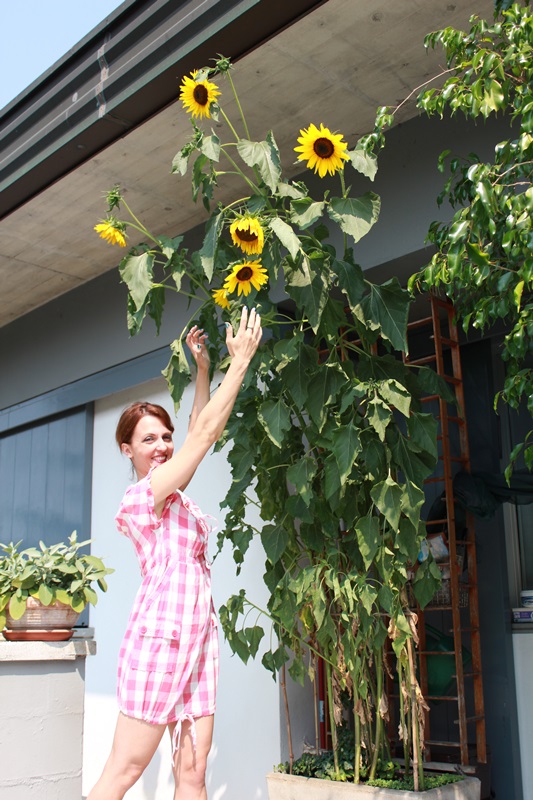 EN:
Hello World,
For those who do not know I was born in Wichita, Kansas ….
….  the state of Kansas is the Sunflower State!
Perhaps is for this reason that I love  sunflowers to such an extent that I'd like to see  them everywhere?
May be for this reason that my very italian dad, plant them even in one of the many flowers pots around the house (easy. …  in the garden too).
I do not know ….
But I'm curious to know which is your favorite flower and why?
See you later alligator,
Kisses.
IT:
Ciao Mondo,
Per chi non lo sapesse, io sono nata in Wichita, nel Kansas….
…. e lo stato del Kansas è chiamato The Sunflower State!
Sarà per questo motivo che adoro i girasoli al punto di desiderarli ovunque?
o sarà per questo motivo che mio italianisimo papà li semina persino in una delle tante fioriere di casa (tranquilli…. anche nel giardino li trovo) .
Non saprei….
Ma sono curiosa di sapere quale è il vostro fiore preferito e perché?
A Domani,
Baci
ES:
Hola Mundo,
Para aquellos que no lo saben, yo nací en Wichita, Kansas ….
…. y el estado de Kansas se llama The Sunflower State!
¿Será por esta razón que  me encantan los girasoles hasta el punto de desear verlos por todas partes?
o ¿será por eso que mi papa (muy italiano) los siembra incluso en una de las muchos floreros de casa (tranquilos… hay muchos en el jardín).
No sé ….
Pero tengo curiosidad de saber ¿cual es su flor favorita y por qué?
Hasta mañana,
Besos
IndianSavage  (alias Maggie D.)
Follow me on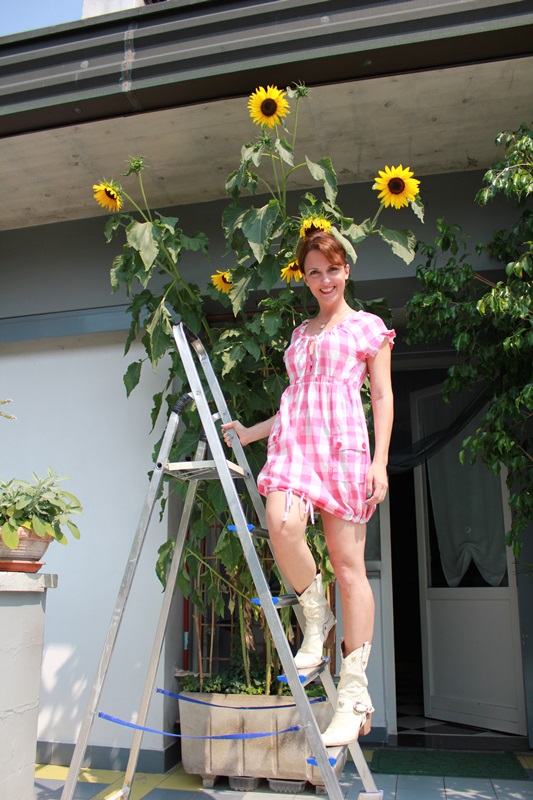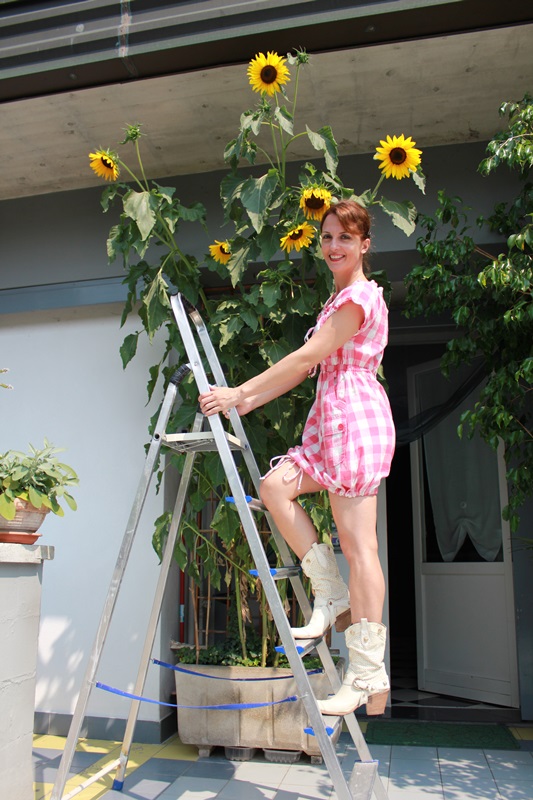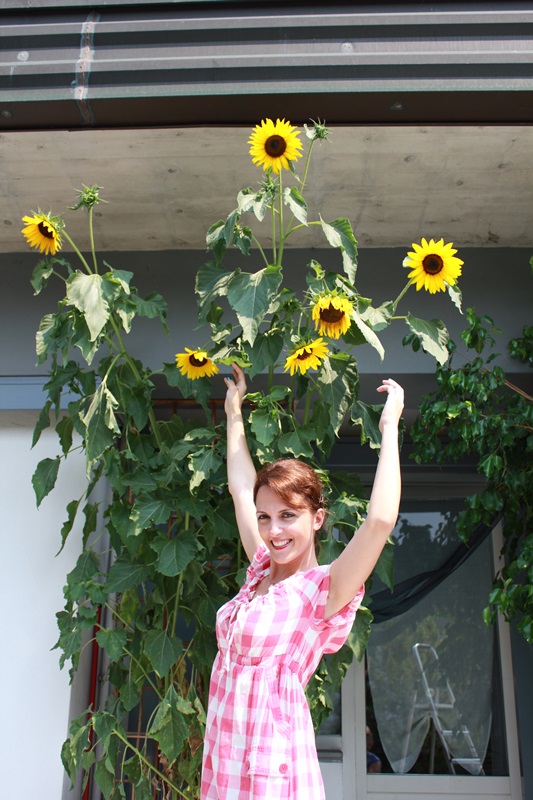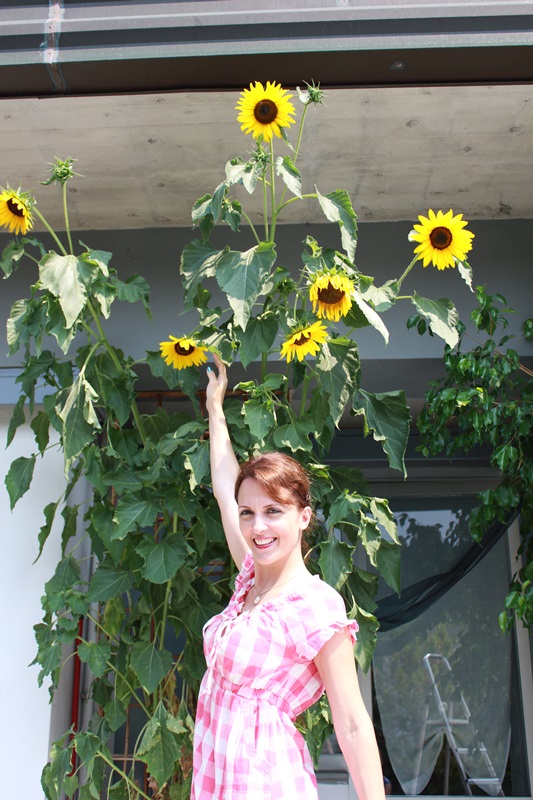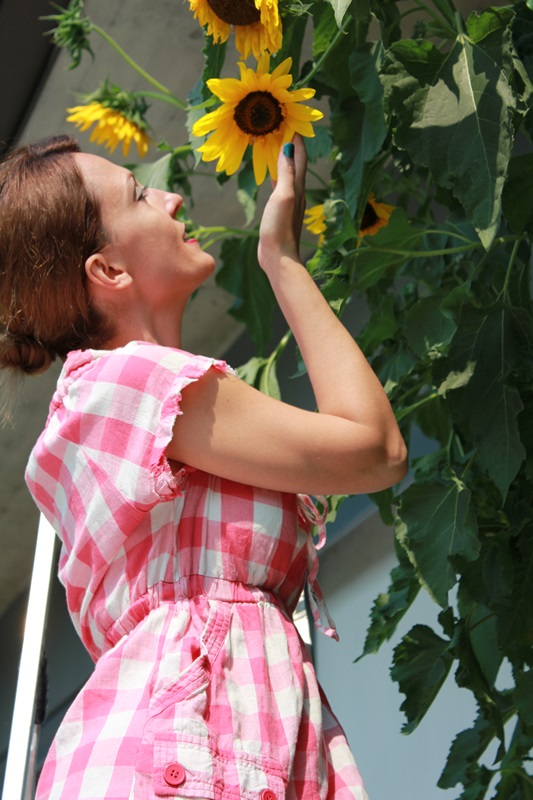 Location: My parents house – Photo credits: Daddy
No brand dress
No brand boots
accessori
,
accessories
,
Accessorize Rings and armlet
,
amarillo
,
anelli
,
animal print
,
autumn outfit
,
Baby Angel by Fiorucci
,
bag
,
beautiful
,
beauty
,
belt
,
blog
,
blogger
,
bloggers
,
boots
,
borse
,
cabello
,
cappelli
,
celebrity look
,
ceremony dresses
,
chanel
,
chic
,
cloth from India
,
collier
,
come vestire
,
cool
,
coral
,
corallo
,
crochet
,
cupcakes
,
customize
,
customize heels
,
customize shoes
,
customizzare
,
customizzare scarpe
,
cute
,
denim
,
denim shorts
,
diet bijoux
,
Dior's Secret Garden inspiration
,
elie saab
,
estilo
,
fall outfit
,
fashion
,
fashion blog
,
fashion victim
,
fashion week
,
fit
,
five things
,
followme
,
Foulard
,
giallo
,
green trikini
,
guess by marciano
,
Guess by Marciano heels
,
H&M
,
hair
,
heels
,
Hermes
,
hotpants
,
indian savage
,
indiansavage
,
insta-Savage
,
Instagram
,
ispirazione
,
jeans
,
jewelery
,
kelly
,
lifestyle
,
Long skirt
,
look
,
lv
,
macarons
,
make up
,
mango
,
margaret dallospedale
,
me
,
moda
,
modo di vestire
,
mom's clothes
,
Mom's creation dress
,
My personal Review
,
natural beauty
,
No brand
,
Old Wild West
,
olso
,
ootd
,
outfit
,
outfit 2013
,
outfit spring 2013
,
pantalones cortos
,
pantaloon corti
,
passarelle
,
Patrick Mesiano
,
personal shopper
,
photo
,
photography
,
photooftheday
,
Piacenza
,
Ralph Lauren
,
Ray ban
,
Reciclar una prenda
,
Recycled garment
,
recycling
,
Ricicla un indumento
,
Roberta di Camerino
,
runways
,
scarpe
,
settimana della moda
,
sfilata
,
shoes
,
shorts
,
Sneacker/Prada
,
social
,
sporty
,
sporty -chic
,
sportychic
,
spring outfit
,
stampa maculata
,
stivali
,
street style
,
style
,
summer outfit
,
sunnies
,
T-shirt
,
tacchi
,
tendencia 2013
,
tendenza 2013
,
Terranova
,
the diary of a fashion apprentice
,
The Sunflower State
,
The Sunflower State: Kansas (A piece of me)
,
trends 2013
,
trends must have
,
trikini
,
trikini verde
,
trilby hat
,
trilby outfit
,
tweet
,
twitter
,
uncinetto
,
vest
,
vestidos de nuestras madres
,
vestiti
,
vestiti delle nostre mamme
,
video
,
vintage
,
Vintage jumpsuit
,
winter outfit
,
yellow
,
youtube
,
Zara necklace