EN:
Hello World,
Halloween is a time of celebration and superstition. It's thought to have originated with the ancient Celtic festival of Samhain, when people would light bonfires and wear costumes to ward off roaming ghosts.  In the eighth century, Pope Gregory III designated November 1 as a time to honor all saints and martyrs: All Saints' Day, incorporated some of the traditions of Samhain. The evening before was known as All Hallows' Eve and later Halloween.
And now?
So…
Halloween is celebrated as a "costume party", where the costume party and the theme party exceed the typical and traditional "trick or treat", to give birth to a new tradition of fun, typical of a young-adults.
Do you like Halloween?
See you later alligator,
Kisses.
_ _ _ _ _ _ _
IT:
Ciao Mondo
Halloween è un momento di festa e di superstizione. Si pensa abbia avuto origine con l'antica festa celtica di Samhain, quando la gente accendeva falò e indossava costumi per allontanare il vagabondare dei fantasmi. Nell'VIII secolo, Papa Gregorio III nominò il 1 novembre come un momento per onorare tutti i santi e martiri: la festa  degli Ognissanti, incorporando a questa alcune delle tradizioni di Samhain. La sera prima era conosciuta con il nome di All Hallows 'Eve e solo dopo è diventato Halloween.
E adesso?
bé…. Halloween viene festeggiato come una "festa del costume", dove party in maschera e festeggiamenti tematici superano il tipico valore tradizionale del famoso "dolcetto o scherzetto", per dar vita ad una nuova tradizione di divertimento, tipica di una gioventù ormai cresciuta.
E a voi piace?
A domani,
Baci
_ _ _ _ _ _ _
ES:
Hola Mundo,
Halloween es un tiempo de celebración y de superstición. Se cree que se originó con la antigua fiesta celta de Samhain, cuando las personas encendían hogueras y llevaban trajes para protegerse de la itinerancia de los fantasmas. En el siglo VIII, el Papa Gregorio III nombró el 01 de noviembre como un momento para honrar a todos los santos y a todos los mártires: la fiesta de Todos los Santos,  incorporando a esta celebración algunas de las tradiciones de Samhain. La noche antes era conocida con el nombre de  All Hallows 'Eve, y sólo después  se convirtió en Halloween.
¿Y ahora qué?
Pues ahora…. Halloween es una "fiesta de disfraces", en donde los disfraces y los tema de la fiesta superan el valor tradicional del famoso "trick or treat", para dar a luz a una nueva tradición de diversión, típica de los ya crecidos. 
¿Les gusta Halloween?
Hasta mañana,
Besos.
IndianSavage (alias Maggie D.)
Catch up with IndianSavage on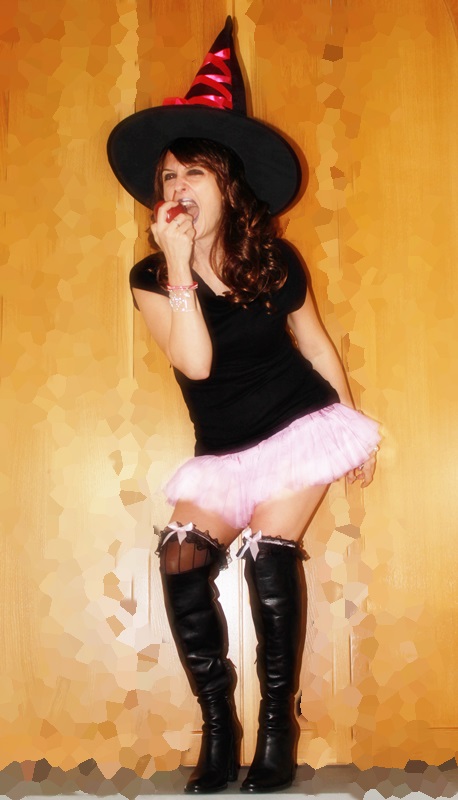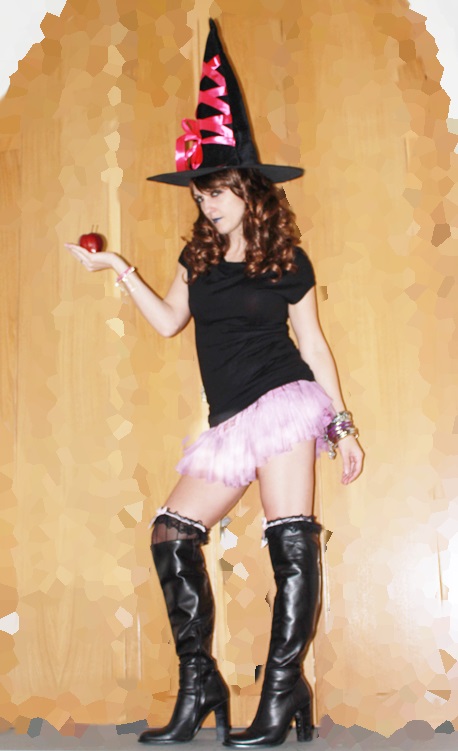 accessories
,
atuendo
,
autunno-inverno
,
barrym
,
bautyshorts
,
beautiful
,
beauty
,
bff
,
bigodino.it. interview
,
blog
,
blogdemoda
,
blogers
,
blogger
,
blogitalia
,
blogunitesstates
,
blogvenezuela
,
blonde
,
blondehair
,
blush
,
boots
,
brogues
,
brownhair
,
bruja
,
casual
,
cat
,
catwalk
,
chic
,
classy
,
clothes
,
clothing
,
collezioni
,
color
,
colors
,
consulente de imagen
,
consulente di immagine
,
contest
,
converse
,
cool
,
coolhair
,
cosmetics
,
defilè
,
desfile
,
desk
,
dress
,
elegant
,
eleganza
,
eventi
,
eyeliner
,
eyeshadow
,
fall-winter
,
fashion
,
fashion designer
,
fashion image consulting
,
fashion-doll
,
fashionable
,
fashionblogger
,
fashiondiaries
,
fashionstudy
,
fashionstyle
,
fashionulzzang
,
flinstone
,
footwear
,
fun
,
funny
,
girl
,
girlfriends
,
girls
,
girlulzzang
,
girly
,
golook
,
hair
,
haircolor
,
haircut
,
hairdo
,
hairdye
,
hairposts
,
hairstyle
,
hairstyles
,
halloween
,
heels
,
highheel
,
highheels
,
insta
,
instafashion
,
instahair
,
instashoes
,
intervista
,
jean
,
korean fashion
,
laces
,
lifestyle
,
lingerie
,
lipgloss
,
lipstick
,
longhair
,
look
,
looks
,
love
,
lovestyle
,
mac
,
makeup
,
makeupartist
,
mascara
,
moda
,
model
,
models
,
musthave
,
My october essentials
,
nail naildesigns
,
nailartaddict
,
nailartclub nailartaddicts
,
nailartheaven
,
nailartjunkie
,
nailcare
,
naildesign
,
nailpolish
,
nails
,
nailvarnish
,
neon
,
old
,
ootd
,
outfit
,
outfitstyles
,
palazzo
,
pants
,
personal shopper
,
photography
,
pictures
,
pink
,
platforms
,
poppin
,
prettynails
,
prettystyle
,
primavera-estate
,
primavera-verano
,
rainy day essentials
,
sandals
,
sequins
,
sexy
,
sfilate
,
shirt
,
shoe
,
shoes
,
shoesall
,
shoesoftheday
,
shopping
,
skinny
,
skirt
,
spring-summer. otoño.invierno
,
staples
,
starsblack
,
stilettos
,
stilista
,
stilisti
,
streetstyle
,
strega
,
style
,
swag
,
sweaters
,
tagsta
,
tagstagramers
,
tagsta_fashion
,
tape
,
tendenza
,
tendenze
,
tiger
,
trend
,
trends
,
vogue
,
wagger
,
weheartit
,
woman