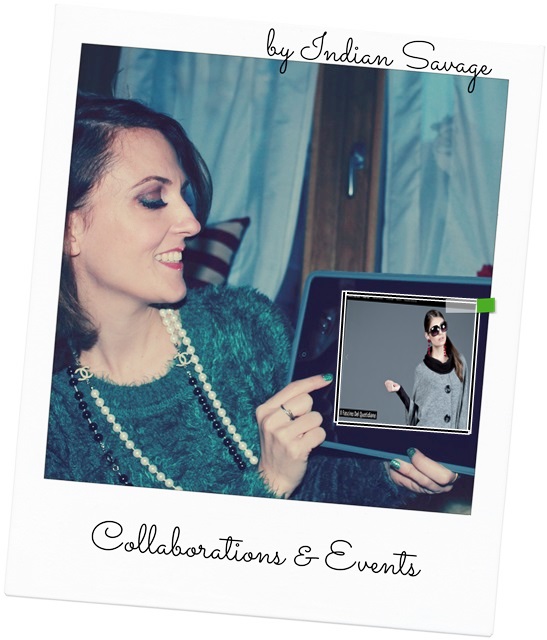 Hello World,
Let me show you the wonderful collection of Isa Florenzi Spring/Summer 2014.
And Tomorrow Smile with #instaSavage and #youtubeSavage
See you later alligator,
Kisses.
_ _ _ _ _ _ _
IT:
Ciao Mondo,
Lasciatemi mostrarvi la splendida collezione di Isa Florenzi Primavera/Estate 2014.
Ogni singolo capo della collezione e' stato curato nei minimi dettagli, ricercando le nuance piu' sofisticate e delicate, personalizzando le stampe floreali senza perdere di vista il messaggio che la moda sta dando in questo momento, cioè  coniugare bellezza e parsimonia.
La collezione apre con i colori del  blu e del beige tanto amati dalla donna sofisticata, per disegnare il naturale passaggio dai colori caldi dell'inverno ai colori pastello della primavera per poi passare gradualmente alla vivacita' e frivolezza  tipica dell'estate.
La collezione è suddivisa in 4 temi:
Il primo tema è ispirato al "Paisley" di Etro, germoglio della pianta del dattero, con stampe dal gusto classico-chic. Fantasie mescolate agli uniti blu e beige, colori tanto amati dalla donna sofisticata.
Il secondo tema "Piper" è ispirato agli anni 60' e alla loro giocosità, con abitini di linea trapezio e giacchine e cappottini Chanel con inserti in pelle leggera.
Il terzo tema "Esotico" si ispira al viaggio e all'esplorazione con abitini e tutine di fresche viscose dalle stampe tropicali e giacchine e shorts di dainetto vellutato dai colori polverosi.
Il quarto tema "En plein air" conclude l'esplorazione nei momenti felici della donna ispirandosi alla vita all'aria aperta e allo sport con capi dai materiali innovativi stampati con paesaggi impressionistici.
Visitate anche il sito web ISA FLORENZI e la loro pagina Facebook
A domani con la rubrica smile with #instaSavage and #youtubeSavage
Baci
_ _ _ _ _ _ _
ES:
Hola Mundo,
Hoy deseo mostrarles la maravillosa colección de Isa Florenzi de la Primavera/Verano 2014.
Y mañana los espero con Smile with #instaSavage y #youtubeSavage
Hasta mañana,
Besos.
IndianSavage (alias Maggie D.)
Catch up with IndianSavage on
FACEBOOK       TWITTER        FLICKR          INSTAGRAM          PINTEREST         YOUTUBE