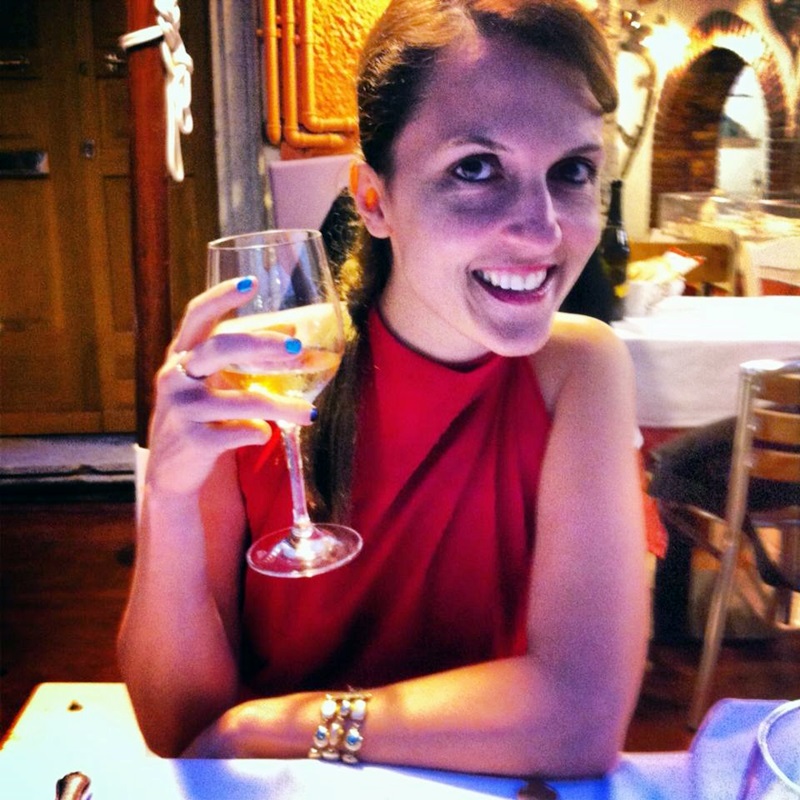 Hello World,
During my mini vacation I've enjoyed a menu based on the theme of sea fish at this beautiful restaurant in Monterosso: Al Pozzo.
My opinions? Here they are!
Location: Good.  Town center, but  far from the sea.
Staff: friendly and very helpful.
Local: very nice and quaint.
Excellent appetizers (starters): amazing anchovies with lemon, excellent seafood gratin (well… well the oyster …. In my opinion, It wasn't fresh ).
Good the lobster spaghetti and the wine "Costa de Sèra" ( Cinque Terre's Wine).
Delicious the tiramisu and the lemon sorbet.
Total spent? EUR 119,00 (2 appetizers, 2 main courses, two desserts, one coffee and a bottle of white wine).
Please, you judge the price…… Is it so expensive?
Will I come back to Al Pozzo Restaurant? I'd say yes, but I love experimenting new restaurants.
Obviously I leave you my pictures ;)
See you later alligator,
Kisses.
Ciao Mondo,
Durante la mia mini vacanza ho potuto gustare un menù a base di pesce presso questo splendido ristorante di Monterosso: Al Pozzo.
Le mie opinioni? Eccole!
Posizione: buona. In centro paese, ma lontano dal mare.
Staff: gentile e molto disponibile.
Locale: molto curato e caratteristico.
Ottimi gli antipasti: strepitose le alici al limone, ottima gratinatura dei frutti di mare (così…così l'ostrica…. non molto fresca a parer mio).
Buoni gli spaghetti all'astice e il vino "Costa de Sèra" (tipico di queste zone).
Delizioso il tiramisù e il sorbetto al limone.
Totale speso?  Euro 119,00 (2 antipasti, 2 primi, due dolci, un caffè e una bottiglia di vino bianco).
A voi l'ardua sentenza nel dire se è caro……
Ci ritornerei? Direi di sì, anche se io amo sperimentare nuovi locali.
Ovviamente non vi lascio senza le foto ;)
A domani,
Baci.
Hola Mundo,
Durante mis mini vacaciones tuve la oportunidad de disfrutar de un menú a base de pescado en este hermoso restaurante en Monterosso Restaurante "Al Pozzo".
¿Mis opiniones? ¡Aquí están!
Ubicación: Muy buena. En el centro de la ciudad, pero lejos del mar.
Personal: amable y muy servicial.
Local: muy bonito y pintoresco.
Excelentes aperitivos: increíbles las anchoas con limón, excelente los mariscos gratinados (mas o menos la ostra …. no muy fresca en mi opinión).
Buenos los espaguetis con langosta y el vino "Costa de Sèra" (típico de estas áreas).
Delicioso el tiramisú y el sorbete de limón.
¿Total pagado? 119,00 EUR (2 entrantes, 2 platos principales, dos postres, café y una botella de vino blanco).
Les dejo a ustedes  el "trabajo" de juzgar  si es caro ……
¿Volvería? Yo diría que sí, aunque me encanta experimentar nuevos restaurantes.
Obviamente no los dejaré sin imágenes de mi cena ;)
Hasta Mañana,
Besos.
Follow me on
https://www.facebook.com/IndianSavage
https://twitter.com/TheIndianSavage
http://www.flickr.com/people/60105361@N04/
http://instagram.com/theindiansavage/
http://pinterest.com/indiansavage/
http://www.youtube.com/TheIndiansavage