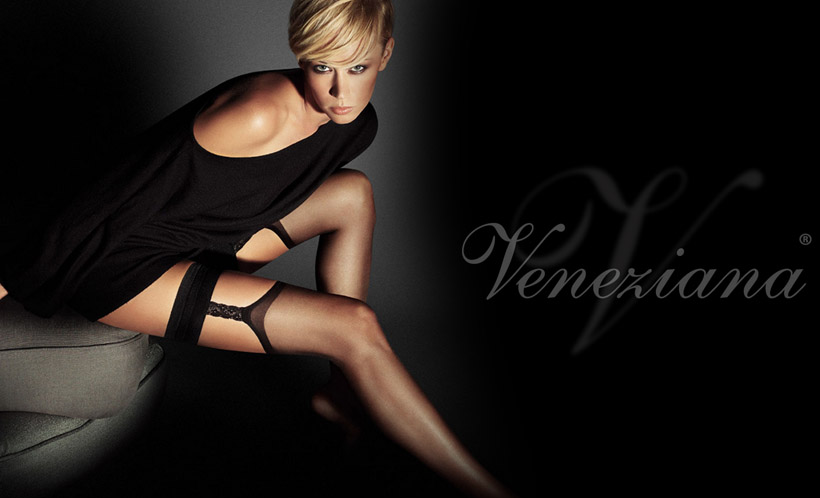 EN:
Hello World,
I am pleased to present you this wonderful brand: Veneziana. A brand born to pamper us with stockings, tights, pantyhouse, leggings and socks. In its Store Online you will find a wonderful range of products made with the most prescious yarns, such as nylon, microfiber and Lycra according with the elegant and seductive Veneziana style.
Its design makes wonderful our outfits, making every woman beautiful, sexy and stylish.
Also in this month you can take advantage of a 20% discount for all purchases that exceed the 45 EUR,  by entering this Promo code: FIDEL on this site BASETCOLLANTS, where you only won't  find these wonderful tights.
I'll already made ​​my choice and it will not be the only one ;)
See you later alligator,
Kisses.
_ _ _ _ _ _ _
IT:
Ciao Mondo,
Ho il piacere di presentarvi questo meraviglioso brand: Veneziana. Un marchio nato per coccolare noi donne con calze, collant, parigine, leggings e calzini. Nel suo store online troverete  una splendida gamma di prodotti realizzati con i filati più pregiati, quali nylon, microfibra e lycra accordo con l'elegante e seducente stile Veneziana.
Il suo design rende meravigliosi i nostri outifit, facendoci sentire donne belle, sexy ed eleganti.
Inoltre questo mese potrete approfittare di uno sconto del 20% per tutti gli acquisti che supereranno i 45 euro, inserendo semplicemente questo codice di promozione: FIDEL nel sito BASETCOLLANTS, dove non solo troverete queste meravigliose calze.
Io ho già fatto la mia scelta e non sarà l'unica ;)
A domani,
Baci
_ _ _ _ _ _ _
ES:
Hola Mundo,
Tengo el placer de presentar esta maravillosa marca: Veneziana. Una marca nacida para mimar a las mujeres con maravillosas medias – pantys, collant, leggings, medias,  y calcetines. En su tienda online podrán encontrar una maravillosa variedad de productos elaborados con los mejores hilos, como  nylon, microfibra y Lycra acuerdo con el estilo elegante y seductor Veneziana.
Su diseño convierte nuestros outfits aún más maravillosos  y hace que las mujeres se sientan bellas, sexy y con estilo.
Y en este mes podrán aprovechar de otra ventaja: un descuento del 20% para todas las compras que superen los 45 euros, con tan sólo introducir el código de promoción: FIDEL en en sitio web  BASETCOLLANTS, donde no sólo van a encontrar estas maravillosas medias.
Ya he hecho mi elección y no va a ser el único;)
Hasta mañana,
Besos.
IndianSavage (alias Maggie D.)
Catch up with IndianSavage on