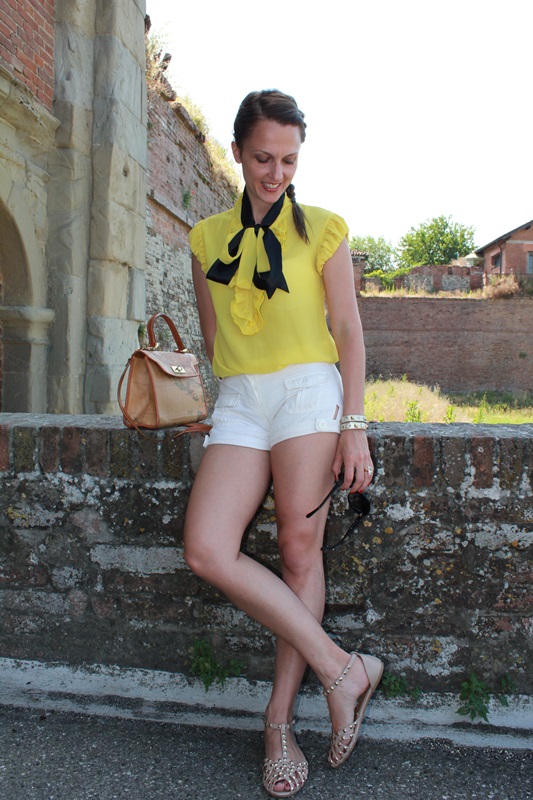 Hello World,
Could a yellow garment be missing in my summer wardrobe?
Absolutely not! 
It is such a bright color that, when it returns  in our closet, it is a real pleasure ;) 
I let myself be seduced by a yellow blouse …. almost Lemon Zest! I said almost ;)
I admit that is more mustard than yellow…. But I'm so: I have a slow approach to trends until they convince me 100%. 
And the pairing? 
I have to say , this color brings happiness and a lot of fun  when trying to match  it … 
1. With a striped garment ;)
2. With the usual denim 
3. With a black garment for an elegant look  
4. With  gray for a refined effect 
5. with white to be sure, as in my case ;)
See you later alligator,
Kisses.
Ciao Mondo,
Poteva mancare nel mio guardaroba estivo un indumento giallo?
Assolutamente NO!
E' un colore così allegro che, quando torna a far capolino nel nostro armadio, è una vera e propria soddisfazione.
Mi sono lasciata conquistare da una camicetta gialla…. quasi Lemon Zest!  Ho detto quasi ;)
Ammetto che tende più al giallo senape…. Ma io sono così: ho un approccio lento alle tendenze fino a quando mi convincono al 100%.
E l'abbinamento?
Devo dire che questo colore diverte molto persino nel momento di abbinarlo…
1. Con un indumento a righe
2. Con il solito denim
3. Con un capo nero per essere eleganti
4. Con il grigio per un effetto raffinato
5. con il bianco per andare sul sicuro, come nel mio caso ;)
A domani,
Baci.
Hola Mundo,
¿Podía faltar en mi armario de verano una prenda de color amarillo?
¡Por supuesto que no!
Es un color tan alegro que, cuando se asoma en nuestro armario, es un verdadero placer verlo.
Esta vez me dejé seducir por una blusa amarilla …. casi ¡lemon Zest!  Dije casi ;)
Admito que es más amarillo mostaz …. Pero así soy yo: tengo un acercamiento muy lento a las tendencias hasta el momento que me convencen de 100%.
¿Y la combinación?
Debo decir que realmente es divertido combinar este color, por ejemplo…
1. Con una prenda de vestir a rayas
2. Con el siempre actual denim
3. Con el  color negro para lucir elegantes
4. Con el gris para un efecto refinado
5. con el blanco para no equivocarnos, como en mi caso ;)
Nos vemos mañana,
Besos.
IndianSavage (alias Maggie D.)
Follow me on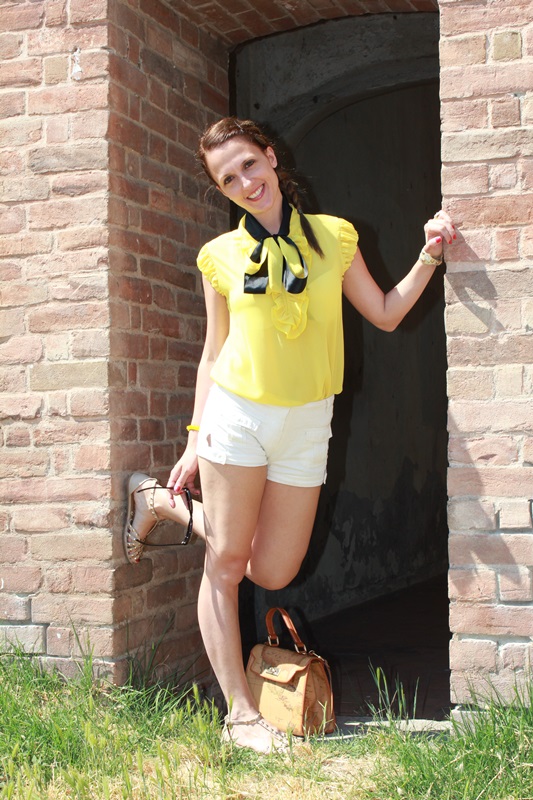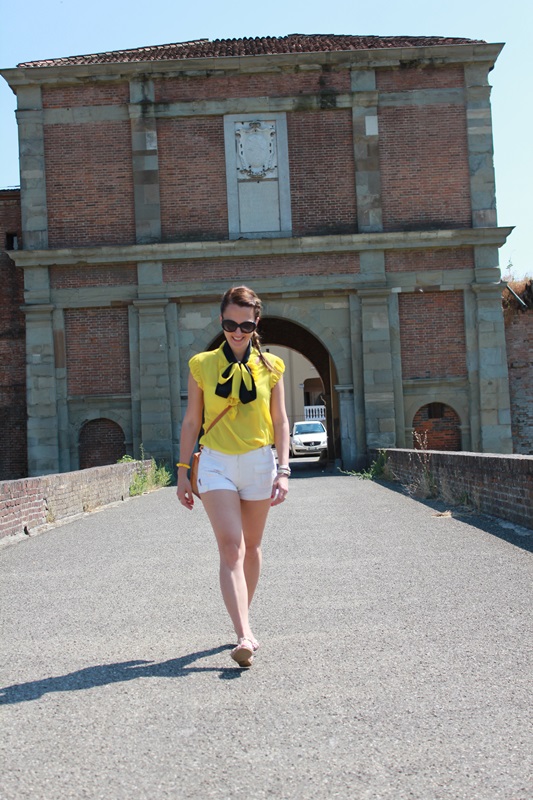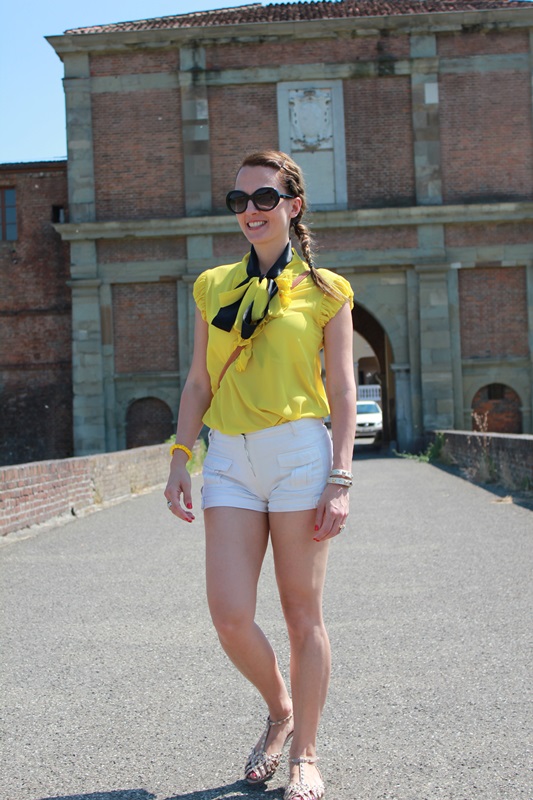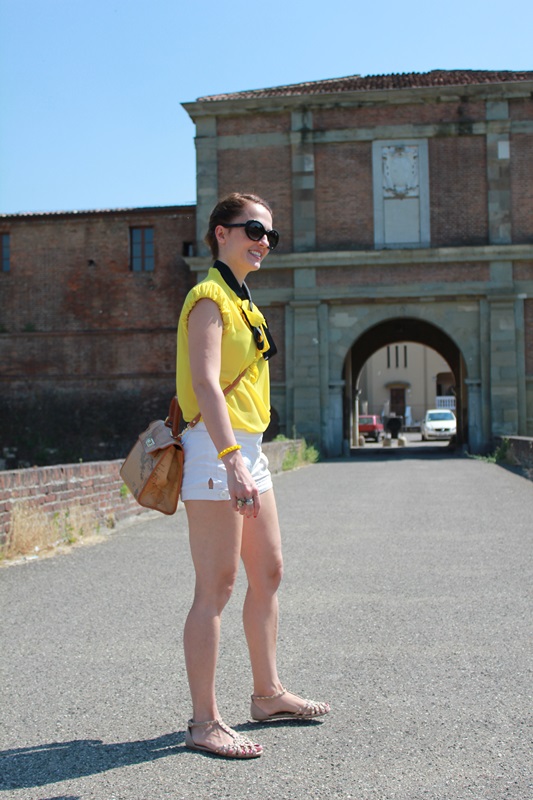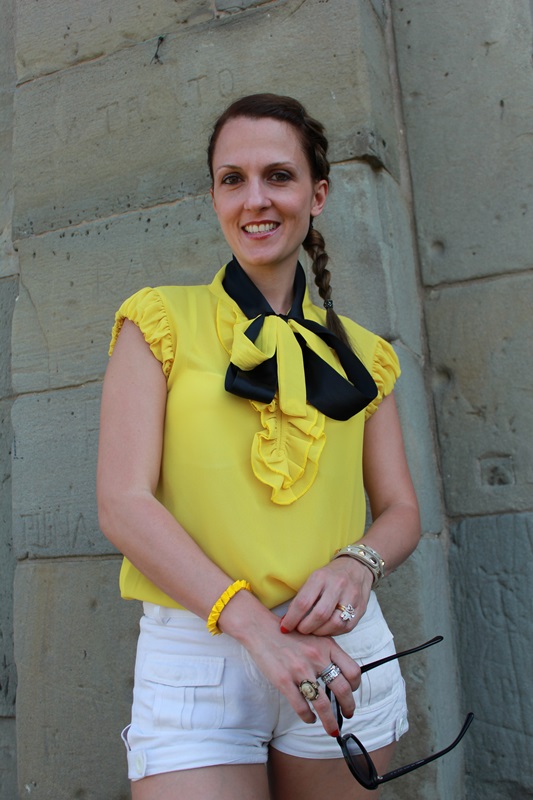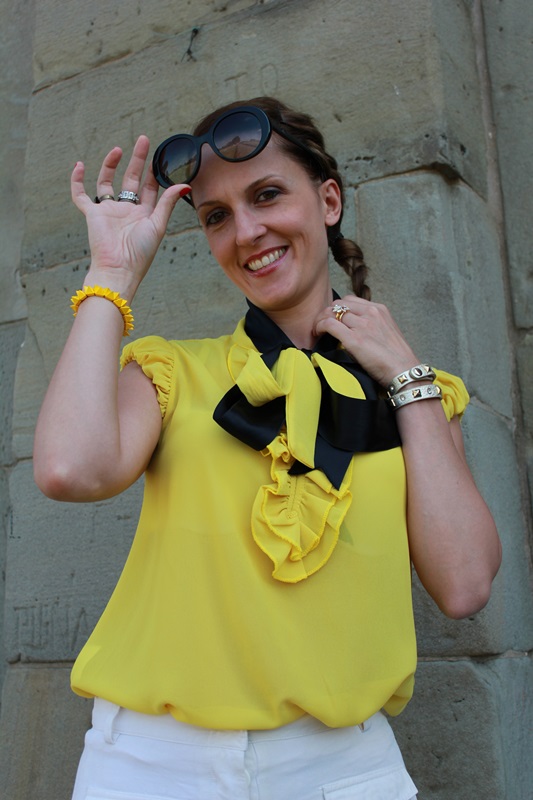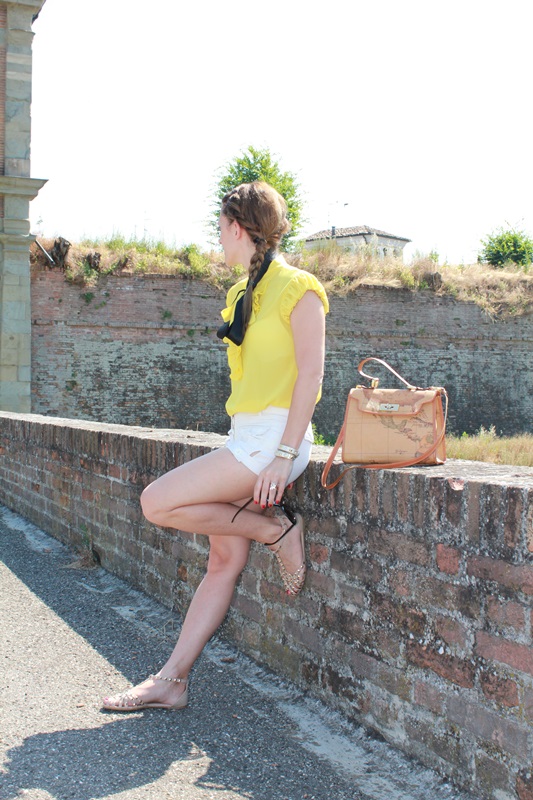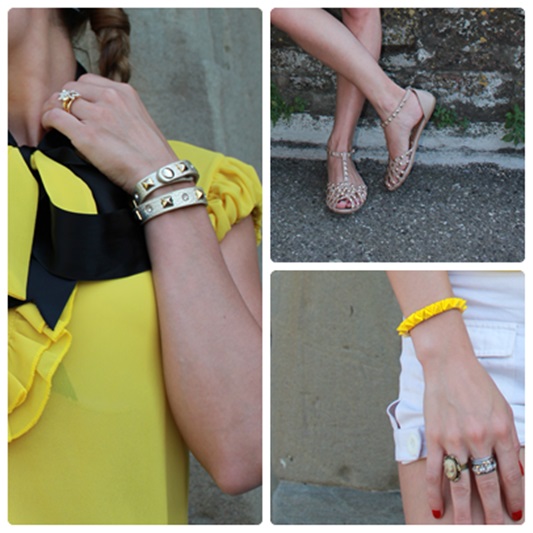 Pinko Hotpants
Alviero Martini Bag
No brand  Shrit
Chanel Sunnies
accessori
,
accessories
,
amarillo
,
anelli
,
autumn outfit
,
bag
,
beautiful
,
beauty
,
blog
,
blogger
,
bloggers
,
boots
,
borse
,
cabello
,
cappelli
,
celebrity look
,
ceremony dresses
,
chanel
,
cloth from India
,
collier
,
come vestire
,
cool
,
cute
,
elie saab
,
estilo
,
fall outfit
,
fashion
,
fashion blog
,
fashion victim
,
fashion week
,
fit
,
followme
,
giallo
,
green trikini
,
guess by marciano
,
Guess by Marciano heels
,
H&M
,
hair
,
heels
,
Hermes
,
indian savage
,
ispirazione
,
jewelery
,
kelly
,
lifestyle
,
Long skirt
,
look
,
lv
,
macarons
,
make up
,
mango
,
margaret dallospedale
,
moda
,
modo di vestire
,
Mom's creation dress
,
My personal Review
,
natural beauty
,
olso
,
ootd
,
outfit
,
outfit 2013
,
outfit spring 2013
,
passarelle
,
Patrick Mesiano
,
personal shopper
,
photo
,
photography
,
photooftheday
,
Piacenza
,
recycling
,
runways
,
settimana della moda
,
sfilata
,
shoes
,
Sneacker/Prada
,
social
,
spring outfit
,
stivali
,
street style
,
style
,
summer outfit
,
tacchi
,
tendencia 2013
,
tendenza 2013
,
the diary of a fashion apprentice
,
trends 2013
,
trends must have
,
trikini
,
trikini verde
,
trilby hat
,
trilby outfit
,
tweet
,
twitter
,
vest
,
vestiti
,
video
,
winter outfit
,
yellow
,
youtube