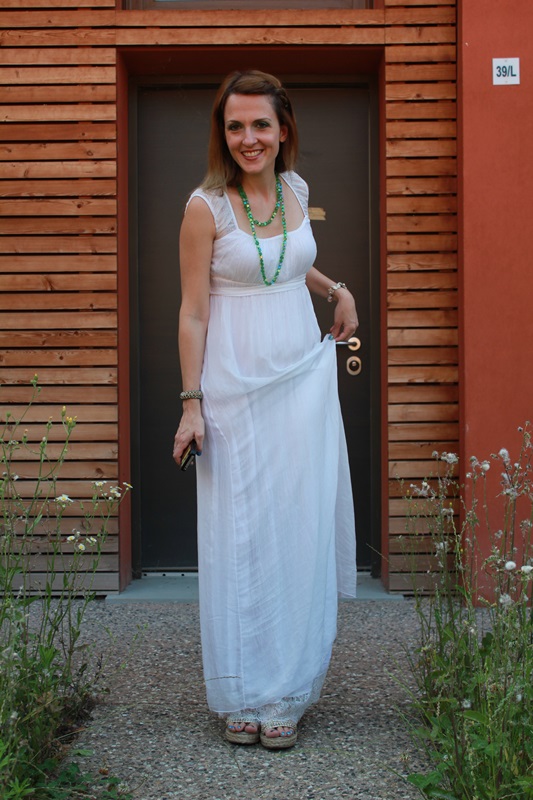 Hello World,
The Empire style, the total white and emerald green accessories…
My favorite outfits include at least one of these!
Perhaps… because the sweetness of the Empire style gives moments of romanticism that the girls want…   and sometimes even It's the women dream ;).
Maybe… because the total white gives you that feeling of freshness that we always wish in the summer. (Or perhaps because it's so fashionable ;) ).
Perhaps… because the emerald green color of the accessories makes me think the abundance that miss in this crisis period (or because it is present in all the fashion shows in 2013   ;) ).
But no…. simply, because: "De gustibus non est disputandum"
See you later alligator,
Kisses.
Ciao Mondo,
Lo stile impero, il total white e accessori color verde smeraldo…  
I miei outfit preferiti comprendono almeno uno di questi!
Forse perché la dolcezza dello stile impero dona quel romanticismo che sogniamo da bambine… ma qualche volta anche da grandicelle ;) .
Forse perché il total white ti regala quella sensazione di freschezza che tanto cerchiamo d'estate. ( o forse perché quest'anno è tanto di moda ;) ).
Forse perché il colore verde smeraldo degli accessori mi fa pensare all'abbondanza che manco in questo periodo di crisi ( o forse perché il quest'anno va molto ;) ).
Ma no….. semplicemente perché: "De gustibus non est disputandum"
A domani,
Baci.
Hola Mundo,
El estilo Imperio, el total white y los accesorios de color verde esmeralda …
Mis atuendos favoritos incluyen al menos uno de estos!
Tal vez debido a que la dulzura del estilo imperio regala ese momento romántico que soñamos cuando somos niñas… pero a veces también lo hacemos cuando somos mujeres adultas ;) .
Tal vez porque el  total white da la sensación de frescura que siempre buscamos en  verano. (O tal vez porque es ta tan de moda este año ;) ).
Tal vez porque el color verde esmeralda de los accesorios me hace pensar a la abundancia que no tenemos en este período de crisis (o tal vez debido a que este año esta muy de moda este color  ;) ).
Pero no ….. simplemente porque:  "De gustibus non est disputandum"
Hasta mañana,
Besos.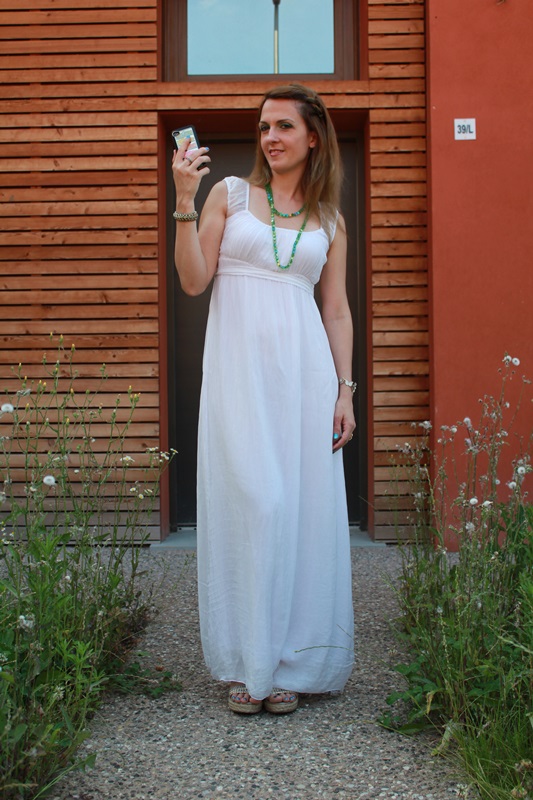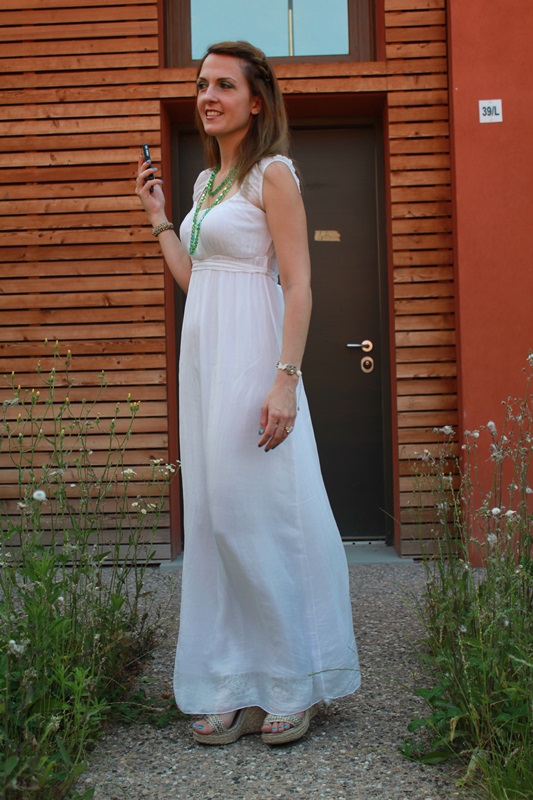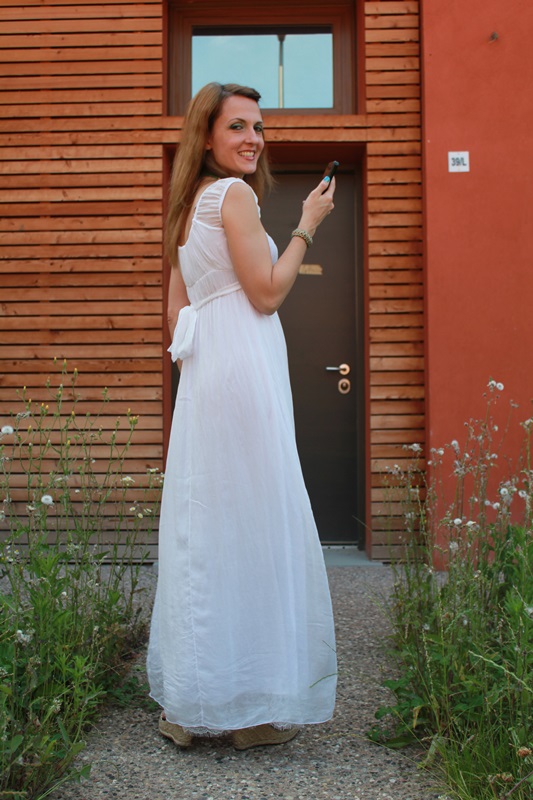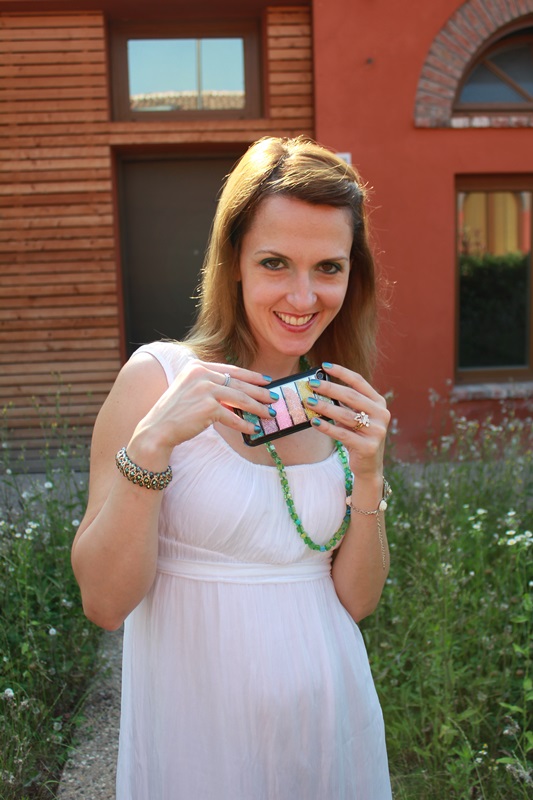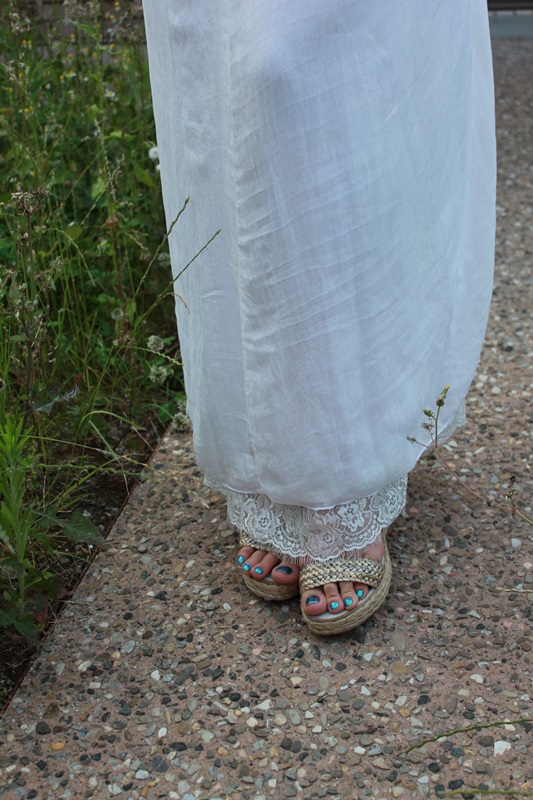 Outfit:
Armlet / Accessorize
Dress / Kaos
Wedges / No brand
nail polish / Chanel "Azure"
accessori
,
accessories
,
anelli
,
autumn outfit
,
bag
,
beautiful
,
beauty
,
blog
,
blogger
,
bloggers
,
boots
,
borse
,
cabello
,
cappelli
,
celebrity look
,
chanel
,
collier
,
come vestire
,
cool
,
cute
,
elie saab
,
estilo
,
fall outfit
,
fashion
,
fashion blog
,
fashion victim
,
fashion week
,
fit
,
followme
,
guess by marciano
,
H&M
,
hair
,
heels
,
Hermes
,
indian savage
,
ispirazione
,
jewelery
,
kelly
,
lifestyle
,
Long skirt
,
look
,
lv
,
macarons
,
make up
,
mango
,
margaret dallospedale
,
moda
,
modo di vestire
,
My personal Review
,
natural beauty
,
olso
,
ootd
,
outfit
,
outfit 2013
,
outfit spring 2013
,
passarelle
,
Patrick Mesiano
,
personal shopper
,
photo
,
photography
,
photooftheday
,
Piacenza
,
runways
,
settimana della moda
,
sfilata
,
shoes
,
Sneacker/Prada
,
social
,
spring outfit
,
stivali
,
street style
,
style
,
summer outfit
,
tacchi
,
the diary of a fashion apprentice
,
trends must have
,
trilby hat
,
trilby outfit
,
tweet
,
twitter
,
vest
,
vestiti
,
video
,
winter outfit
,
youtube