EN:
Hello World,
A few years ago, a pair of leather pants was hard to come by, but now every designer and brand is making a different version of the perfect pair.
Black leather are everywhere. Why not stand out from the crowd in some coloured leather pants?
Honestly I love to opt for another color other than black for a softer look.
For example wearing a pair of red leather pants and a simple loose blouse to compliment. The bright red leather is nicely balanced out by a pale pink shirt and nude heels.
Do you like this kind of pants?
See you later alligator,
Kisses.
_ _ _ _ _ _ _
IT:
Ciao Mondo,
Alcuni anni fa, trovare un paio di pantaloni di pelle era davvero complicato, ma ora ogni stilista e brand sta facendo una versione diversa.
Possiamo dire che la pelle nera si vede ovunque. Ma perché non distinguersi dalla folla con pantaloni di cuoio di colore?
Onestamente mi piace optare per un colore diverso dal nero per poter creare un look più delicato.
Ad esempio, indossando un paio di pantaloni di pelle rossi e una semplice camicetta morbida per rendere il mio outfit più femminile. Il colore rosso brillante è ben bilanciato grazie alla camicia rosa pallido e ai tacchi nude.
Vi piace questo tipo di pantaloni?
A domani,
Baci
_ _ _ _ _ _ _
ES:
Hola Mundo,
Hace unos años, la búsqueda de un par de pantalones de cuero era muy complicada, pero ahora cada diseñador y  marca está haciendo una versión diferente.
Podemos decir que la piel de color negro se ve en todas partes. ¿Pero por qué no destacar entre la multitud con pantalones de cuero de color?
Sinceramente me gusta optar por un color que no sea negro con el fin de crear un look más delicado.
Por ejemplo, con un par de pantalones de cuero rojo y una blusa simple para un atuendo más femenino. El color rojo brillante esta equilibrado gracias a la camisa de color rosa pálido y a tacones nude.
¿Les gusta este tipo de pantalon?
Hasta mañana,
Besos.
IndianSavage  (alias Maggie D.)
Location: Piacenza – Photo credits: Mister Sitting Bull
I wear  Mango shirt, Leather pants, Nude heels, Michael Kors belt, Infinity necklace
(End of Summer outfit – new look).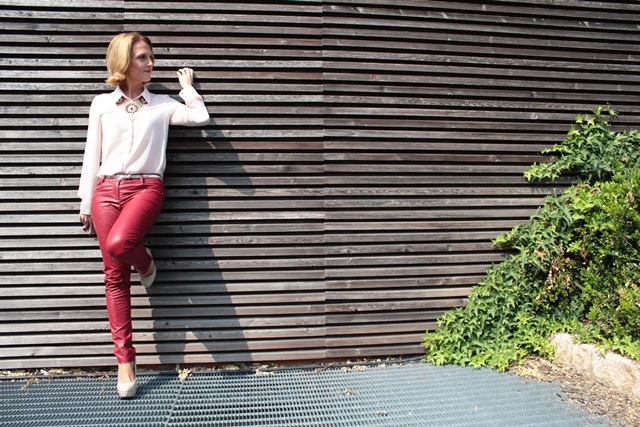 consulente de imagen
,
consulente di immagine
,
fashion blog
,
fashion blogger
,
fashion image consulting
,
fashion tips
,
how to wear
,
Italian fashion blogger
,
Leather pants
,
margaret dallospedale
,
personal shopper
,
Personal Style
,
Piacenza fashion blogger
,
Usa fashion blogger
,
Venezuela Fashion blogger
,
Wichita fashion blogger