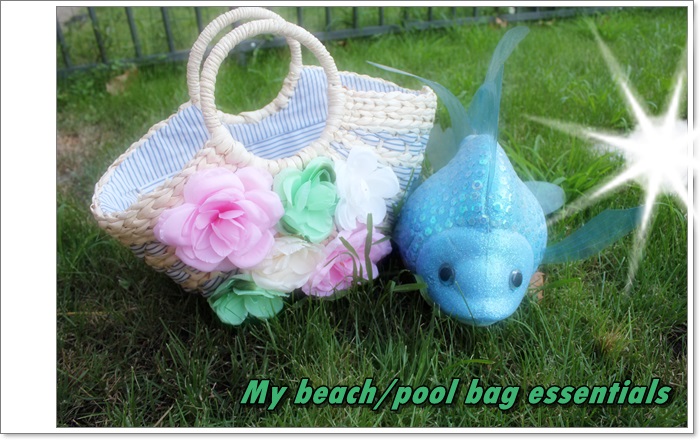 EN:
Hello World,
One of the things I have not done for years, is going to the pool for a relaxing day …..
Why?
maybe ….. because I spent most of my life in "the swimming pool"!! (no. .. yes …. well … thanks daddy ……)
So much so that, if you ask my mom something about this, she will tell you: Meg has learned to swim first and then to walk ….
Preparing my bag for this "funny" day, I realized that my needs have changed. Now I evaluate everything based on the prevention and my age :(
What couldn't be missing   in my beach bag or   pool? ;) 
I divide everything by topic 
1. Essential (NEVER WITHOUT THEM):
Hat and sunnies
Sunblock, Sunscreen for my face and my hair.
2. Necessary (VERY IMPORTANT):
Beach towel, flip flops, a bikini and Water to drink
Clutch bag for iphone, driver's license, money and keys.
Clutch for brush, mirror, hair elastics, antibacterial gel, tissues, thermal water for the face and lip-stick moisturizer.
3. Useful (but not so much):
ipod, camera and Vogue
And you,  what do you put in your beach bag / pool? 
See you later alligator….  Tomorrow InstaSavage
Kisses
_ _ _ _ _
IT:
Ciao Mondo,
Una delle cose che non faccio da anni è andare in piscina per una giornata di relax…..
Perché?
forse….. perché ho passato gran parte della mia vita in "vasca"!!!!!! (no… sì…. bé… grazie papà……)
Tant'è vero che, se chiedete a mia mamma qualcosa su questo argomento, lei vi dirà: Meg ha imparato prima a nuotare e poi a camminare….
Preparando la mia bella borsa per questa "simpatica" attività, mi sono accorta quanto sono cambiate le mie esigenze. Ora valuto tutto in base alla prevenzione e ala mia età :(
Cosa non può mancare nella mia borsa da spiaggia o da piscina? ;)
Divido tutto per argomenti:
1.Prevenzione (MAI SENZA DI LORO):
Cappellino e occhialoni.
Protezione solare per viso, corpo e capelli.
2.Indispensabili (MOLTO IMPORTANTI):
Telo Mare, infradito, un costume di ricambio e bottiglia d'acqua
Pochette per iphone,  patente, soldi, chiavi dell'auto.
Pochette per spazzola, specchietto, elastici per capelli, gel antibatterico, fazzoletti, acqua termale per il viso e lip-stick idratante.
3.Utili (ma non troppo):
ipod, Vogue e fotocamera
E voi cosa mettete nella vostra borsa da spiaggia/piscina?
A domani con InstaSavage ;)
Baci.
_ _ _ _ _
ES:
Hola Mundo,
Una de las cosas que no he hecho durante años es pasar un día de relax en la piscina…..
¿Por qué?
tal vez ….. porque me he pasado la mayor parte de mi vida en "una alberca"! (No… sí …. bueno … gracias papá ……)
Tanto es así que, si le preguntas a mi madre algo acerca de esto, ella te dirá: Meg aprendió primero a nadar y luego a caminar ….
Preparando el bolso para mi "divertida" actividad, me di cuenta de que mis necesidades han cambiado. Ahora valoro todo basandome en la prevención y en mi edad :(
¿Lo que no puede faltar en mi bolso de playa/piscina? ;)
Divido todo por tema:
1.Prevención (NUNCA SIN ELLOS):
Sombrero y gafas de sol.
Protector solar para la cara, cuerpo y cabello.
2. Indispensables (MUY IMPORTANTES):
Toalla de playa, chanclas, un bikini y una botella de agua
Bolsito  para el iphone, licencia de conducir, dinero y  llaves.
Bolsito para el cepillo, espejo, ligas para el cabello, gel antibacterial, pañuelos, agua termal para la cara y un labial hidratante.
3. Util (pero no demasiado):
ipod, cámara y Vogue
¿Y ustedes?  ¿qué no puede faltar en tu bolso de playa/piscina?
Nos vemos mañana con InstaSavage;)
Besos.
IndianSavage (alias Maggie D.) 
Catch up with IndianSavage on
FACEBOOK        TWITTER         FLICKR         INSTAGRAM          PINTEREST          YOUTUBE