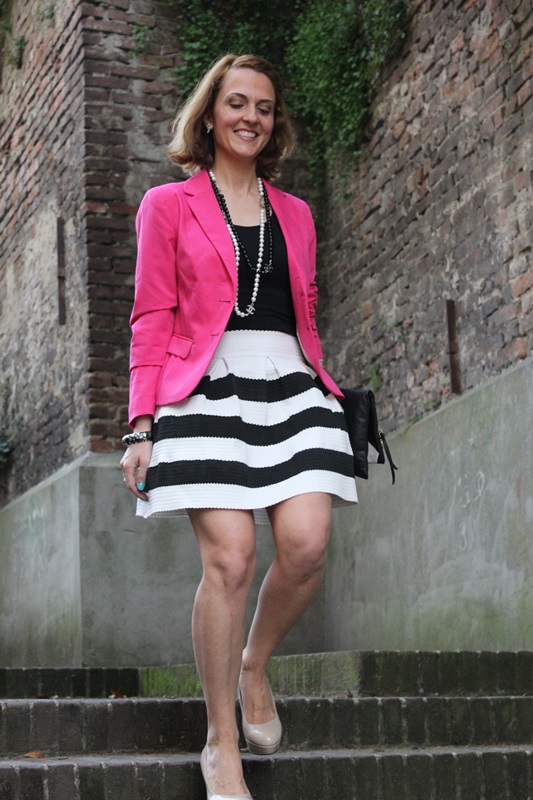 EN:
Hello World,
The  striped skater skirts are surprisingly flattering, creating the illusion of slender legs and a narrow waist; however, they can be a bit challenging to wear.
Create a playful look by pairing thw striped skater skirt with bold color.
Make the striped skater skirt sophisticated by pairing it with classic black. Opt for a simple fitted black top or leotard.
Choose heeled shoes to add length to your legs when you wear a striped skater skirt.
In conclusion, keep your jewelry simple.
See you later alligator,
Kisses.
_ _ _ _ _ _ _
IT:
Ciao Mondo,
Le gonne a ruota con stampa a righe  sono sorprendentemente accattivanti, perché creano l'illusione di avere gambe sottili e vita stretta, tuttavia possono essere un po' difficili da abbinare.
Create un look giocoso abbinando alla gonna a ruota con stampa a righe colori vivaci.
Rendete il look sofisticato associando capi classici di color nero alla gonna a ruota con stampa a righe. Optate per un semplice e aderente top nero oppure un body.
Scegliete scarpe col tacco per aggiungere lunghezza alle gambe, quando indossate una  gonna a ruota con stampe a righe.
In fine scegliete gioielli molto semplici.
A domani,
Baci
_ _ _ _ _ _ _
ES:
Hola Mundo,
Las faldas acampanadas con estampado de rayas son sorprendentemente atractivas, ya que crean la ilusión de piernas delgadas y de cintura estrecha, pero pueden ser un poco difícil de vestir.
Se puede crear un look jugueton, combinando la falda acampanada con estampado de rayas con colores brillantes.
Pueden obtener un aspecto sofisticado, combinando piezas clásicas de color negro con la falda acampanada con estampado de rayas. Por ejemplo con un top negro simple y apretado o un body.
Elijan zapatos con tacones para agregar longitud a sus piernas, cuando vistan  faldas acampanadas con estampados a rayas.
En fin opten por joyería muy simple.
Hasta mañana,
Besos.
IndianSavage  (alias Maggie D.)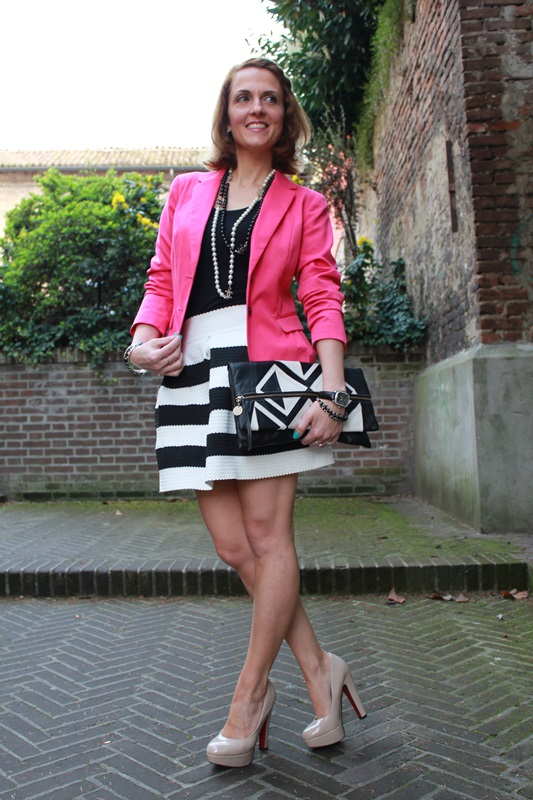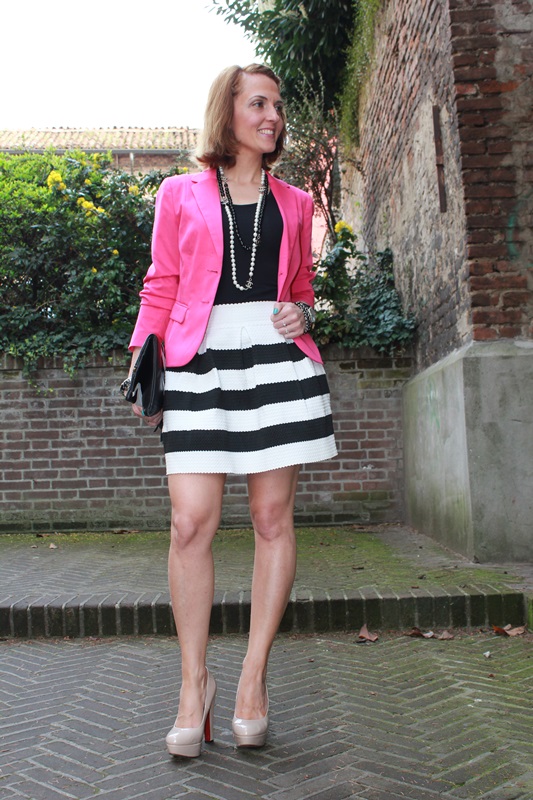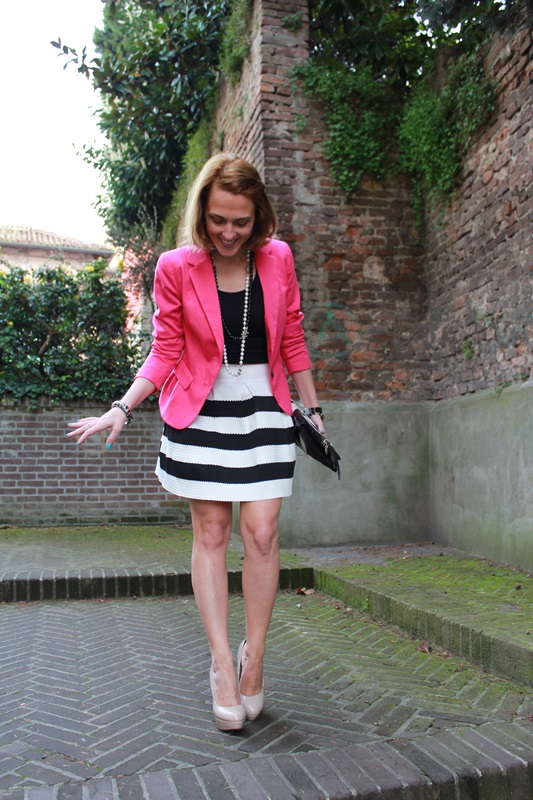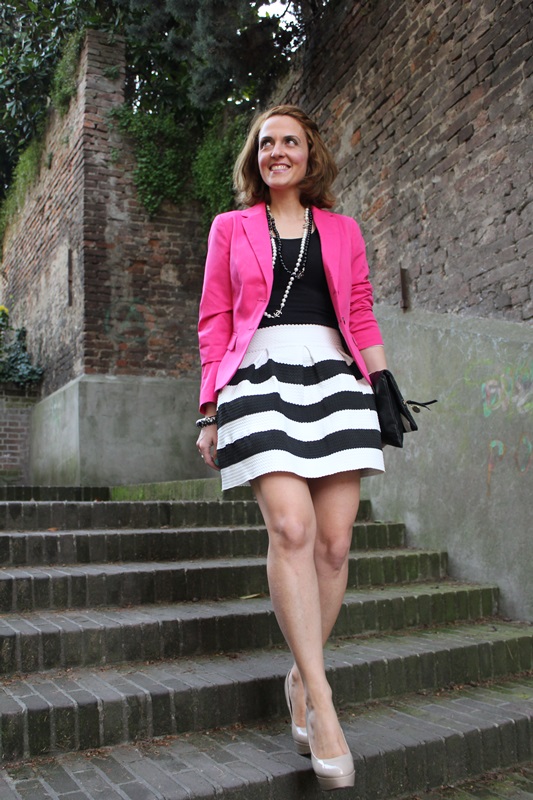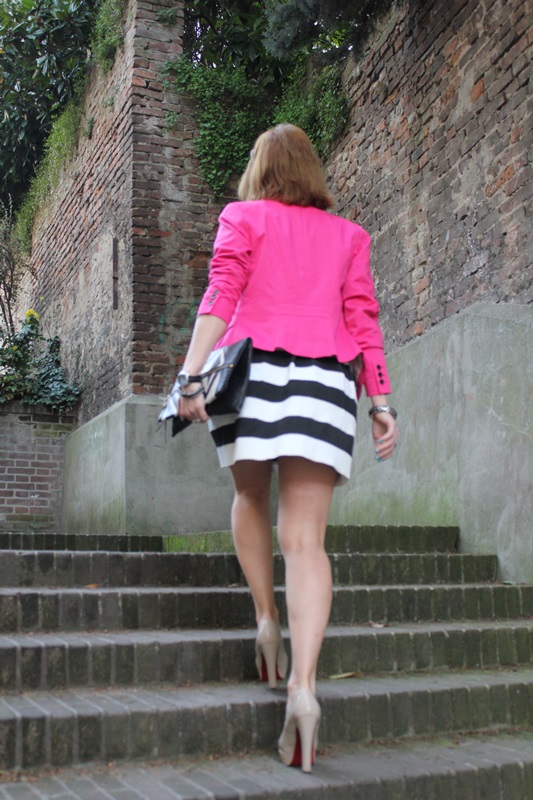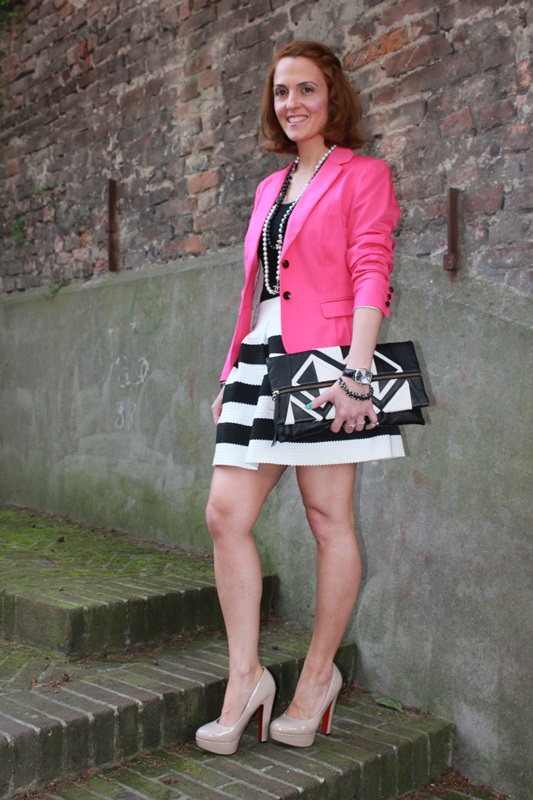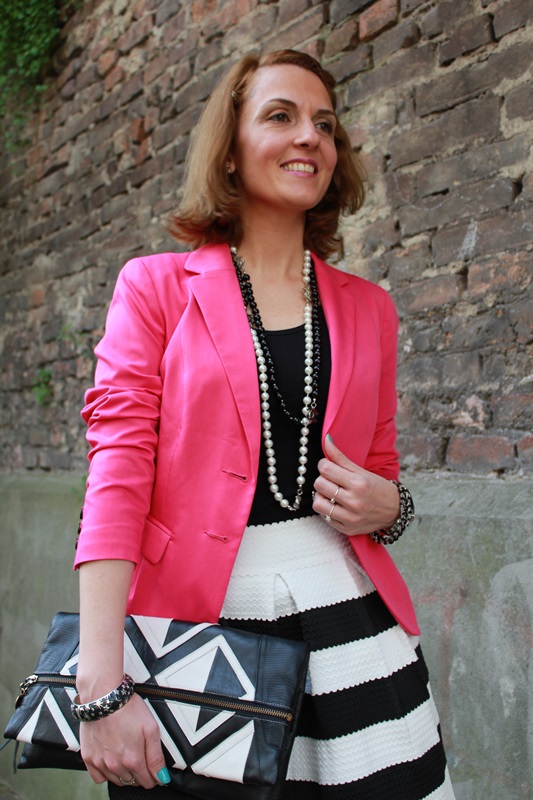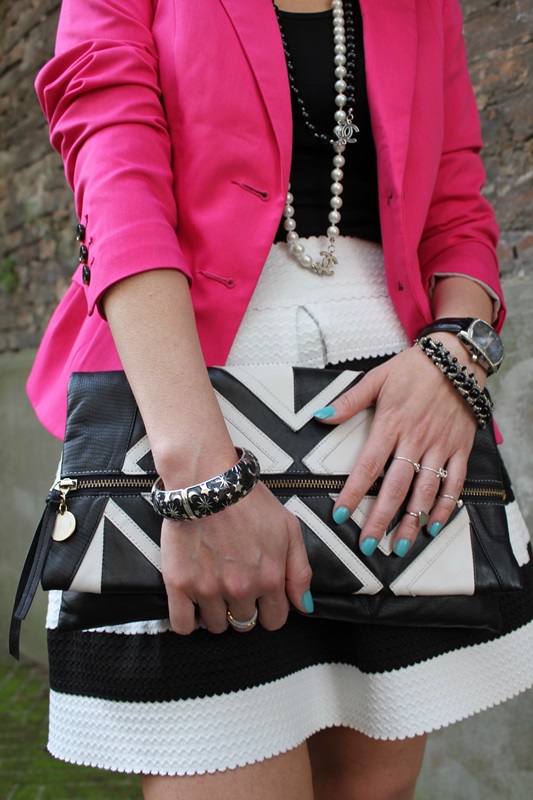 Location: Chiesa di San Sisto (Piazza) Piacenza – Photo credits: Mister Sitting Bull
I wear H&M Blazer and Top, No brand skirt and heels, Guess by Marciano Bag, Breil watch, Chanel necklace, Stroili oro bangle, Anna Lou of London midi rings, Redken diamond oil by Rossetto & Cioccolato hairstyle, Tmart.com make up, Dior "Saint-Tropez #401 nail polish,   (Spring outfit – new look).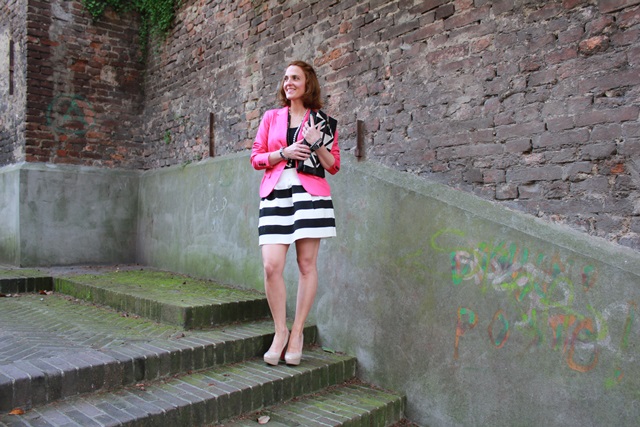 accesorios
,
accessori
,
atuendo
,
atuendo de primavera
,
beauty tips
,
Big Stripes
,
Black and White Striped Skirt
,
blogger
,
classe
,
clothes
,
come indossare
,
come vestirsi
,
como llevar
,
como vestir
,
consulente de imagen
,
consulente di immagine
,
estilismo
,
fashion
,
fashion blog
,
fashion blogger
,
fashion image consulting
,
fashion tips
,
how to wear
,
indian savage
,
indumenti
,
lifestyle
,
looks
,
looks Ideas
,
margaret dallospedale
,
moda
,
natural beauty tips
,
Nude
,
ootd
,
outfit
,
Outfit primavera
,
personal shopper
,
Piacenza blog
,
Piacenza blogger
,
piacenza fashion blog
,
prendas
,
shopping
,
Short Pleated Skirt
,
spring outfit
,
stile
,
style
,
stylish
,
The Indian Savage diary
,
tips
,
USA blog
,
USA blogger
,
Usa fashion blogger
,
Venezuela blog
,
Venezuela Blogger
,
Venezuela Fashion blogger
,
vestiti
,
Wichita blog
,
Wichita blogger
,
Wichita fashion blogger