[tabs type="pills"]
[tab title="ITALIANO"]
Symmetry Series for stylish cover un titolo che già vi preannuncia di cosa parliamo oggi. Avete capito? parliamo di cover per i nostri telefonini e non di qualsiasi custodia, ma di quelle che appartengono a Symmetry Series del prestigioso brand OtterBox. Una marca famosa nota per essere "custodi" della tecnologia. Le custodie di OtterBox sono state pensate per tutti coloro che, almeno una volta nella vita, in un attimo di disattenzione o per via di uno stile di vita troppo attivo hanno danneggiato un dispositivo elettronico… si lo so… è successo a tutti. E voi che conoscete la vostra blogger, sapete che il mio cellulare è una parte importantissima della mia vita, tant'è vero che il hashtag #alwaysonline sembra creato per me, ma da poco tempo anche #SymmetryStreet e #MyStyle. Siete pronti a scoprire OtterBox e Symmetry Series? Vi accontento subito.
Symmetry Series (My cover My style)
Buongiorno Mondo, oggi sono felice di parlarvi di un brand da me molto amato: OtterBox. Dopo tante disavventure con i cellulari per colpa di custodie che non facevano bene il loro lavoro, mi ero messa l'anima in pace e avevo capito che per proteggere il mio Iphone6 dovevo acquistare una custodia poco femminile, ma molto robusta. Non convinta di questa opzione, ma quasi costretta ho pensato subito a OtterBox, noto per le loro custodie super protettive per tutti i dispositivi più usati al mondo (dal telefonino al tablet, dal iphone al Ipad).  L'inaspettata notizia è stata quella di scoprire che potevo acquistarle sia online nel loro sito oppure in molti negozi specializzati. A questo proposito vi devo confessare che io avevo conosciuto il brand all'estero grazie ad un amico che aveva protetto tutti i suoi dispositivi con queste custodie. Ma la sorpresa più grande è stata la collezione Symmetry Series. Non ci potevo credere, ma era proprio così: OtterBox aveva pensato a tutte le donne che desideravano custodire i loro cellulari con cover femminili, ma pur sempre super protettivi.  Aveva proprio pensato a chi come me considera: My Cover My Style
Symmetry Series with Poppy Petal and White Carbon Fiber
Symmetry series ha una vasta scelta di custodie per telefonini ed io ho pensato subito alle mie esigenze con una classica bianca (White Carbon Fiber) ed una estremamente femminile e rosa (Poppy Petal). Appena le ho ricevute ho potuto costatare il loro design ultrasottile, il loro guscio esterno rigido e il rivestimento morbido per attutire i colpi. In poche parole protezione e stile in un solo oggetto. Ma potevo pensare solo a me? No. Mio marito, altro appassionato di tecnologia, si porta il suo Iphone6 plus ovunque e ovviamente ho pensato anche a lui, ma ve ne parlerò prossimamente, perché oggi vi ho fatto vedere solo una piccolissima parte di quello che potete trovare sul loro sito e vi invito a visitarlo se anche voi considerate il vostro cellulare e il vostro tablet veri gioielli e se come me My Cover My Style. A domani, Baci. MaggieD [/tab]
[tab title="Click here to read in ENGLISH"]
Symmetry Series stylish cover for a title that already tells you what we will talk about today. have you guessed it?we will talk about cover for our mobile phones and not of any custody, but those who belong to the prestigious brand Symmetry Series OtterBox. A famous brand known as "guardians" of the technology. The enclosures of OtterBox are designed for all those who, at least once in their lives, in a moment of carelessness or because of a lifestyle too active damaged an electronic device … you know … it happens to everyone once in a lifetime. And you know your blogger, you know that my phone is a very important part in my life, so much so that the hashtag #alwaysonline seems created for me, but now also #SymmetryStreet #myStyle. Are you ready to discover OtterBox and Symmetry Series? I'll do it immediately.
Symmetry Series (My cover My style)
Hello World, today I am happy to tell you about a brand loved a lot by me: OtterBox. After many misadventures with mobile phones due to cases that did not do their job well, I had put my soul in peace and I knew that I had to protect my iPhone6 ​​buying a unfeminine custody , but very sturdy. Not convinced of this option, but almost forced I immediately thought of OtterBox, known for their super protective enclosures for all the devices most used in the world (from the phone to the tablet, from iphone to Ipad). The unexpected news was to discover that I could either buy them online in their website or in many stores. In this regard I must confess that I had known brand abroad thanks to a friend who had protected all of its devices with these cases. But the biggest surprise was the Symmetry Series Collection. I could not believe, but it was just that: OtterBox had thought of all the women who wanted to keep their phones with feminine covers , but still being super protective.they had just thought of people like me who considers : My Cover My Style
Symmetry Series with Poppy Petal and White Carbon Fiber
Symmetry series has a wide selection of cases for mobile phones and I immediately thought of my needs with a classic white (White Carbon Fiber) and a very feminine and pink (Poppy Petal). As soon as I got them I was able to see their slim design, their hard outer shell and soft lining to cushion the blows. In short, protection and style in a single object. But could I only think of me? No!. My husband, another technology enthusiast, he takes his iPhone6 ​​plus anywhere and of course I thought of him, but I'll get to it soon, because today I did see a very small part of what you can find on their website I invite you to visit it if you also consider your phone and your tablet real jewels and like me My Cover My Style. see youTomorrow, Kisses.[/tab]
[tab title="Pincha aqui para leer en ESPAÑOL"]
Symmetry Series for stylish cover  es un título que ya preanuncia lo que hablamos hoy. ¿Han entendido? hablo de corcasas para nuestros teléfonos móviles y no de cualquier cover, pero las de la prestigiosa marca OtterBox y de Symmetry Series. Una famosa marca conocida como "guardianes" de la tecnología. Las carcasas de OtterBox están diseñadas para todas las que, al menos una vez en su vida, en un momento de descuido o debido a un estilo de vida muy activo han dañado un dispositivo electrónico… ya lo sé… non pasa a todos. Y ustedes saben que su blogger, vive con el teléfono en la mano, tanto es así que el hashtag #alwaysonline parece creado para mí y ahora tambien  #SymmetryStreet #MyStyle. ¿Están listos para descubrir OtterBox y Symmetry Series? Aquí les va.
Symmetry Series (My cover My style)
Hola Mundo, hoy estoy feliz de poder hablarles de una marca muy querida: OtterBox. Después de muchos contratiempos con los teléfonos móviles, debido a las carcasas que no hacen bien su trabajo, yo me había puesto el alma en paz y ya sabía que tenía que proteger mi iPhone6 ​​comprando una custodia poco femenina, pero muy resistente. No convencida de esta opción, pero casi obligada pensé en OtterBox, conocido por sus covers de super protección súper para todos los dispositivos más utilizados en el mundo. La inesperada noticia fue descubrir que podía comprarlos en línea en su sitio web o en muchas tiendas. En este sentido, debo confesar que yo había conocido la marca en el extranjero gracias a un amigo que había protegido a todos sus dispositivos con estas carcasas. Pero la mayor sorpresa fue la Symmetry Series Collection. No podía creerlo, pues OtterBox había pensado en todas las mujeres que querían mantener sus teléfonos femeninos, pero bien protegidos. OtterBox había estado pensando en gente como yo que considera: My cover My Style
Symmetry Series with Poppy Petal and White Carbon Fiber
Symmetry Series cuenta con una amplia selección de covers para los teléfonos móviles y de inmediato pensé en mis necesidades con un clásico blanco (White Cabon fiber) y uno rosa muy femenino (Poppy Petal). Tan pronto como me llegaron pude constatar su diseño, su cáscara exterior dura y el suave forro para amortiguar los golpes. En resumen, la protección y estilo en un solo objeto. ¿Pero podía pensar solo en mí? No, obvio no. Mi esposo, otro entusiasta de la tecnología, se lleva su iPhone6 ​​plus en cualquier lugar y por supuesto que pensé en él, pero les cuento en otro post, porque hoy les muestro solo una pequeña parte de lo que pueden encontrar en su página web. Les invito a que visiten si también consideran su teléfono y sus tabletas verdaderas joyas y si como yo My cover My style. Hasta mañana, Besos. MaggieD [/tab]
[/tabs]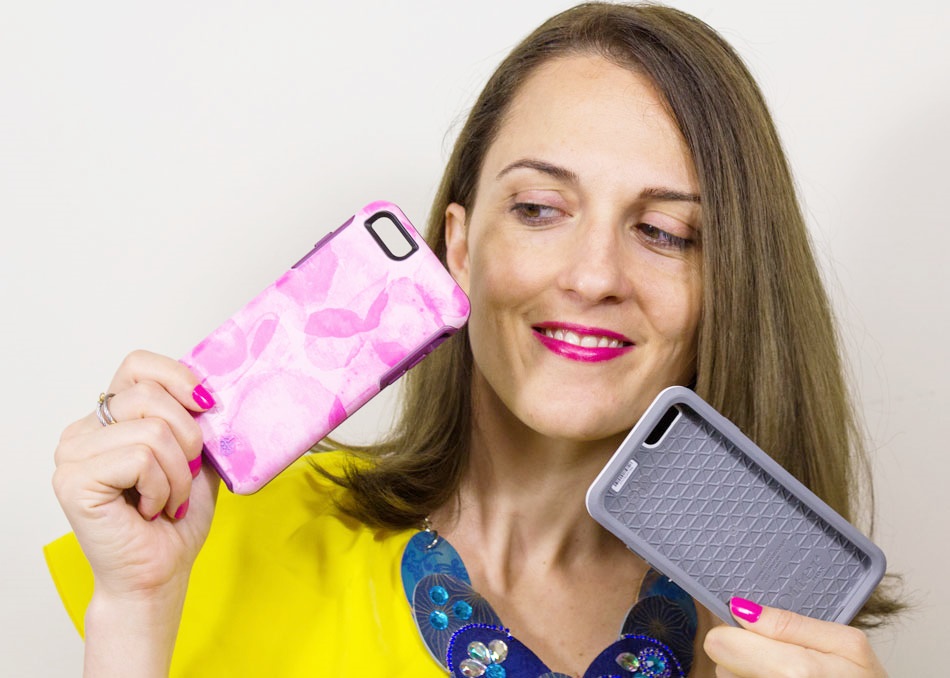 Photo credits: OtterBox.it and Diego Zaga