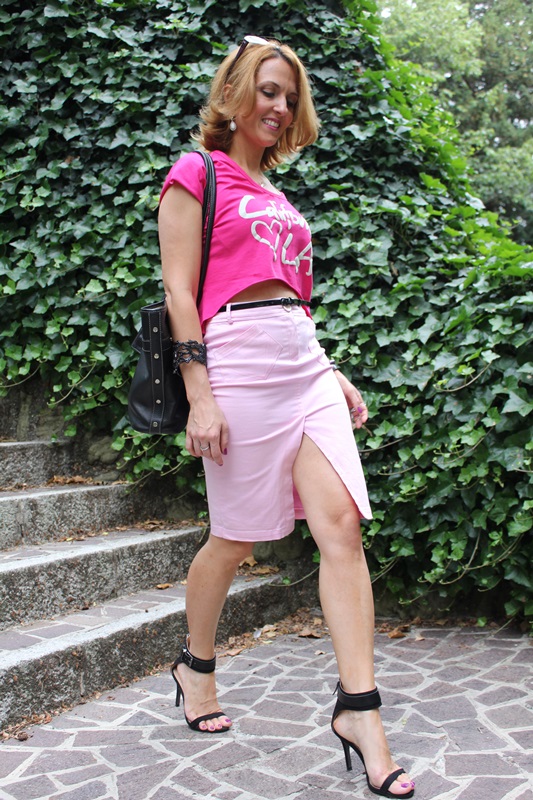 EN:
Hello World,
Having lived many years abroad , I have learned to appreciate the diversity in every aspect of life and, of course, in the fashion world .
Whenever I travel (thankfully I do it often for work ), I find myself looking the people I meet  and, as you know my passion for fashion , to observe how they dress up .
I am always pleasantly get surprised as soon as I go out of my "retrograde" city  (even just a few miles) to discover that there is more than one way to think and to dress up accordingly .
They ask me why I run away to Milan as soon as I can? because I can breathe and observe the trend so well interpreted.
Trend like  this … a simple crop top and a pencil skirt , two shades of pink , one written with nice handwriting and accessories strictly blacks .
As a Fashion blogger I love to observe and make myself a real opinion on every trend,  as a Vogue addict I ​​love to get inspired with its proposals, but as a woman  ahhhh as a woman… I rejoice in playing with the clothes.
See you later alligator
Kisses.
_ _ _ _ _ _ _
IT:
Ciao Mondo,
Avendo vissuto tanti anni all'estero, ho imparato ad apprezzare la diversità in ogni aspetto della vita e, ovviamente, anche nel mondo fashion.
Ogni volta che viaggio (per fortuna lo faccio spesso per lavoro), mi ritrovo ad osservare le persone che incontro e, visto la mia passione per la moda, ad osservare come si vestono.
Resto sempre piacevolmente colpita sul fatto che basta uscire dalla mia città "paesotta"  (anche solo pochi chilometri) per scoprire che c'è di più che un unico modo di pensare e, di conseguenza, di vestire.
Mi chiedono perché scappo appena posso a Milano? ma perché riesco a respirare e ad osservare i trend così ben interpretati.
Trend come questo… un semplice crop top e una pencil skirt, due tonalità di rosa, una scritta con calligrafia simpatica e accessori rigorosamente neri.
Come Fashion blogger amo osservare e farmi una vera opinione su ogni tendenza, come Vogue addict adoro ispirarmi con le loro proposte, ma come donna…. ahhh come donna gioisco nel giocare con i capi.
A domani,
Baci
_ _ _ _ _ _ _
ES:
Hola Mundo,
Después de haber vivido muchos años en el extranjero, aprendí a apreciar la diversidad en todos los aspectos de la vida y, por supuesto , también en el mundo de la moda .
Cada vez que viajo (suerte la mia que lo hago a menudo por trabajo), me detengo a ver a la gente que encuentro y, por la pasión que tengo por la moda , a observar cómo se visten.
Muy a menudo quedo sorprendida de manera positiva, porque es suficiente salir de mi ciudad "retrógrada" ( incluso alejarse por pocos kilómetros ) para descubrir que hay más de una manera de pensar y, obviamente, de vestir.
Me preguntan por qué huyo tan pronto como pueda de mi ciudad y voy a Milán? Porque logro respirar y observar las tendencias muy bien interpretadas.
Tendencias como esta… un sencillo crop top y una falda lapiz, dos tonos de rosa, una frase con caligrafía simpatica y accesorios estrictamente negros.
Como Bloguera de moda me encanta observar y hacerme una opinión real sobre todas las tendencias, como Vogue adicta me gusta inspirarme con sus propuestas , pero como mujer… ahh como mujer  disfruto jugar con las prendas.
Hasta Mañana
Besos.
IndianSavage  (alias Maggie D.)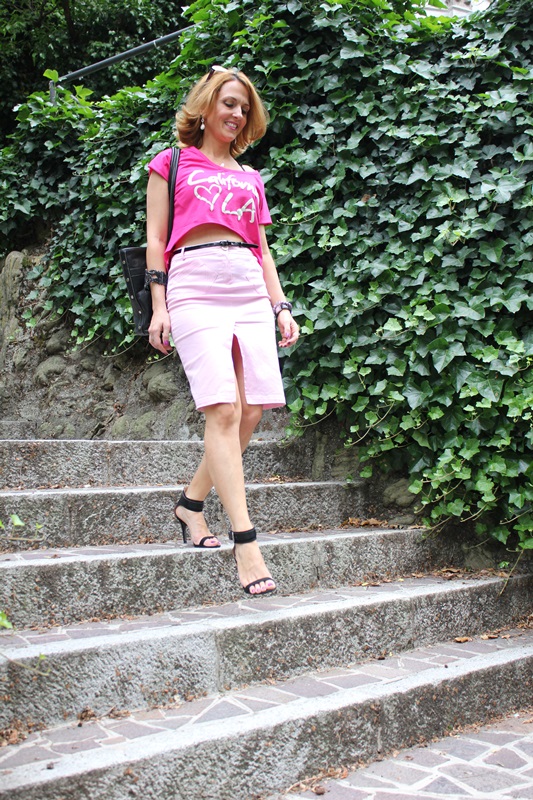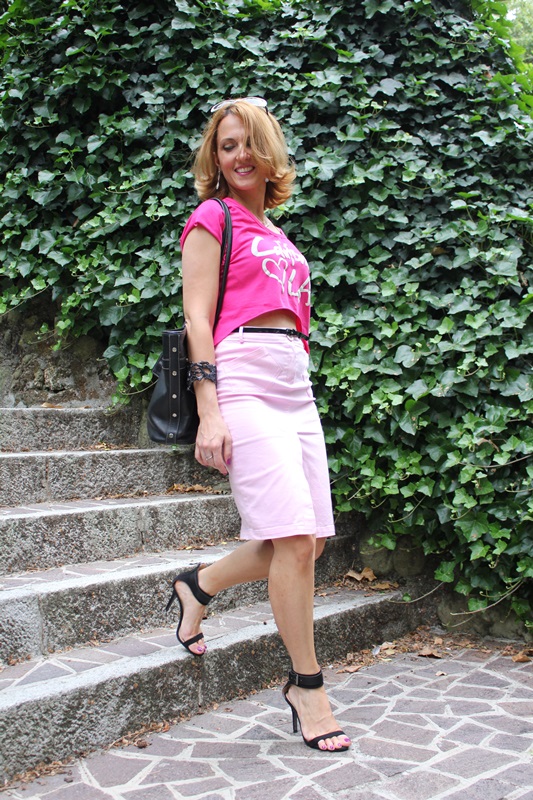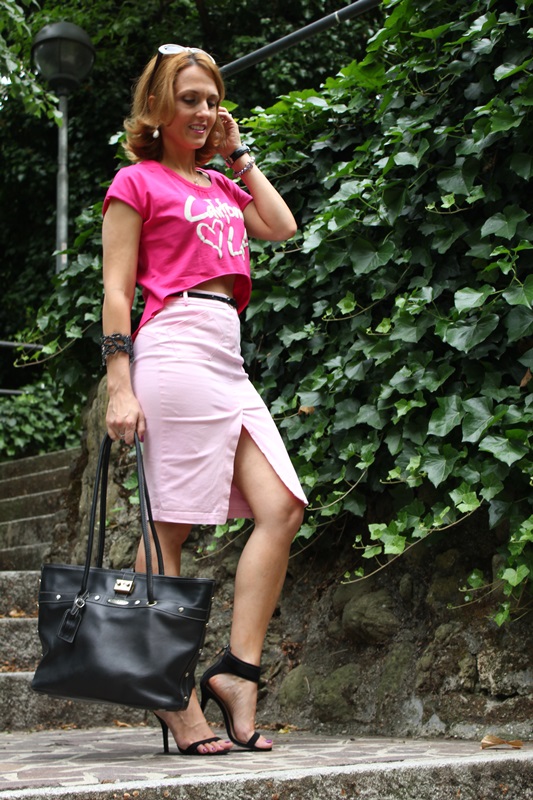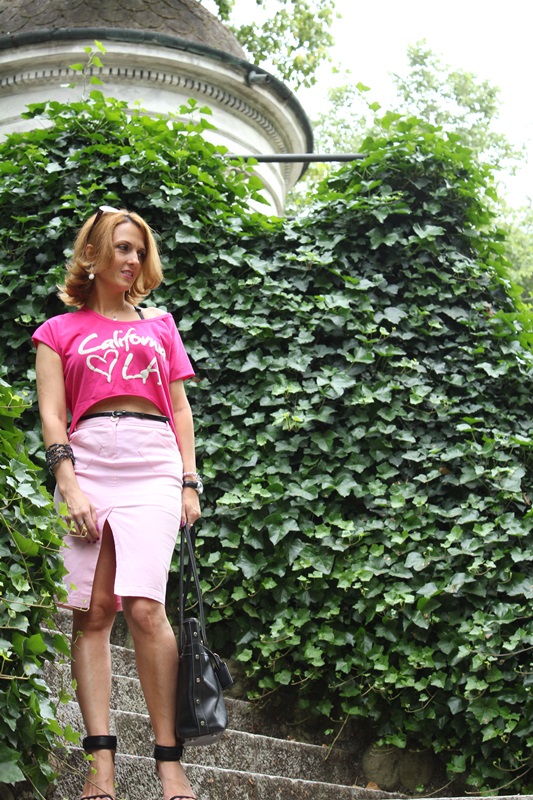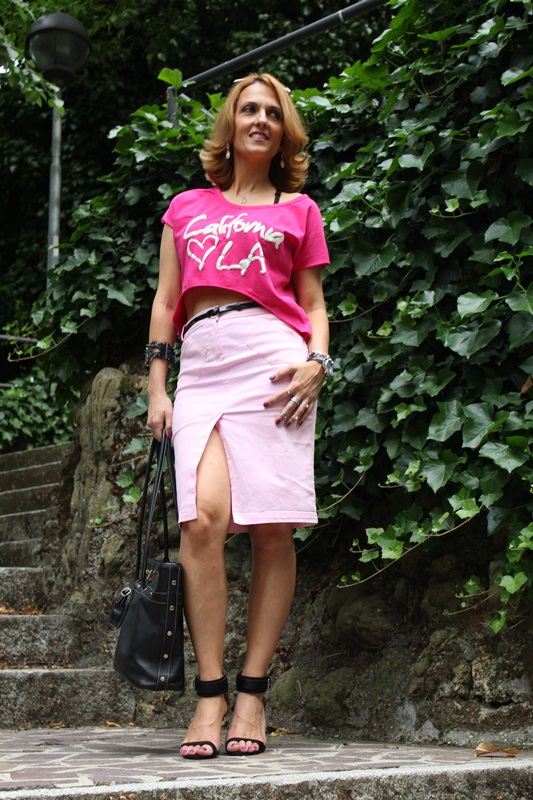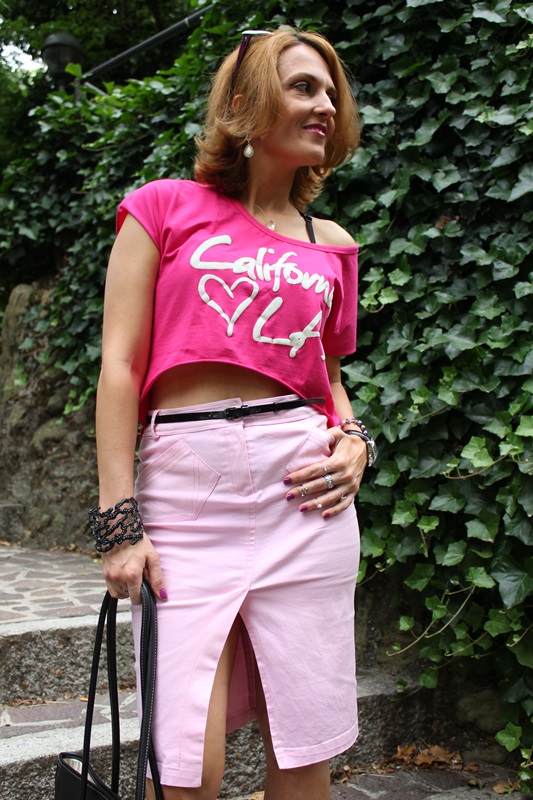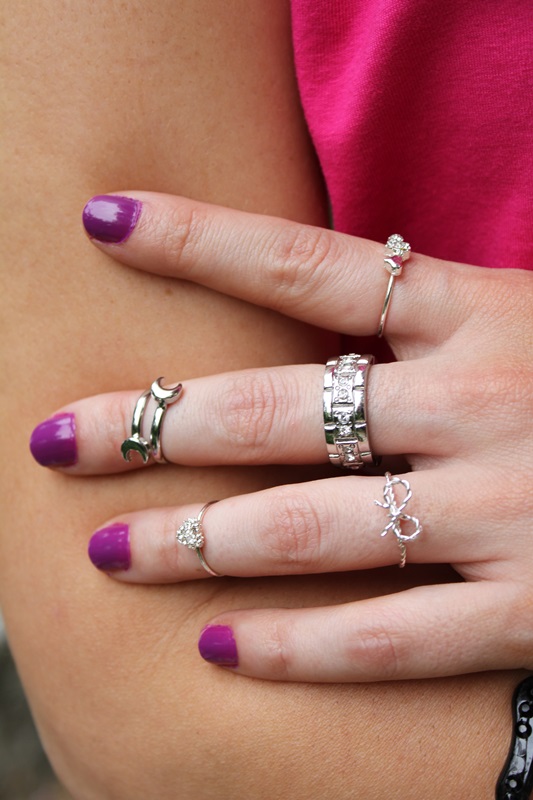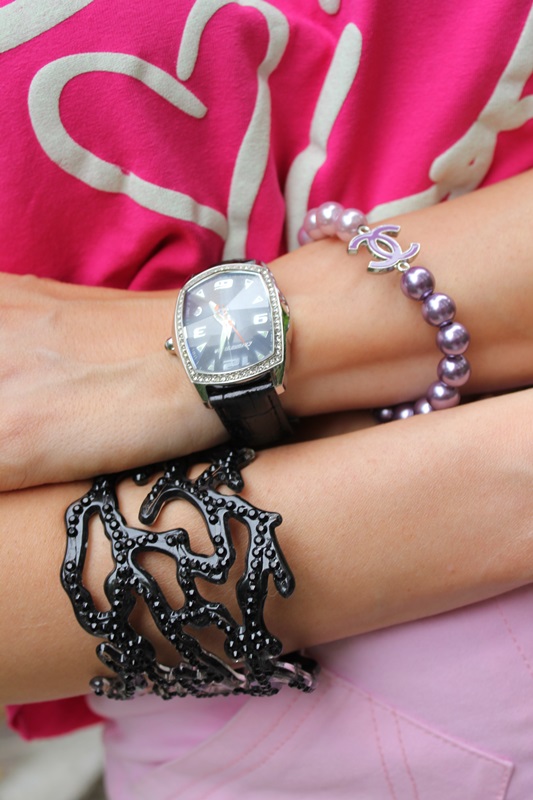 Location: Piacenza – Photo credits: Mister Sitting Bull
I wear  No brand crop top, MasQueModa skirt, Sansonite vintage bag, Bijou Brigitte Cuff, Anna Lou of London midi ring, Zara heels, Guess by Marciano sunnies, Chanel make up, Kiko nail polish,   (Spring outfit – new look).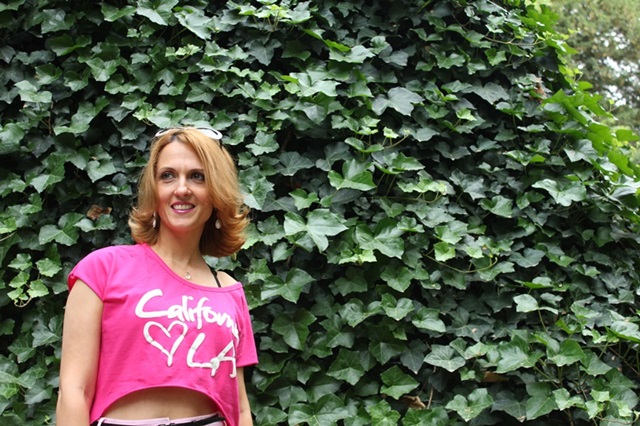 accesorios
,
accessori
,
atuendo
,
atuendo de primavera
,
beauty tips
,
blogger
,
Chic Style Guide
,
classe
,
clothes
,
come indossare
,
come vestirsi
,
como llevar
,
como vestir
,
consulente de imagen
,
consulente di immagine
,
Crop top
,
estilismo
,
fashion
,
Fashion Advice
,
fashion blog
,
fashion blogger
,
fashion image consulting
,
fashion tips
,
how to wear
,
indian savage
,
indumenti
,
Italia Fashion Blog
,
Italian fashion blogger
,
lifestyle
,
looks
,
looks Ideas
,
margaret dallospedale
,
moda
,
natural beauty tips
,
ootd
,
outfit
,
Outfit primavera
,
Pencil skirt
,
personal shopper
,
Piacenza blog
,
Piacenza blogger
,
piacenza fashion blog
,
prendas
,
shoes
,
shopping
,
sport
,
spring outfit
,
stile
,
style
,
stylish
,
The Indian Savage diary
,
tips
,
USA blog
,
USA blogger
,
Usa fashion blogger
,
Venezuela blog
,
Venezuela Blogger
,
Venezuela Fashion blogger
,
vestiti
,
Wichita blog
,
Wichita blogger
,
Wichita fashion blogger