EN:
Hello World,
Fringe skirt
While some may normally only associate fringe with The Great Gatsby, the truth of the matter is that the trend has gone from casual and cool to seriously chic.
During fashion week, we spied fringe detailing on everything from tasseled hemlines on dresses to ankle-straps on shoes.
Well this trend is one of my favourite, because I really like the way it creates movement when I walk: so sexy and chic.
I like to wear the fringe skirt with basic top and simple accessories.
What about it?
See you later alligator,
Kisses.
_ _ _ _ _ _ _
IT:
Ciao Mondo,
Gonna a frange 
Mentre alcuni di noi associano le frange a Il Grande Gatsby, la verità è che questa tendenza è passata dal essere casual e cool a seriamente chic.
Durante la settimana della moda, abbiamo visto le frange su tutto, dagli orli degli abiti ai cinturini delle scarpe.
Bene questa tendenza è una delle miei preferiti, perché mi piace molto il modo in cui si crea il movimento quando cammino: così sexy e chic.
A me piace indossare la gonna a frange con un top basico e semplici accessori.
Che ne dite?
A domani,
Baci
_ _ _ _ _ _ _
ES:
Hola Mundo,
Falda con flecos
Mientras que algunos de nosotros asociamos las franjas a The Great Gatsby, la verdad es que esta tendencia ha pasado de ser una moda casual y cool a realmente chic.
Durante la semana de la moda, vimos los flecos en todas partes, en los bordes de los vestidos  a las correas de los zapatos.
Bueno esta tendencia es una de mis favoritos, porque me gusta mucho la manera en que se crea movimiento cuando camino: tan sexy y chic.
Me gusta usar las faldas con flecos con un top básico y accesorios sencillos.
¿Qué les parece este look?
Hasta mañana,
Besos.
IndianSavage  (alias Maggie D.)
Location: Piacenza – Photo credits: Mister Sitting Bull
I wear Zara Fringe skirt and heels, H&M top, Chanel #475 dragon nail polish (Summer outfit – new look).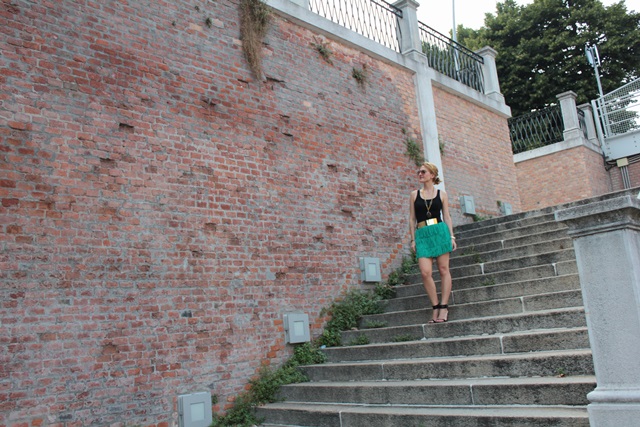 consulente de imagen
,
consulente di immagine
,
Falda con flecos
,
fashion blog
,
fashion blogger
,
fashion image consulting
,
fashion tips
,
Fringe skirt
,
Gonna a frange
,
how to wear
,
Italian fashion blogger
,
margaret dallospedale
,
personal shopper
,
Personal Style
,
Piacenza fashion blogger
,
Usa fashion blogger
,
Venezuela Fashion blogger
,
Wichita fashion blogger