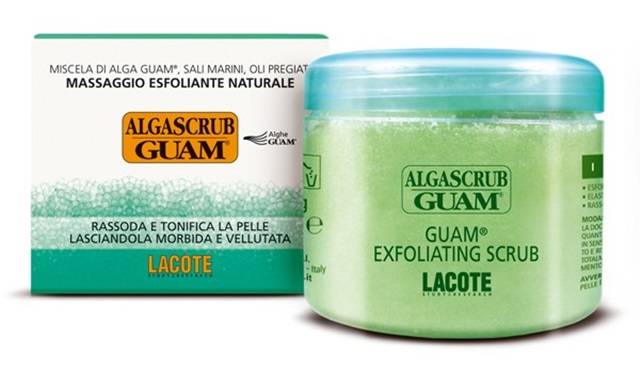 EN:
Hello World,
Today I would like to introduce to you Algascrub of Guam.
Guam Algascrub is an invigorating way to exfoliate and nourish our skin while combating the appearance of cellulite. It's an energising natural mixture of Guam algae, sea salt and premium oils.
In my opinion this product is really good, because It has a wonderful structure and it smells nice.
It applies with ease, it is enough to distribute it on damp skin. The first effect, that I noticed, was that this scrub leaves skin smooth and oiled with light touch of menthol (really refreshing).
I assure you that AlgaScrub has conquered me and I will continue to use it and I recommend it using it to everyone. It is amazing on its own or as a part of your  anti cellulite routine.
See you later alligator,
Kisses.
_ _ _ _ _ _ _
IT:
Ciao Mondo,
Oggi vorrei presentarvi Algascrub di Guam.
Guam Algascrub è un modo stimolante per esfoliare e nutrire la nostra pelle mentre lotta contro la comparsa della cellulite. Si tratta di una miscela naturale energizzante di alghe di Guam, sale marino e oli premium.
A mio parere questo prodotto è davvero ottimo, perché ha una texture meravigliosa e un buon profumo.
Si applica con facilità, infatti è sufficiente distribuirlo sulla pelle umida. Il primo effetto, che ho notato, è che questo scrub lascia la pelle liscia e oliata con un leggero tocco di mentolo (davvero rinfrescante).
Vi assicuro che Algascrub mi ha conquistato e continuerò ad usarlo e consigliarlo a tutti. E 'incredibile sia che lo usiate come da solo o come parte della vostra routine anticellulite.
A domani,
Baci
_ _ _ _ _ _ _
ES:
Hola Mundo,
Hoy quiero presentarles  Algascrub de Guam.
Guam Algascrub es una buena manera  de exfoliar y nutrir nuestra piel mientras prevenimos la aparición de la celulitis. Es una mezcla natural de algas de Guam, sal marina y aceites de primera calidad.
En mi opinión este producto es realmente bueno, ya que tiene una textura maravillosa y huele muy bien.
Se aplica fácilmente, de hecho es suficiente distribuirlo en la piel húmeda. El primer efecto que noté es que este exfoliante deja la piel lisa y aceitada con un ligero toque de mentol (muy refrescante).
Les aseguro que Algascrub me conquistó y voy a seguir usandolo y recomendandolo a todos. Es sorprendente así que lo utilices solo o como parte de su rutina de la celulitis.
Hasta mañana,
Besos.
IndianSavage  (alias Maggie D.)