[tabs type="pills"]
[tab title="ITALIANO"]
Mini Bags è il tema trattato oggi nel vostro International Fashion blog.  Tutte le Fashion blogger più influenti del mondo ci hanno proposto molti outfit con queste mini handbag negli ultimi mesi ed io mi sono decisa ad aggiungere una nuova alla mia piccola collezione.
Mini Bags per tutte le fashioniste sintonizzate
Buongiorno Mondo, avete già capito di cosa parliamo oggi: Mini Bags. Pur amando questa tendenza io non le uso molto durante la settimana, perché la mia borsa è il mio piccolo mondo. Per questo motivo ho bisogno di una maxi bag (anche se una valigia sarebbe meglio). Tra portafoglio, occhiali da vista, sunnies, beauty bag, Iphone, caricabatteria, portachiavi, agende e tanto altro, non saprei come fare con una piccola borsa. Ma come può una "fashionista" non seguire questa "deliziosa" tendenza? Non può. Ed ecco arrivare a patti con una mini bag più capiente di tutte quelle che ho nella mia collezione. La particolarità di questa che ho scelto è la catenella dorata e il logo del marchio in metallo. Carina, vero?
Mini Bags and Black & White Outfit
L'outfit di oggi  è un Black and White classico. Un trend che può essere usato tutto l'anno, purché si tenga conto dei materiali dei capi d'abbigliamento che deciderete indossare. Essendo iniziata da poco la primavera (si spera), io ho optato per una gonna nera che segue la tendenza "Sheer" (vi ricordate il post dedicato qui?) e una camicia con fiocco dallo stile romantico. Tutto il look è impreziosito da piccoli dettagli come i bottoni dorati della camicia, la collana statement (la cui catenella rimanda a quella della mia Mini Bag) che si intravede dal fiocco, le décolleté nere con cinturini dorati e il cappello a falda ampia. Il tocco di colore rosso della cintura sottile e della handbag (vedi la tendenza Mini Bags) rendono l'outfit "vivace" come direbbe un certo caporedattore di un importante Fashion Magazine.  A domani. Baci,  MaggieD.[/tab]
[tab title="Click here to read in ENGLISH"]
Mini Bags is the subject matter today in your International Fashion blog. All the world's most influential fashion bloggers have proposed many outfits with these mini handbag in recent months and I have decided to add a new to my small collection.
Mini Bags for all fashionistas
Hello World, you already know what we will talk about today: Mini Bags. Also loving this trend I did not use it much during the week, because my bag is my little world. That is why I need a big bag (although a suitcase would be better). Among a wallet, eyeglasses, sunnies, beauty bag, Iphone, charger, key chains, calendars and much more, I would not know how to do with a small bag. But how can a "fashionista" not follow this "delicious" trend? I had to. And here I come to terms with this mini bag, the bigger one that I have in my collection. The peculiarity of this mini bag that I have chosen is the golden chain and the brand logo in metal. Cute, right?
Mini Bags and Black & White Outfit
The outfit today is a classic Black and White. A trend that can be used all year round, taking account of the materials of the clothing that you will decide to wear. Since we just started the spring (hopefully), I opted for a black skirt that follows the trend "Sheer" (Do you remember the post dedicated here?) And a shirt with bow romantic style. The whole look is embellished with small details like the gold buttons of his shirt, necklace statement (which refers to the chain of my Mini Bag) that you can catch a glimpse from the bow, the black décolleté with gold straps and wide brimmed hat. The touch of red thin belt and handbag (see the trend Mini Bags) make the outfit "lively"as would say a certain editor of a major Fashion Magazine. See you tomorrow. Kisses, MaggieD.[/tab]
[tab title="Pincha aqui para leer en ESPAÑOL"]
Mini Bags es el tema de hoy en su blog de moda internacional. Todas las bloggers de moda más influyentes del mundo han propuesto muchos atuendos con estos mini-bolso en los últimos meses y yo he decidido añadir uno nuevo a mi pequeña colección.
Mini Bags para todas las fashionistas
Hola Mundo, ya saben de lo que hablamos hoy: Mini Bags. Aunque amo esta tendencia, no lo uso mucho durante la semana, porque mi bolso es mi pequeño mundo. Es por eso que necesito un bolso grande (aunque una maleta sería mejor). Entre billetera, anteojos, sunnies, beauty bag, Iphone, cargador, llaveros, calendarios y mucho más, yo no sabría cómo hacer con una mini bags. Pero, ¿cómo puede una "fashionista" no seguir esta "deliciosa" tendencia? No puede. Y aquí llego a un acuerdo con un mini bolso más grande de los que tengo en mi colección. La peculiaridad de este que he elegido es la cadena de oro y el logotipo de la marca en el mismo metal. Lindo, ¿no?
Mini Bags y Black & White Outfit
El traje hoy es un clásico Blanco y Negro. Una tendencia que se puede utilizar durante todo el año, siempre que se tenga en cuenta los materiales de la ropa que deciden de llevar. Ya que llego la primavera (eso espero), opté por una falda negra que sigue la tendencia "Sheer" (el post dedicado aquí) y una camisa con lazo de estilo romántico. El look está lleno de pequeños detalles como los botones dorados de la camisa, el collar (que se refiere a la cadena de mi Mini Bag), los zapatos de color negro con cintas de oro y sombrero de ala ancha. El toque de rojo del cinturón y el bolso (ver la tendencia Mini Bags) hacen que el look sea "animado" como diría un determinado editor de una importante revista de moda. Hasta mañana. Besos, MaggieD.[/tab]
[/tabs]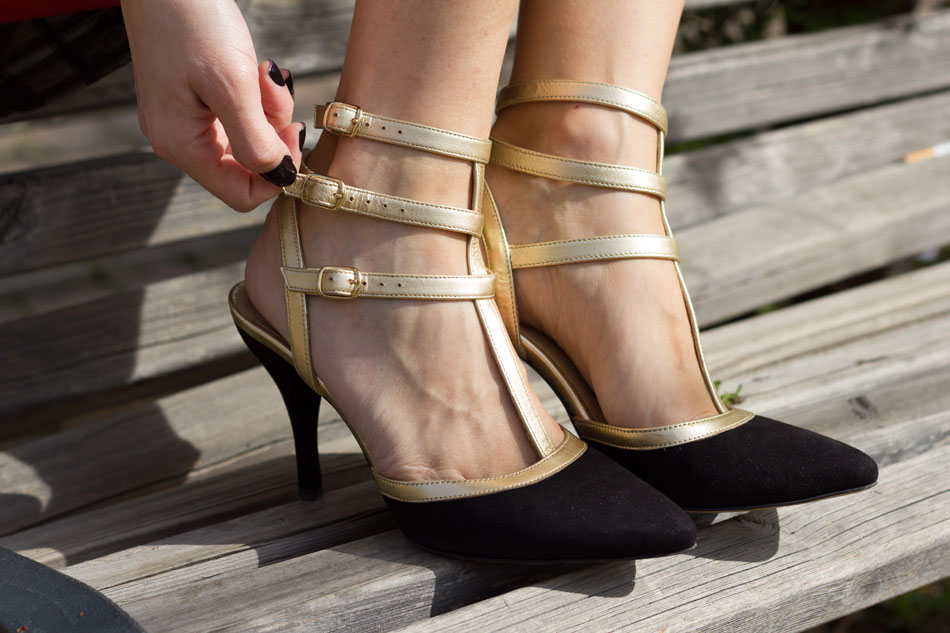 I weart: H&M hat, Mango Blouse, Blackfive skirt, Fornarina décolleté, Infinity necklace, Chanel sunnies and nail polish, Valentino mini bag.