EN:
Hello World,
Headscarf, sailor accessories and stripes!
Here it is what are the characteristics of the perfect navy style.
Among these items, the striped tops are my favorite, because they can be easily matched with a pair of white pants, shorts or a white skirt.
Do you like the Navy style?
See you later alligator,
Kisses.
_ _ _ _ _ _ _
IT:
Ciao Mondo,
Foulard, accessori dall'aria marinaresca e righe!
Ecco quali sono le caratteristiche del perfetto stile navy.
Tra i vari elementi, i top a righe sono senz'altro i miei preferiti, perché possono essere facilmente abbinati ad un paio di pantaloni, shorts o gonne di color bianco.
A voi piace lo stile marinaro?
A domani,
Baci
_ _ _ _ _ _ _
ES:
Hola Mundo,
Pañuelos, accesorios relacionados con la náutica y rayas!
Estas son las características del estilo marinero.
Entre estos diversos elementos, los top a raya son sin duda mis favoritos, ya que pueden ser fácilmente combinados con un par de pantalones, shorts o faldas de color blanco.
¿A ustedes les gusta el estilo marinero?
Hasta mañana,
Besos.
IndianSavage  (alias Maggie D.)
Location: Piacenza – Photo credits: Mister Sitting Bull
I wear No brand top, Pinko shorts, Dolce&Gabbana heels, Gucci sunnies, Paviè  necklace with inlaid heart pendant , Sally Hansen nail polish (Summer outfit – new look).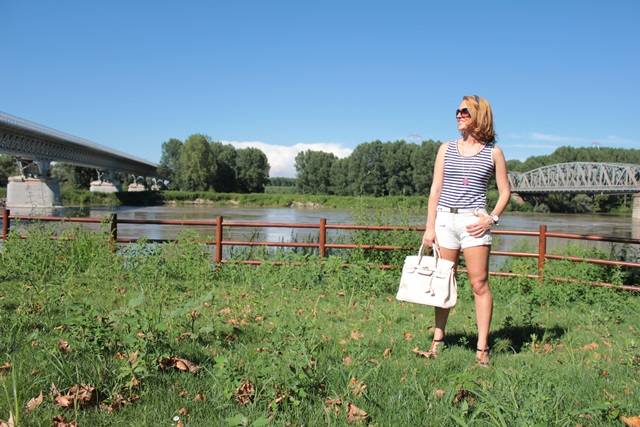 consulente de imagen
,
consulente di immagine
,
fashion blog
,
fashion blogger
,
fashion image consulting
,
fashion tips
,
how to wear
,
Italian fashion blogger
,
margaret dallospedale
,
Navy style
,
personal shopper
,
Personal Style
,
Piacenza fashion blogger
,
Usa fashion blogger
,
Venezuela Fashion blogger
,
Wichita fashion blogger