EN:
Hello World,
Pajama Pants Experience!
I love playing with fashion… Maybe Is Vogue's fault? I'm not sure.
Maybe this is the reason why I bought these Pajama Pants you are seen Here!
Looking on internet I saw one of my favorite fashionistas Louise Roe, wearing them with a tight shirt and a pair of high heels.
Not only that… I liked the way that, considering the predominant color of the pants, she has matched garments with different shades.
In your opinion: Would not IndianSavage tried it?
Of course she would and this is the result!
Do you Approve it? I'm not quite convinced, but I like to be honest and also show you some dubious look.
See you later alligator,
Kisses.
_ _ _ _ _ _ _
IT:
Ciao Mondo,
Pajama Pants Experience!
Adoro giocare con la moda… Sarà colpa di Vogue? non lo so!
Ma questo è stato il motivo per il quale ho acquistato questi Pajama Pants che avete visto qui!
Guardando su internet ho visto una delle mie fashioniste preferite Louise Roe, indossarli con una camicia attillata e una paio di tacchi alti.
Non solo… mi piaceva il modo in cui, prendendo in considerazione il colore predominante della stampa dei pantaloni, aveva abbinato capi con tonalità diverse.
E secondo voi…  IndianSavage non ci ha provato?
Ma certo ed ecco il risultato!
Approvato? non ne sono convinta, ma mi piace essere sincera e mostravi anche qualche dubbioso look.
A domani,
Baci
_ _ _ _ _ _ _
ES:
Hola Mundo,
¡Pajama Pants Experience!
Me encanta jugar con la moda … ¿Será culpa de Vogue? ¡No lo sé!
Pero esta es la razón por la que compré estos Pajama Pants que han visto aquí!
Buscando en Internet vi a una de mis fashionistas favoritas Louise Roe, que los llevaba con una camisa ajustada y un par de zapatos de tacón alto.
No sólo eso… Me gustó la forma en la que, teniendo en cuenta del color predominante del estampado, había combinado las prendas de diferentes tonalidades.
¿Y segun ustedes, IndianSavage no iba intentar hacer lo mismo?
Pues obvio que lo hice y este fue el resultado.
Aprobado? No estoy convencida, pero me gusta ser honesta y también mostrar algunos de mis look dudosos.
Hasta mañana,
Besos.
IndianSavage  (alias Maggie D.)
Location: Piacenza – Photo credits: Mister Sitting Bull
I wear Guess  Pajama Pants, Sandro Ferrone Shirt, Zara heels, Chanel nail polish (Summer outfit – new look).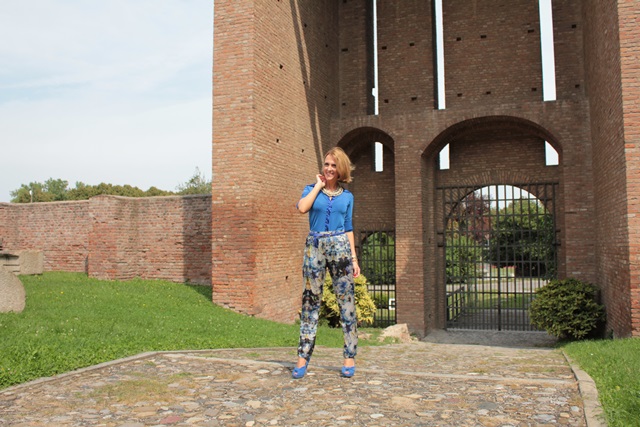 consulente de imagen
,
consulente di immagine
,
fashion blog
,
fashion blogger
,
fashion image consulting
,
fashion tips
,
Flash Tattoos
,
how to wear
,
Italian fashion blogger
,
margaret dallospedale
,
Navy pants
,
personal shopper
,
Personal Style
,
Piacenza fashion blogger
,
Usa fashion blogger
,
Venezuela Fashion blogger
,
Wichita fashion blogger