EN:
Hello World,
Pencil skirt and special tee!
Do you want to instantly whittle your waist, enhance curves, appear slimmer, and look chic?
Well, in this case you have a simple option: You have to wear a pencil skirt.
This type of skirt is definitely my favorite (see my closet ;) ) and I usually wear them with bon-ton shirts and blouses. You can see that I'm influenced by Vogue, right? (By the way I'm already "studying" the heavy September issue, and you?).
But this time I decided to pair it with a tee (Paviè), because I wanted a easy look.
What about it?
See you later alligator,
Kisses.
_ _ _ _ _ _ _
IT:
Ciao Mondo,
Gonna a matita e una  tee speciale!
Volete valorizzare il vostro punto vita all'istante, migliorare le vostre curve, apparire più magre e avere un look chic?
Beh, in questo caso avete una semplice opzione: Indossate una gonna a matita.
Questo tipo di gonna è senz'altro il mio preferito (chi ha visto il mio armadio, lo sa ;) ) e di solito le indosso con bluse e camicette bon-ton. Si vede che sono influenzata da Vogue, vero? (A proposito io sto già "studiando" il mattone di Settembre e voi?)
Questa volta però ho deciso di provare con una tee (di Paviè), perché desideravo un look meno impegnativo.
Che ne pensate?
A domani,
Baci
_ _ _ _ _ _ _
ES:
Hola Mundo,
Falda lápiz y una camiseta especial!
¿Quieren lucir una cintura preciosa al instante, mejorar sus curvas, tener un aspecto más delgado y crear un look elegante?
Bueno, en este caso, ustedes tienen una opción muy simple: usar una falda lápiz.
Este tipo de falda es sin duda mi favorito (los que han visto mi armario, ya lo saben ;) ) y por lo general las uso con camisas y blusas bon-ton. Ya pueden ver que estoy influencia por Vogue, ¿verdad? (Por cierto ya estoy "estudiando" el pesante número de septiembre ¿y ustedes?)
Pero esta vez me decidí a probar con una camiseta (de Paviè), porque quería un look sencillo.
¿Qué piensan?
Hasta mañana,
Besos.
IndianSavage  (alias Maggie D.)
I wear Paviè shirt, Pencil skirt,  Guess by Marciano heels,  Bijou Brigitte necklace.  (Summer outfit – new look).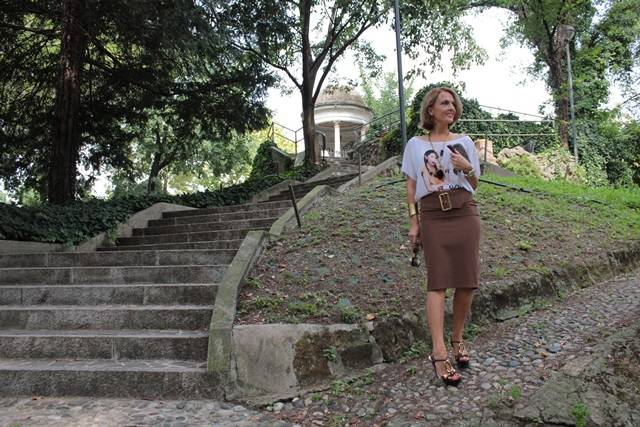 consulente de imagen
,
consulente di immagine
,
fashion blog
,
fashion blogger
,
fashion image consulting
,
fashion tips
,
how to wear
,
Italian fashion blogger
,
margaret dallospedale
,
Pencil skirt
,
personal shopper
,
Personal Style
,
Piacenza fashion blogger
,
tee
,
Usa fashion blogger
,
Venezuela Fashion blogger
,
Wichita fashion blogger