EN:
Hello World,
In collaboration with the online magazine  PIACENZASERA, I would like to share with you my personal sales shopping tips, during the winter sales 2014, starting just tomorrow .
One of the suggestions that I would like to share with you in this sales time, is to see the pre fall/ winter collection 2014-2015 ( you can find HERE) , so that we can focus on clothing that will be perfect for the next season.
Based on these indications, the must-have that we can't miss are:
1 . Oversize coats , wide and long at least to mid-thigh with essential lines . The color on which to focus is once again the powder pink and if you're lucky the emerald green (which together with the Radiant Orchid will be the trendy colors for 2014 ) .
2 . Sweatshirts with the graphic elements ( maxi or mini) to make most sophisticated  our sportswear .
3 Feminine pencil skirts , elegant and sexy chic, They are one of those leaders clothes that you will see again  next winter and so: absolutely yes. As well as the flared skirts in black leather or faux leather .
4 . Regarding the shoes sector  : open toe ankle boots , over the knee high boots and oxford shoes .
5 . And finally the bags to choose, again are those that you carry by hand with short handles and the clutchs.
Do not forget that the colors to choose from in order to re- use them are: the burgundy , the emerald green (but also military and "olive" ) , the white, the concrete grey and  the timeless black .
What I really  would not buy:
1. Clothing with heart prints.
2. Bags and accessories with fluorescent colors.
3. Any  clothes with"tartan" print, although I am aware that all the fashion bloggers recommend buying at least one item. But, after having "indigestion of fashion collection," I have  noticed that few designers have revived  and  proposed this print , they do it in a Declination very far from  classic.
4. Eccentric Clothing and extravagant hats, not only because we don't wear them EVER, but  because in the next season one of the mood will be the search for clean and conceptual lines
5. And finally, I would avoid to exaggerate  with  animal prints, the studs and  the leather, because It's true that they will be present in the next winter season, but with small hints.
I want to thank  PiacenzaSera and particularly Paola Pinotti for letting me share  this wonderful initiative.
And now tell me: What are your Sales Shopping Tips?
See you later alligator,
Kisses.
_ _ _ _ _ _ _
IT:
Ciao Mondo,
In collaborazione con il magazine online PIACENZASERA, desidero condividere con voi i miei personali tips per fare shopping durante i saldi invernali 2014, che iniziano proprio domani.
Uno dei suggerimenti che potrei dare in questo periodo di saldi è quello di sbirciare le pre collezioni autunno/inverno 2014-2015 (le potete trovare QUI), in modo tale che si possa puntare sui capi d'abbigliamento che saranno perfetti anche per il prossimo anno.
Una volta fatto questo, io personalmente vado per negozi a cercare quello che mi interessa, ma il trucco sta nel avere le idee chiare riguardanti a cosa si desidera comprare.
Basandomi su queste indicazioni, i must–have da non perdere sono:
1.
Cappotti Oversize

, ampi e lunghi almeno fino a metà coscia e dai tagli essenziali nelle linee. Il colore su cui puntare è ancora una volta il cipria e se siete fortunati il emerald green (che assieme al Radiant Orchid saranno i colori di tendenza per il 2014).
2.
Felpe elaborate

grazie al grafismo (maxi o mini) per rendere il nostro sportwear più sofisticato.
3.
Gonne a matita

(o a tubo) femminili, eleganti e sexy chic, sono uno di quei capi che rivedremo anche il prossimo inverno e quindi sì assolutamente. Così come le

gonne a corolla

(o a ruota) in pelle o in ecopelle nere.
4. Per quanto riguarda il settore scarpe:
stivaletti aperti in punta

,

stivali alti oltre il ginocchio

e le

francesine bon ton

.
5. Ed infine le
borse

da scegliere ancora una volta sono quelle

da portare a mano con manici corti o clutch
Da non dimenticare che i colori da scegliere per poter ri-utilizzare questi acquisti sono: il burgundy, il emerald green (ma anche military e "olive"), il bianco, il concrete grey e l'intramontabile nero.
Quello che sinceramente non acquisterei:
1. Indumenti con stampe a cuore.
2. Borse o accessori con colori fluo.
3. Un qualsiasi abito con stampa "tartan", anche se sono consapevole che tutti consigliano di acquistare  almeno un capo. Ma, dopo aver fatto "indigestione di sfilate",  ho notato che realmente pochi stilisti l'hanno riproposta e comunque in una declinazione molto lontana da quella classica.
4. Capi eccentrici e cappelli stravaganti, non solo non li indossiamo MAI, ma nella prossima stagione uno dei mood sarà la ricerca di linee pulite e concettuali.
5. Ed infine eviterei di esagerare con il maculato, le borchie e la pelle, in quanto "sì"  saranno presenti nella prossima stagione autunno-inverno, ma più che altro sotto forma di accenni.
Voglio ringraziare di cuore a PiacenzaSera ed in particolare a Paola Pinotti per avermi fatto partecipe di questa splendida iniziativa.
E adesso ditemi: Quale sono i vostri Sales Shopping Tips?
A domani,
Baci
_ _ _ _ _ _ _
ES:
Hola Mundo,
En colaboración con la revista online PIACENZASERA, deseo compartir con ustedes mis consejos personales para ir de compras durante las rebajas de invierno 2014, que comienzan mañana.
Una de las sugerencias que puedo doy en este tiempo de rebajass es echar un vistazo a las colecciones pre otoño/invierno 2014-2015 ( se puede encontrar aquí ), para que podamos centrarnos en las prendas que estarán perfectas para la próxima temporada de invierno .
Una vez hecho esto , yo personalmente voy a las tiendas en busca de lo que me interesa, pero el truco es estar claro de lo que queremos comprar .
En base a estas indicaciones, los must-have no debemos perder son:
1 . Abrigos oversize , anchos y largos, por lo menos hasta la mitad del muslo y que tengan una línea esencial. El color en el que centrarse es una vez más el rosa polvo y si se tiene suerte, el emerald green ( que junto al Radiante Orchid serán los colores de moda para este 2014 ) .
2 . Sudaderas con elementos gráficos (maxi o mini) para hacer que nuestro sportwear sea más sofisticado.
3 . Faldas lápiz femeninas, elegantes y sexy, son una de esas prendas líderes que veremos de nuevo el próximo invierno y entonces sí absolutamente . Al igual que las faldas acampanadas en cuero o de imitación negras.
4 . En cuanto a los zapatos: botines con punta abierta , botas altas sobre la rodilla y las oxford.
5 . Y finalmente los bolsos, una vez más veremos los que se llevan en la mano con asas cortas y los clutch.
No hay que olvidar que los colores a elegir con el fin de volver a utilizar estas compras son: burdeos , el verde esmeralda (pero también militar y " oliva ") , el color blanco, el gris y obvio el negro que no tiene epoca.
Lo que realmente no compraría:
1 . Ropa con estampados de corazón.
2 . Bolsos y accesorios con colores fluorescentes.
3 . Cualquier vestido estampado en "tartan" , aunque soy consciente de que muchas fashion bloggers recomiendan la compra de al menos una de estas prendas. Pero, después de haber hecho "indigestión" de desfiles , he notado que muy pocos diseñadores tienen en sus colecciones prendas con tartan y los pocos vestidos que vi, tenían una declinación muy lejana al clásico .
4 . Prendas excéntricas y sombreros extravagantes, no las usamos jamas y ademas en la próxima temporada será el mood que seguirán los estilistas es la búsqueda de líneas limpias y conceptuales.
5 . Y, por último , me evitaría de exagerar con el animal print, las tachuelas y el cuero, porque "sí " es cierto que las vamos a ver en la próxima temporada de otoño – invierno, pero solo como detalles en los vestidos .
Quiero dar las gracias a PiacenzaSera y en particular Paola Pinotti por permitirme partecipar a esta maravillosa iniciativa.
Y ahora diganme : ¿Cuáles son sus consejos para comprar en temporada de rebajas?
Hasta mañana,
Besos.
IndianSavage (alias Maggie D.)
Catch up with IndianSavage on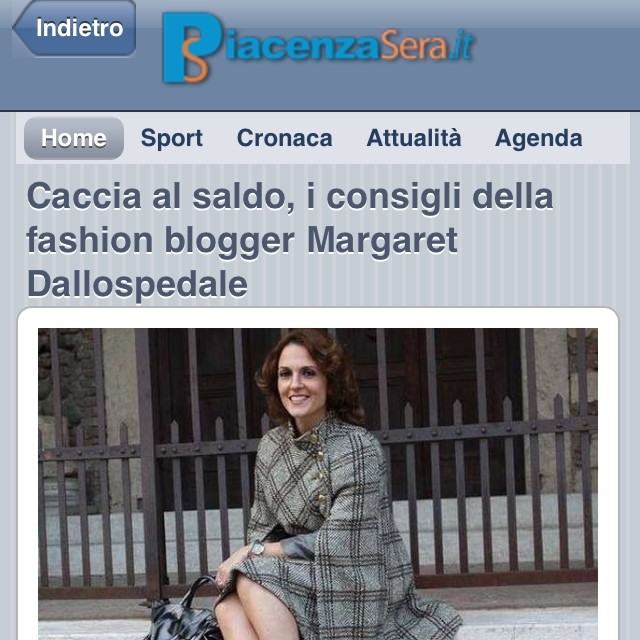 accesorios
,
accessori
,
atuendo
,
atuendo de invierno
,
beauty tips
,
blogger
,
classe
,
clothes
,
come indossare
,
come vestirsi
,
como llevar
,
como vestir
,
consulente de imagen
,
consulente di immagine
,
estilismo
,
fashion
,
fashion blog
,
fashion blogger
,
fashion image consulting
,
fashion tips
,
how to wear
,
indian savage
,
indimenti
,
lifestyle
,
looks
,
looks Ideas
,
margaret dallospedale
,
moda
,
ootd
,
outfit
,
Outfit invernale
,
personal shopper
,
Piacenza blogger
,
piacenza fashion blog
,
PiacenzaSera
,
prendas
,
Sales shopping tips
,
stile
,
style
,
stylish
,
The Indian Savage diary
,
tips
,
Veneziana
,
Veneziana tights
,
Venezuela Blogger
,
Venezuela Fashion blogger
,
vestiti
,
Wichita blogger
,
Wichita fashion blogger
,
winter outfit