A special gift …
A very important person …
a PC and the desire to find that perfect gift!
Thus began my wonderful discovery of STRAND OF SILK
A brand, based in London and Mumbai, committed to provide their customers with clothing, jewelry and accessories designed by the best designers of the magical India.
My attention fell on these beautiful
DESIGNER EARRINGS
STYLISH MOON LIT EARRINGS 
of the new collection of
Sannam Chopra
, which not only remember the hidden treasures of the 'East, but incorporate the latest trends of this year.
Upon the arrival of my package (I enjoyed the care of the product presentation), I have seen the high quality of the materials, they are made.
STYLISH MOON LIT EARRINGS has an original style .
My conclusion? STRAND OF SILK is a great website, where you can find unique objects that combine the exotic style to international trends.
See you later alligator
Kisses.
_ _ _ _ _ _ _
IT:
Ciao Mondo,
Un regalo speciale…
Una persona importantissima…
un pc e tanta voglia di trovare il dono perfetto!
Inizia così la mia meravigliosa scoperta di STRAND OF SILK
Un brand, con sede a Londra e Mumbai, impegnato ad offrire alla loro clientela abbigliamento, gioielli e accessori disegnati dai migliori stilisti della magica India .
La mia scelta è caduta su questi meravigliosi ORECCHINI di DESIGN STYLISH MOON LIT EARRINGS della nuova collezione Sannam Chopra, che non solo ricordano i tesori nascosti dell' Oriente, ma riprendono le ultime tendenze di quest'anno.
All'arrivo del mio pacchetto (altro fattore che ho apprezzato è stata la cura della presentazione del prodotto), non ho potuto fare a meno di accorgermi dell'ottima qualità dei materiali con cui sono fatti i STYLISH MOON LIT EARRINGS e il suo stile originale.
La mia conclusione? STRAND OF SILK è un ottimo sito web, dove trovare oggetti unici, che uniscono lo stile esotico alle tendenze internazionali.
A domani,
Baci
_ _ _ _ _ _ _
ES:
Hola Mundo,
Un regalo especial …
Una persona muy importante …
un PC y el deseo de encontrar ese regalo perfecto.
Así comenzó mi maravilloso descubrimiento de STRAND OF SILK
Una brand, con sede en Londres y Mumbai, comprometido con sus clientes a ofrecer prendas de vestir, joyas y accesorios diseñados por los mejores diseñadores de la mágica India.
Mi elección recayó en estos hermosos PENDIENTES DE DISEÑO STYLISH MOON LIT EARRINGS de la nueva colección Sannam Chopra, que no sólo recuerdan los tesoros escondidos del Oriente, pero que también incorporan las últimas tendencias de este año.
A la llegada de mi paquete (otro factor que me ha gustado ha sido el cuidado de la presentación del producto), no pude dejar de notar la gran calidad de los materiales de los STYLISH MOON LIT EARRINGS y su estilo original .
Mi conclusión? STRAND OF SILK es un gran sitio web, donde se pueden encontrar objetos únicos que combinan el estilo exótico a las tendencias internacionales.
Strand of Silk Facebook
Strand of Silk Twitter
Strand of silk Pinterest
Strand of Silk Google
IndianSavage  (alias Maggie D.)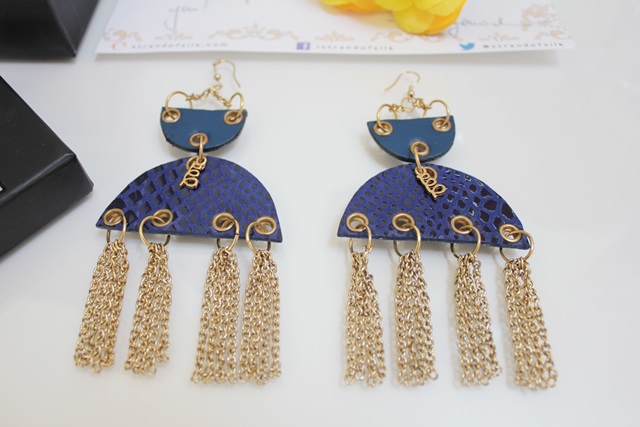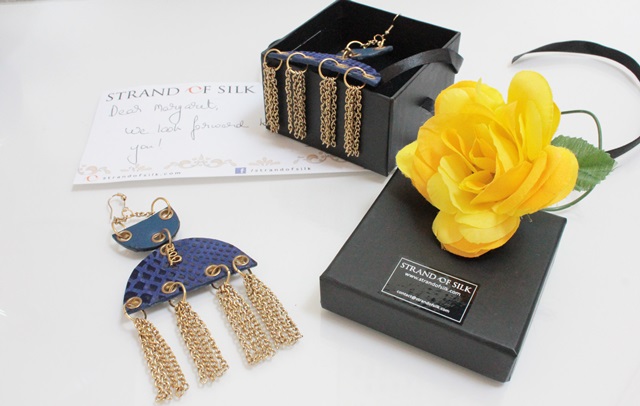 consulente de imagen
,
consulente di immagine
,
fashion blogger
,
fashion image consulting
,
fashion tips
,
Italian fashion blogger
,
margaret dallospedale
,
personal shopper
,
Piacenza fashion blogger
,
pink blazer
,
sammydress.com
,
STYLISH MOON LIT EARRINGS
,
The Indian Savage diary
,
trand of Silk
,
Usa fashion blogger
,
Venezuela Fashion blogger
,
Wichita fashion blogger