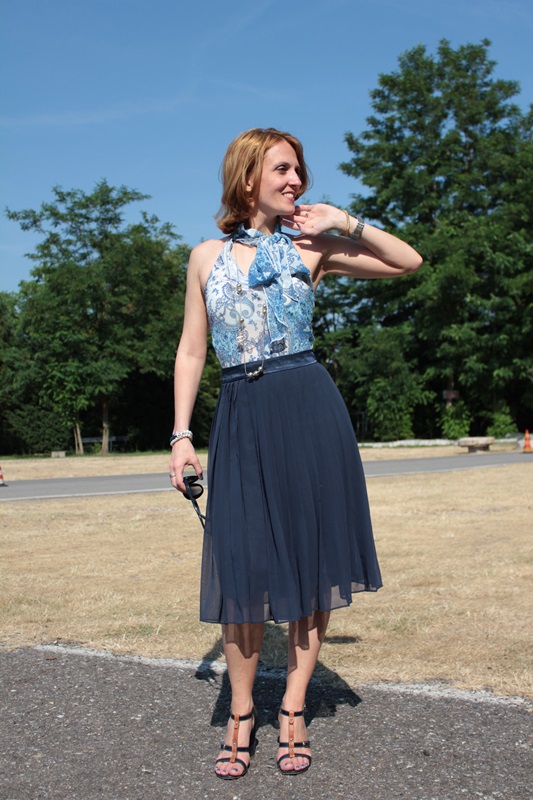 EN:
Hello World,
A month ago I decided to make a gift to "Mister Sitting Bull" (aka my husband). There was no recurrence or birthday to celebrate, I only wished he could enjoyed a new experience.
He has many passions one of them is Formula 1 and and it occurred to me how would be a nice day at the track, driving a single-seater Formula 2 at the International Circuit  at "Le 2 Colline".
We spent a wonderful afternoon and seeing him doing this experience (which will repeat again very soon), It made me feel good.
As a simple observer, I can say that it is a unique experience and that the instructors are very knowledgeable, friendly and helpful.
The only downside were the ladies who organize the rounds…. (someone should make a little note and point out to them that: screaming is useless and constantly repeating : "we hope to end up soon is a lousy way to get a customer loyalty and if a customer asks them a question, It will be nice to get an ANSWER).
I forgot…. Could not I take pictures of this day? I would say no…. For this occasion I decided to wear my H&M blue Pleated Skirt and I "build" the outfit considering this color.
See you later alligator,
Kisses.
_ _ _ _ _ _ _
IT:
Ciao Mondo,
Un mese fa ho pensato di fare un regalo a "toroseduto" (alias mio marito). Non c'era alcuna ricorrenza o compleanno, solo desideravo che si divertisse.
Lui ha molte passione tra cui la Formula 1 ed ecco che ho pensato ad una bella giornata in pista alla guida di una monoposto Formula 2 presso Circuito internazionale Le Colline.  
Abbiamo trascorso uno splendido pomeriggio e vederlo fare questa esperienza (che ripeterà molto presto), mi ha riempito di gioia.
Come semplice osservatrice, vi posso dire che è una esperienza unica e che gli istruttori sono molto preparati, gentili e disponibili.
L'unica pecca sono le signorine che organizzano i turni…. (qualcuno dovrebbe fare un piccolo appunto ed avvisarle che: urlare non serve a nulla, dire in continuazione "speriamo di fare alla svelta" è un pessimo modo di fidelizzarsi un cliente e che se un cliente le fa una domanda è doveroso RISPONDERE).
Dimenticavo…. potevo non  scattare qualche foto di questa giornata? direi di no…. Per questa occasione ho pensato di indossare la mia Pleated Skirt di H&M blu e di "costruire" l'outfit tenendo conto di questo colore.
A domani,
Baci
_ _ _ _ _ _ _
ES:
Hola Mundo,
Hace un mes decidí hacer un regalo a "Mister Sitting Bull" (también conocido como mi esposo). No hubo recurrencia o cumpleaños, sólo deseaba que él pudiera disfrutar de algo especial.
Él tiene muchas pasiones incluyendo la Fórmula 1 y así se me ocurrió regalarle un día en la pista de Fórmula 2.
Pasamos una tarde maravillosa y verlo hacer esta experiencia (que se repetirá muy pronto), me alegró mucho.
Como simple observadora, puedo decir que es una experiencia única y que los instructores son muy eficientes, amables y atentos.
El único inconveniente son las señoritas que organizan las rondas…. (alguien debería hacer una pequeña nota y alertarlas de que: gritar no sirve para nada, decir a cada rato "Esperemos no tardar tanto para ir a casa" es una pésima manera de aumentar la lealtad del cliente y que si un cliente hace una pregunta es importante dar una respuesta).
Ya me estaba olvidando….  ¿Ustedes creen que no tomé fotos de ese día? Pues obvio que lo hice…. Para esta ocasión decidí usar mi falda plisada azul de H&M y "construir" el outfit considerando este color.
Hasta mañana,
Besos.
IndianSavage  (alias Maggie D.)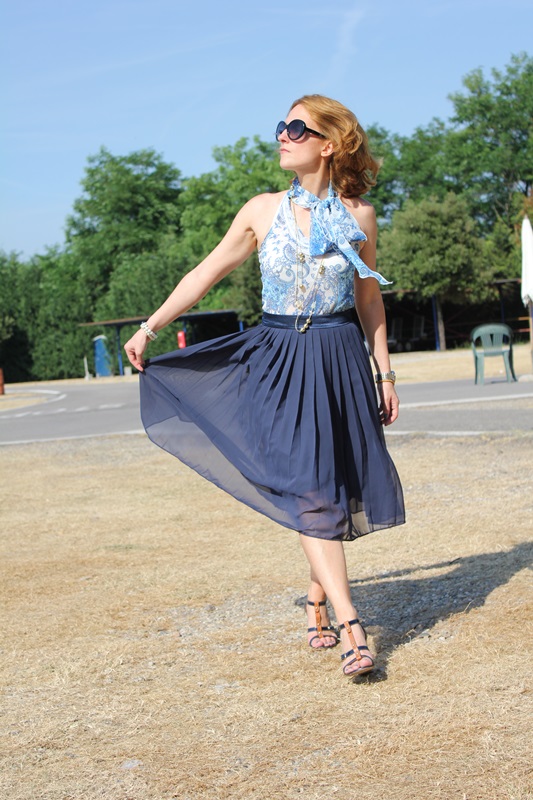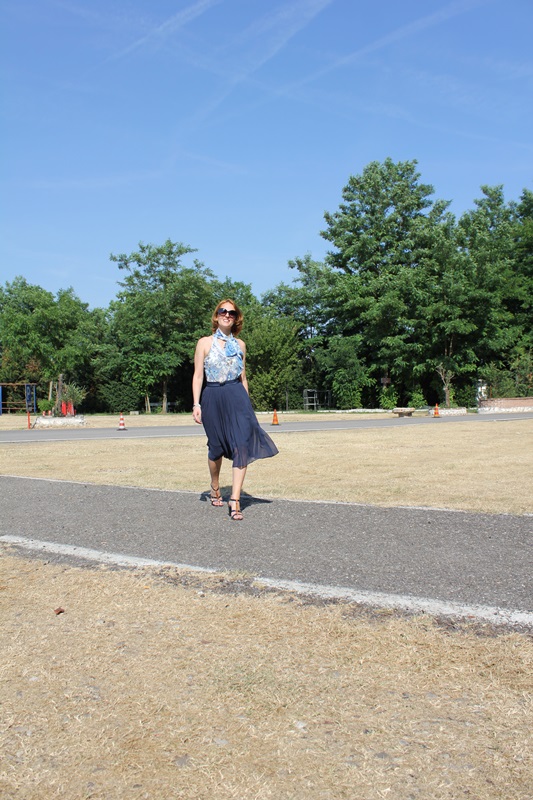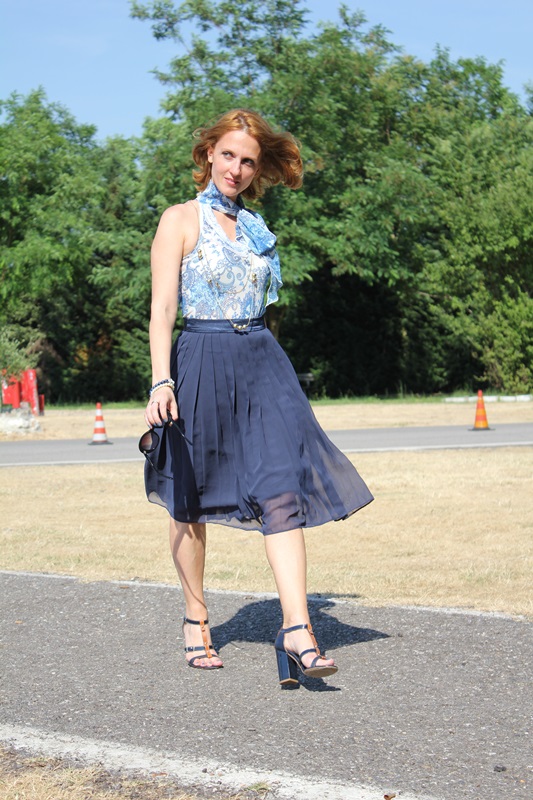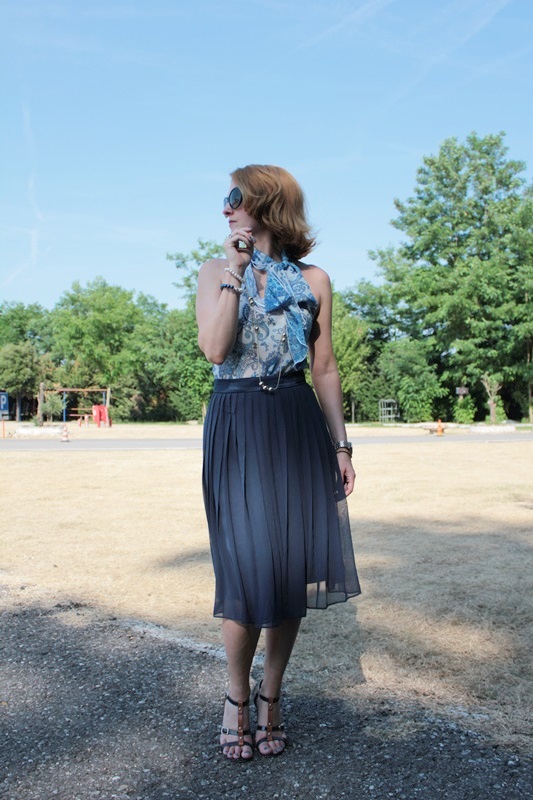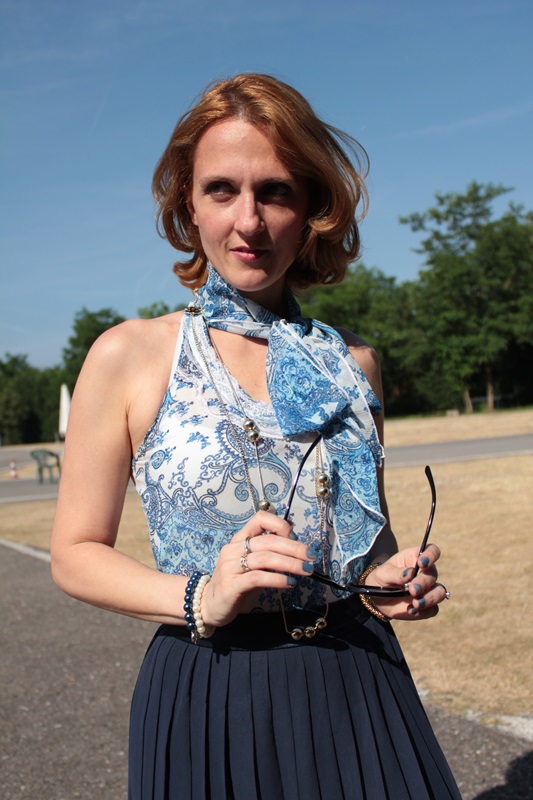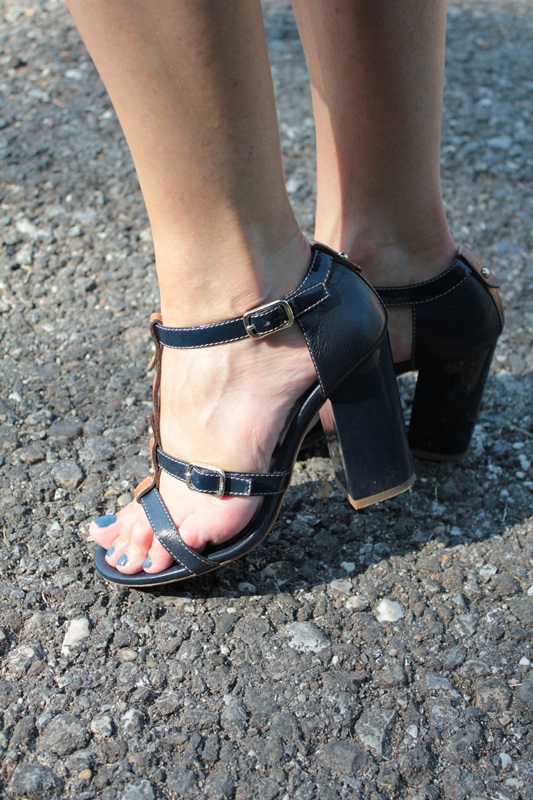 Location: Piacenza – Photo credits: Mister Sitting Bull
I wear Rinascimento top, H&M Pleated Skirt, D&G sandals, Chanel necklace – sunnies – make up  and nail polish, Michael Kors watch (Summer outfit – new look).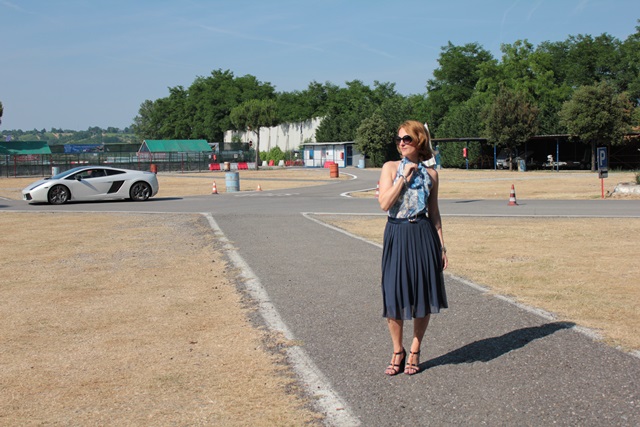 Recap. Mbmdrivingemotion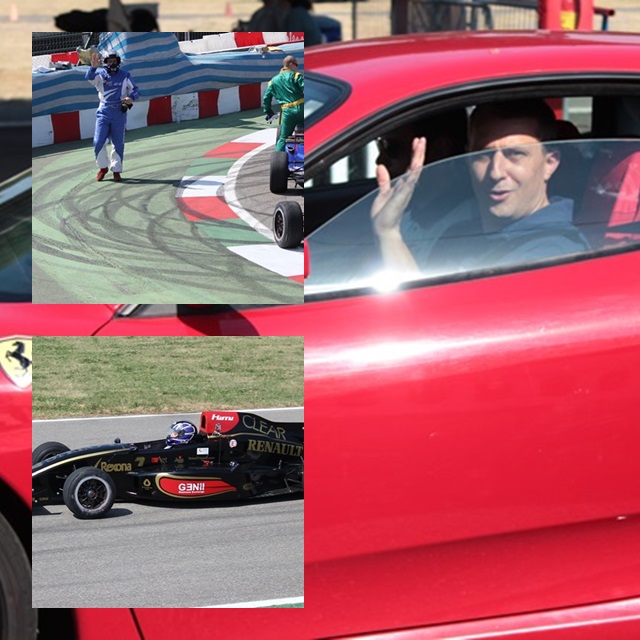 Circuito internazionale Le Colline
,
consulente de imagen
,
consulente di immagine
,
fashion blog
,
fashion blogger
,
fashion image consulting
,
fashion tips
,
how to wear
,
Italian fashion blogger
,
margaret dallospedale
,
monoposto Formula 2
,
personal shopper
,
Personal Style
,
Piacenza fashion blogger
,
Pleated Skirt
,
Usa fashion blogger
,
Venezuela Fashion blogger
,
Wichita fashion blogger