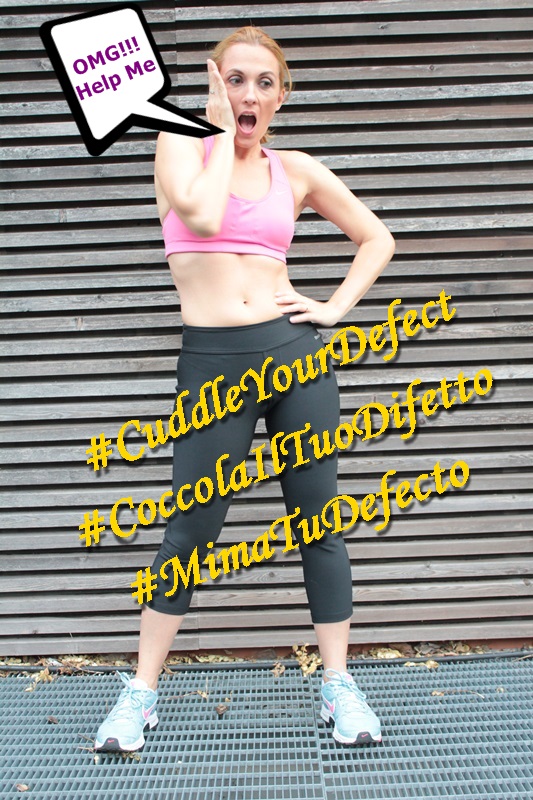 EN:
Hello World,
This is a different post, it arises because of the criticisms that have been made to me this week for my photos in bikini!
As you may have observed I DO NOT use photoshop and I do not hide my imperfections, some of these I love because they make me unique and different from others.
One of the reasons I began this blog (where I work by myself and there are no agencies or nothing of the kind) was to share with those who have the same passion, tips and ideas in the field of fashion and beauty and speak a little of my life. I am a normal person and not a model. When I'm buying a bikini and I see the photo of the girl in the box, I already know that I'll never look that way, but if I see a blogger with my similar body, I will have a better idea of the result, right??
reflecting on the criticisms that I have received (the nicest one was from a dear friend who wrote to me: you're at the limit of your right shape ),and it was here that I thought of a little project: #CuddleYourDefect
This is … a way to stop hiding our defect and begin to take care of them.
How? asking for HELP! Tell me what do you do to hide it, what you think is your defect , this through your comments, a picture on instagram, a tweet, a pin or a photo on facebook with one of this hashtags #CuddleYourDefect and I will post it on my networks:
I will truly try to follow your advice.
I ask not only for your moral support, but above all to give me ideas or suggestions to improve this project, the aim will be to make us love what we often hate the most of ourselves The blame is must of the time of the people who criticize us without thinking that they will make us suffer and consequently mark us with their words (some time for the rest of our lives).
I forgot: if you want to smile with me tomorrow on my blog you will find the video summary of my holiday.
See you later alligator,
Kisses.
_ _ _ _ _ _ _
IT:
Ciao Mondo,
Questo è un post diverso che nasce a causa delle critiche che mi sono state fatte questa settimana per le mie foto in bikini!
Come avrete potuto osservare io NON uso photoshop e non nascondo i miei difetti, anzi alcuni di questi li amo perché mi rendono unica e diversa dalle altre.
Uno dei motivi della nascita di questo blog personale (al quale lavoro solo io e non ci sono agenzie ne nulla di quel genere) è quello di scambiare con chi ha la mia stessa passione tips e idee nell'ambito della moda e del beauty e raccontare un pochino della mia vita.
Sono una persona normalissima e non una modello. Quando acquisto un bikini e vedo la fotografia della ragazza   nella confezione, so già che non mi starà Mai in quel modo, ma se vedo una blogger con il mio stesso fisico, avrò l'idea del risultato, giusto???
Dunque riflettendo sulle critiche che mi hanno fatto (la più simpatica mi è arrivata da un caro amico che mi ha detto: sei al limite di essere in forma), ho pensato ad un piccolo progetto: #CuddleYourDefect  o #CoccolaIlTuoDifetto.
Vale a dire… un modo per smettere di nascondere  i nostri difetti e cominciare a coccolare e prenderci cura di questi.
Come? chiedendo AIUTO a voi! Raccontatemi come coccolate un vostro difetto attraverso un vostro commento, una foto su instagram, un tweet, un pin o una foto su facebook con uno di questi hashtag #CuddleYourDefect  o #CoccolaIlTuoDifetto ed io lo posterò sulle mie reti:
e cercherò di seguire i vostri consigli.
Vi chiedo non solo il vostro supporto morale, ma soprattutto di darmi spunti o consigli per migliorare questo progetto, visto che nasce con lo scopo di farci amare ciò che spesso odiamo per colpa delle persone che ci criticano senza pensare che spesso ci fanno soffrire e ci segnano con le loro parole.
Dimenticavo: se volete sorridere con me, domani troverete sul mio blog il video riassunto delle mie vacanze.
A domani,
Baci
_ _ _ _ _ _ _
ES:
Hola Mundo,
Este es una entrada diferente que surge debido a las críticas que me han hecho esta semana por mis fotos en bikini.
Como habrán observado yo no uso photoshop y no oculto mis defectos y algunos de ellos los amo porque me hacen única y diferente a las demás.
Una de las razones del nacimiento de este blog (en el que sólo yo trabajo y no existen agencias ni nada de eso) es compartir, con los que tienen mis mismos gustos, consejos y muchas ideas en el campo de la moda y de la belleza y mostrarles un poco de mi vida. Soy una persona normal y no una modelo. Cuando compro un bikini y veo la foto de la modelo en la caja, ya sé que nunca me quedará de esa manera, pero si veo a un blogger con un cuerpo parecido al mio, voy a tener una idea del resultado de como me puedo ver, ¿verdad?
Así que pensando a las críticas que me han hecho (la más simpática que he recibido es de un querido amigo que me dijo: estás en al raya de estar en forma), se me ocurrió un pequeño proyecto: #CuddleYourDefect o #MimaTuDefecto.
La idea es… una manera de dejar de ocultar nuestros defectos y empezar a cuidar  y mimarlos.
¿Cómo? pidiendo ayuda a ustedes. Cuentenme cómo miman un defecto a través de sus comentarios, una foto en instagram, un tweet, un pin o una foto en facebook con uno de estos hashtags  #CuddleYourDefect o #MimaTuDefecto y yo los voy a publicar en mis redes:
y voy a tratar de seguir su consejo.
Les pido no sólo su apoyo moral, pero sobre todo ideas o sugerencias para mejorar este proyecto, según lo establecido con el objetivo de hacernos amar lo que a menudo odiamos de nosotros mismos por culpa de personas que nos critican sin pensar que muchas veces nos hacen sufrir y nos marcar con sus palabras.
Me olvidaba: si quieres sonreír conmigo mañana en mi blog podrán ver mi vídeo resumen de mis vacaciones.
Hasta mañana,
Besos.
IndianSavage  (alias Maggie D.)